These are the homicide victims of teen killer Kip Kinkel who went on a home and school shooting rampage in Springfield, Oregon in 1998. Kinkel also wounded 24 other students at Thurston High School.
 The casket of Ben Walker
Ben Walker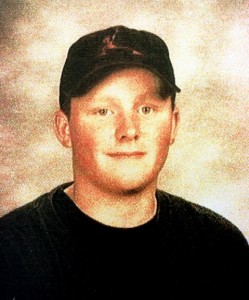 Mikael Nickolauson, 17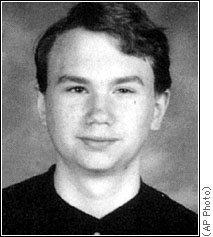 Bill and Faith Kinkel
Thurston High School shooting: 10 years later
The Oregonian, Saturday, May 30, 1998
A Springfield tribute: Kinkels remembered with joy
The slain couple's daughter thanks the community for its support
By Maxine Bernstein and Janet Filips
The Oregonian
Taking their cue from Kristin Kinkel, who personally and poignantly asked the Springfield community Friday night to celebrate her parents' lives, students, colleagues and friends remembered the two respected Spanish educators' engaging and caring personalities.
"Wow," Kristin Kinkel said, as she stood before a standing-room only crowd in the gynasium in Springfield High School, where her mother, Faith Kinkel, taught since 1990. "I want to thank all of you for joining us tonight for the celebration of the lives of my parents."
"I use the term 'celebration of life,' " she said, her voice wavering with emotion, forcing her to halt before regaining her composure, "because I believe that's what they would have wanted. Neither of these exceptional people would have wanted tears of sorrow, but thoughts of joy."
William P. Kinkel, 59, and Faith M. Kinkel, 57, were shot to death in their home May 20, allegedly killed by their 15-year-old son, Kipland P. Kinkel. Investigators say Kip went on a shooting rampage in Thurston High School's cafeteria the next day, killing two students and wounding 22 others.
The public memorial service drew more than 1,700 people, including recent and former students of the Kinkels, fellow teachers, school administrators, neighbors and friends. The gym bleachers were packed, and school officials set up chairs on the gym floor to accommodate the crowd.
The service demonstrated how the Kinkels touched members of the community — through Spanish-themed musical and choir performances, a school video showing Faith Kinkel energetically interacting with her students in class, a home video of the couple on family hiking and ski trips, and personal accounts offered by students and teachers of how each of the Kinkels influenced their lives.
Faith Kinkel began teaching at Springfield High School in 1990. William Kinkel most recently worked as a part-time Spanish instructor at Lane Community College. He taught Spanish at Thurston High School from 1964 to 1991 and at Thurston Middle School from 1961 to 1964.
As Kristin alternately laughed, smiled and buried her face in tissues, friends, colleagues and former students took their turns at microphones to share memories of the Kinkels and words of admiration for the couple. "Bill and Faith didn't love life," said one. "They pursued it with gusto."
A former student, now a teacher, shared Bill Kinkel's motto: "One must improvise like a lightning bug." A colleague of Faith Kinkel shared the image of her, arms loaded with books, headed out into a driving rain — without an umbrella — to stand on the sidelines of Kip's football game with her husband. "They watched Kip's games the entire time," she said, "even though Kip only played three minutes."
Family friends directed their words to Kristin, telling her of her parents' pride in her, and reassuring her of their love for Kip.
"It was nobody's fault what happened here," said a woman who knew the family through Kip's martial arts lessons. "I hope you know that, Kristin. We're not here tonight to point fingers. We're accepting this tragedy for what it is."
The Kinkels were remembered for their unwavering encouragement of their students, their ability to make Spanish classes fun and their willingness to give up their personal time to provide extra help to students.
Springfield High School Principal Gene Heinle read a letter that his staff wrote the day after the Kinkels' bodies were discovered. The letter told of the school's deep respect and affection for Faith Kinkel, who will be remembered as a loving, generous human being, and a teacher who demonstrated an enormous commitment to children and cultural harmony.
A day before she was shot, Faith Kinkel learned that she was chosen school District 19's Outstanding Teacher of the Year, Heinle said.
The public service came two days after a private family service was held Wednesday in Eugene. By then, Faith and Bill Kinkel were cremated.
In her brief address Friday night, Kristin Kinkel thanked the community for their support.
"Your thoughts and your prayers are what continues to keep us strong," the 21-year-old said, returning to her chair on the gym floor, surrounded by her mother's sisters, her grandmother and an extended family.
Mourners sniffled, chuckled, clutched roses and wore ribbons in Springfield High's blue and white colors throughout the 110-minute ceremony. The Springfield High choir solemnly, poignantly sang "The Prayer of the Children." Ron Sauer, a Springfield minister, asked the crowd to hold hands in a prayer of thanks for the opportunity to have known and learned from the Kinkels. Then, in a tribute that left Kristin beaming and trembling, he asked the crowd to stand and applaud. They did, and they did, for two full minutes.
It was the sound of sorrow and celebration.
Story at 10 year anniversary:
SPRINGFIELD, Ore. – The dazed and bloodied teenage boy walking from his school.
The crying girl, pulled away by friends.
The stretcher carrying a wounded child.
The frantic parents searching for answers.
These are images burned into Oregon's collective memory, images seen around the world in the aftermath of the May 21, 1998, shooting at Thurston High School.
The tragedy started to unfold a day earlier.
Thurston High School expelled 15-year-old Kip Kinkel May 20 for bringing a handgun to school.
Back at his Springfield, Ore., area home, Kinkel shoots his parents, Bill and Faith Kinkel. He later told police he wanted to spare his parents, both Spanish teachers, the shame of his expulsion.
Early on the morning of May 21, Kinkel drove his mother's car to Thurston High School. He entered the school in a trench coat with two handguns, a rifle, a knife and more than 1,200 rounds of ammunition.
At 7:50 a.m., Kinkle entered the school and shot Ryan Atteberry and Ben Walker in a hallway. Walker died later at the hospital.
Kinkel walked into the cafeteria filled with 200 students and started firing, getting off 51 shots and making 37 hits.
One bullet killed Mikael Nicholauson. Another 25 students are wounded.
When Kinkel stopped to reload his gun, students Jake Ryker and Adam Walburger tackled Kinkel. Several boys piled on Kinkel, holding him down until police arrived.
In the choas that followed, police, parents and reporters descended on the school, all looking for answers.
Police arrested Kinkel.
Later that night, police brought him back to the scene of the crime. He confessed as he retraced his steps at the school with officers.
Meanwhile, Sacred Heart and McKenzie Willamette hospitals cared for the wounded. Parents searched for their children, and stories about Kinkel and possible warning signs began to circulate.
In the days that follow, the community mourned at a massive community vigil. A fence at Thurston was turned into a long memorial wall.
Stories of heroism and hope unfolded.
The boys who tackled Kinkel received scholarships.
Teresa Miltonberger, shot in the forehead and given a 20 percent chance of survival, left the hospital.
President Bill Clinton visited Thurston and met with victims.
The community donated to the victims, planned a permanent memorial and formed an anti-school violence coalition.
In September 1999, three days before the start of his trial, Kinkel pleaded guilty to murder and attempted murder, abandoning his insanity defense. The judge sentenced Kinkel to prison for 111 years with no chance of parole.
The Wounded
May 21, 1998: In Springfield, Ore., Thurston High sophomore Ryan Atteberry is helped to a waiting ambulance hours after police say Kip Kinkel opened fire in the school cafeteria, killing two and wounding 20 more. Kinkel is also accused of killing his parents the previous day.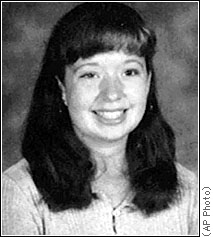 Teresa Miltonberger, 16, critically wounded