Read more on these cases at Crime Victim Media Report Blog
Michael Woodmansee
Victim: Jason Foreman, five
Age at time of murder: 16
Crime location: South Kingstown
Crime date: May 18, 1975
Crimes: Kidnapping, murder of a child, & cannibalism
Weapon: Knife
Murder method: Stab to the heart
Murder motivation: Entertainment
Convictions: Guilty plea to second-degree murder
Sentence: 40 years
Incarceration status: Released from prison and committed to a psychiatric hospital
Jason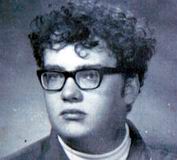 Woodmansee
Summary
Woodmansee kidnapped little Jason and stabbed him to death and then admittedly ate his flesh. Woodmansee was not apprehended until 1982 when he attempted to murder another boy. During the time between Jason's murder and the attempted murder of the other boy, Woodmansee kept Jason's bones on his dresser as trophies. Woodmansee was sentenced to 40 years after as plea bargain, only to be released after 28 years due to good behavior. However, upon release, he was committed to a psychiatric hospital.
Details

Craig Price
Victims: Rebecca Spencer, 27, Joan Heaton, 39, Jennifer Heaton, 10, and Melissa Heaton, eight
Age at time of murders: 13-15
Location of the crimes: Warwick
Crime dates:  July 27, 1987–Rebecca's murder; September 1, 1989–murders of the Heatons
Crimes: Home invasion, murder, triple murder, & murder of children
Weapon: Knife
Murder method: Stabbing–Rebecca was stabbed 58 times; Joan was stabbed 57 times; Jennifer was stabbed 62 times; and Melissa was stabbed 30 times
Sentence: Incarceration's until 21st birthday for the murders (but given more time for additional crimes)
Incarceration status: Incarcerated at the Florida State Prison
Summary
In 1987, Price, then 13, invaded his neighbor Rebecca's home and stabbed her to death, inflicting 58 stab wounds on the mother of two. Two years later, he invaded the home of the Heaton family, who were also his neighbors. Price, then 15, stabbed Joan and her young daughters to death, inflicting dozens of wounds on each victim. Price was tried as a juvenile and was sentenced to incarceration until his 21st birthday-the maximum sentence available. However, the serial killer has committed additional crimes, including violent crimes, and been sentenced to more time in prison. In 2004, he was transferred to Florida, where he remains incarcerated to this day.
Details