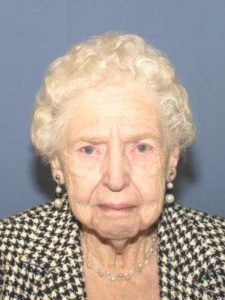 Victim: Margaret Douglas, 98
Murderer's age: 17
Death: April 9, 2018, Wadsworth, Ohio
Margaret was the victim of a brutal premeditated thrill-killing and post-mortem sexual assault. Her killer was sentenced to life without parole–however, Ohio Senate Bill 256 makes him eligible for parole after 25 years. The new law has severely harmed Margaret's family.
The biggest amount of pain and stress I feel by the potential release of my Aunt's killer is due to the lack of justice it means for her and what she went through. The crimes done against her that night were horrifying, and her suffering is something that will always haunt me. The possibility of her killer being released is so unjust and belittles the torture that she went through that night. That lack of justice is the most upsetting and disturbing to me. 
I am also distraught over now having to relive that night in detail when giving interviews. During the initial investigation and sentencing, my family did not feel that we needed to give any interviews or get any public support in order to obtain justice. And we were correct in that- the judge gave the killer a life without parole sentence due to the horrifying specifics of his crime. Now that Ohio lawmakers have reduced this sentence, we feel we have to reach out to the media and give interviews to make the public aware of the horrible, unjust ramifications of this new law. Going through these interviews and discussions is awful. 
After my Aunt's murder, I didn't really sleep for weeks. I only started to feel safe to fall asleep after purchasing an alarm system and a gun, and even then it took almost a year for me to sleep soundly. I am now having nightmares again, and now laying in bed feeling unsafe to fall asleep due to discussing all the details repeatedly in interviews. I again don't feel safe in my own home because of the changes to Ohio law, and the potential release of Gavon Ramsay.


Margaret's great-niece
Read a statement from Margaret's great-niece on Ohio SB 256 here.
WADSWORTH — Margaret M. Douglas, 98, of Wadsworth passed away Monday April 9, 2018. She was born September 15, 1919 in Akron, Ohio to the late Howard and Margaret Frick.
Mrs. Douglas loved working in her flower garden, appreciating the beautiful colors, traveling with her husband and friends and going to, and watching Cleveland Indians games.