Read local media coverage of this brutal crime.
Was Nebraska Couple's Murder Revenge or Random?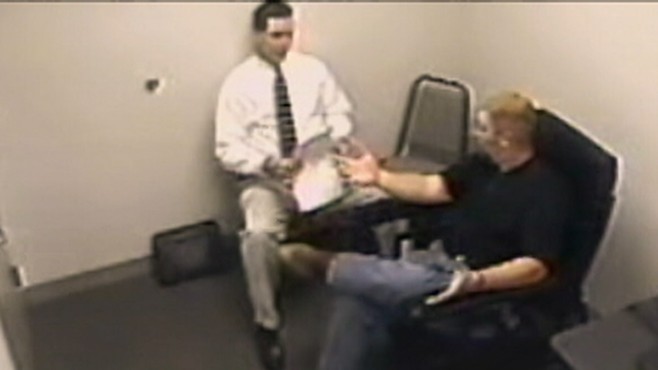 For legendary crime scene investigator David Kofoed, this was one of the bad ones.
"It was like something out of Truman Capote's 'In Cold Blood,'" he said.
Well-liked couple Wayne and Sharmon Stock were found viciously murdered in their Nebraska farmhouse, apparently killed on Easter Sunday, 2006.
The tiny town of Murdock, Neb., where many hadn't locked their doors for years, was in utter disbelief.
"It was, of course, total shock," said former pastor Jon Wacker. "There were all kinds of theories running around."
But to Kofoed, a veteran investigator of the Douglas County Crime Lab, the crime had all the earmarks of a revenge killing by someone the Stocks had to have known.
"We didn't see any indication of robbery…so we thought this has got to be a personal attack," he said.
Attention quickly focused on the Stocks' 28-year-old nephew Matthew Livers, who was reportedly angry at the couple over a money matter. Livers submitted to a polygraph test, which he was told he failed. After initially vehemently denying responsibility, Livers eventually began to break down under videotaped police questioning.
Interrogator: The truth is, you got a gun, right or wrong?
Livers: Right.
Prompted by police questioners, Liver gradually confessed to the crime and implicated his cousin Nick Sampson — giving many details.
Livers: I put the gun to her face and blew it away… and then as I headed out I just stuck it to him and blew him away.
Livers told police he and Sampson had been driving a tan car that night — and witnesses came forward who had spotted a suspicious tan car speeding on a road near the farmhouse the night of the murder. Even more damning, the car Livers said they had used had been taken to a car wash within hours of the murder.
"The car was detailed at 5:30 in the morning on that same day," said Kofoed, "which is an awful odd coincidence."
But there was no corroborating physical evidence — no DNA or blood to link the two men to the crime scene. So, police sent in the CSI lead investigator, Kofoed — famous in Nebraska for being able to find evidence when no one else could.
Kofoed went into the car Livers said he had used to commit the crime and — although earlier processing of the car had turned up nothing — found one single drop of blood from the crime scene. The case was made — and Livers and Sampson were charged with murder.
But there was this one unresolved detail: a golden ring found on the kitchen floor in the murder house. It didn't belong to Wayne or Sharmon Stock or any of their friends — and it didn't belong to Livers or Sampson either. It was a minor loose end that would ultimately turn the case upside down.
Golden Ring Turns Case Upside Down
Christine Gabig, a young investigator from the Douglas Crime Lab, set out to trace the gold ring found in the murdered couple's kitchen, which bore an inscription — "Love always, Cori and Ryan."
"The inscription is pretty unique because it's on the outside of the ring," Gabig said. It also had a jeweler's mark on it. Gabig was able to trace the ring to a company in New York State that had just gone out of business.
"When I called, it was their last day in the office. This woman was just there cleaning out the office," she said.
A day later, and the ring might never have been traced. Seventy phone calls later, Gabig had discovered that the ring belonged to a man named Ryan in Wisconsin, but it had been stolen, along with his red pick-up truck, two days before the murder. A young couple was in custody, believed to have stolen that truck as part of a multi-state crime spree: 17-year-old Jessica Reid and her boyfriend 19-year-old Gregory Fester.
New Suspects Emerge: Teen Couple on Crime Spree
Reid was a former honors student who fell in love with Fester, who had a history of hot-wiring cars and burglary.
Under videotaped questioning, the couple admitted to killing the Stocksduring a late-night random robbery on Easter Sunday. The ring — along with two other pieces of evidence found at the scene — had a mixture of DNA from Reid and Fester, as well as blood from the murders. It seemed like an air-tight case.
But police believed Livers and Sampson must have been involved as well. After all, they had a confession, and the blood evidence found in the car by Kofoed.
Reid said interrogators tried to pressure her into saying Livers and Sampson were also involved in the murders. After being threatened with the death penalty, she said she briefly did implicate Livers and Sampson, but then almost immediately recanted.
For police, the sticking points were the confession and the blood evidence. If Livers and Sampson didn't kill the Stocks, why would Livers have confessed? And how did blood from the crime scene end up in their car?
"Did anyone begin to wonder about your blood specimen?" "20/20's" Deborah Roberts asked Kofoed.
"Obviously, eventually they did," said Kofoed.
One of the people who wondered was Special Prosecutor Clarence Mock. And his answer would rock the world of Nebraska law enforcement.
"The evidence demonstrated beyond a reasonable doubt that David Kofoed planted the DNA," said Mock.
Legendary CSI Investigator Accused of Planting Evidence
The seemingly air-tight case against Livers and Sampson was beginning to unravel.
Special Prosecutor Mock said the lie detector test Livers was told he failed had apparently been incorrectly scored. And, he said, Livers, a suggestible man of limited capacity, simply confessed to a crime he did not commit.
Mock said Kofoed, believing Livers and Sampson to be guilty, planted evidence to make sure they would be convicted.
But could the legendary lead CSI investigator really be guilty of planting evidence? Kofoed protested his innocence, and passed two polygraph tests. He was tried in federal court on the narrow charge of misdating a report and found innocent.
However, he was tried a second time in Cass County on broader charges of falsifying evidence — and this time, he was found guilty.
Kofoed continues to deny the charges.
"If I was to plant evidence — and I didn't — but if I was to plant evidence, I would've locked those guys tight. We had all of their clothing. We had their shoes. We had a pair of Nick Sampson's jeans with a possible blood stain on them," he said. "It doesn't make any sense to me at all that we would plant evidence in somebody else's car."
Special prosecutor Mock disagrees: "It was a much more believable scenario that a small amount of blood might have been overlooked at a location where some other technician had failed to swab than something very obvious."
Kofoed's lawyer, Steve Lefler, argues that Kofoed was the guy who authorized Gabig to track down the ring that would eventually establish Livers' and Sampson's innocence.
"Does it make any sense," said Lefler, "that David on the one hand is going to try to convict these two guys and on the other hand say to Christine, 'Go find this?'"
Kofoed told "20/20" it all boils down to contamination. He believes the test kit he used to swab the car had also been present at the Stock house where it became contaminated with blood from the crime scene.
Handout
Jessica Reid and Matthew Livers both confessed to the murder of Wayne and Sharmon Stock. Watch the two confessions. Can you identify the false confession?
But Mock said there would have been no need for a kit used to determine if there was blood present at a crime scene as bloody as the Stock murder house. "This was one of the bloodiest scenes that I've observed," Mock said. "It was obvious that there was blood."
As the reverberations from the case begin, the civil lawsuits for police misconduct, the re-examination of other cases Kofoed was involved in — what everyone involved agrees on is how precarious justice sometimes seems.
"But for the finding of the ring," said Mock, "Livers and Sampson may very well be on death row right now."
Kofoed is currently serving a 20-month to 4-year sentence for manufacturing evidence; he is appealing. Jessica Reid and her boyfriend are serving life-sentences for murder. Matthew Livers and Nick Sampson are currently suing police investigators for alleged misconduct and fabrication of evidence.