Victim: Maddy Middleton, eight
Age at time of murder: 15
Crime date: July 26, 2015
Crime location: Santa Cruz
Crimes: Kidnapping, child-rape, child-murder, and corpse abuse
Murder method: Strangling and stabbing
Sentence: Juvenile detention until age 25
Summary
Gonzales, 15, lured eight-year-old Maddy to his apartment where he attacked her. Gonzales bound, raped, and ultimately murdered Maddy and discarded her in a recycling bin. Because of SB 1391, Gonzales could not be tried in adult court, as he was under 16 when he committed the crimes. Gonzales pleaded guilty to the murder and will be incarcerated until he turns 25.
Details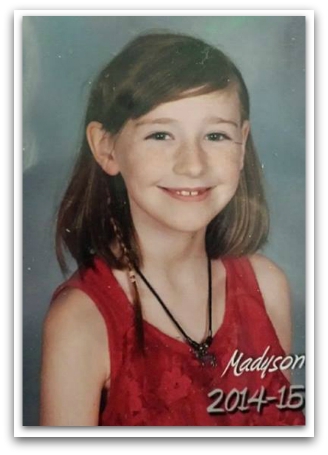 In July 2015, eight-year-old Maddy Middleton was lured with the promise of ice cream by 15-year-old Adrian Gonzalez to his apartment at the Tannery Arts Center in Santa Cruz, California. Once Maddy was in the apartment, Gonzales restrained her from behind, tied her up with duct tape, and raped her. Gonzales strangled little Maddy and stabbed her in the neck three times. Maddy was shoved in trash bags and placed in a recycling bin where she died of positional asphyxiation. Gonzales even pretended to help search for Maddy.
The man who was 15 when he kidnapped, raped and murdered 8-year-old Madyson "Maddy" Middleton and then dumped her body in a recycling bin was sentenced Tuesday to juvenile prison until he turns 25 in October 2024.
Adrian "A.J." Gonzalez, now 21, must also register for life as a sex offender, Santa Cruz County Superior Court Judge John Salazar ruled. He added that Senate Bill 1391, which prohibits juveniles from being prosecuted as adults, limited the penalties that could be imposed.
"There is no way for anyone to understand the profound and absolute pain and grief a family experiences when losing a child under these circumstances," Salazar said.
Gonzalez pleaded guilty on April 15 to murder and numerous sex offenses and other charges. If convicted as an adult, he would have faced life in prison.
Before the sentencing, Gonzalez offered an apology, saying he hopes to one day earn the forgiveness of Maddy's family.
"I understand there is very little I can say after all the pain and suffering I have caused," he said. "My goal is to work on my issues so no one else has to experience what you have endured.
"I am aware that does not change the fact that I have brought you tragedy, loss and devastation. I am hopeful that, when I take the time to apologize, that you may accept my apologies for the actions that I have done and what they have brought you."
Maddy's father Michael Middleton said he has accepted her loss, and that he has forgiven Gonzalez.
"That does not make anything easier, it just allows me peace," he said. "The alternative could be to hold to the darkness, but this would only consume my soul. I refuse to poison my soul and existence. Forgiveness is the only path, and I believe that Madyson would agree."
But Middleton said that attitude should not be taken as a desire for leniency, saying that Gonzalez should have faced life in prison.
"Adrian Gonzalez should never have the opportunity to repeat these crimes again," he said.
Middleton said he doubts that rehabilitation is a possibility, considering Gonzalez's crimes.
"A crime of this nature should not be swept under the rug, based on individuals who feel this can be remedied by rehabilitation," he said. "I do not see this scenario as possible based on the severity and sophistication of the acts that were committed.
Maddy's mother Laura Jordan described her daughter as "the light and love of my life."
"(She was) the best thing I ever made," Jordan said during an emotional, tearful statement. "She was growing up beautifully, bright, perky, fun and generous of heart."
Jordan said that Madyson's death left her suffering depression, anxiety, and PTSD that impacted every aspect of her life and made her unable to work.
"You stole my joy, my ability to laugh through grief, leaving me with utter and complete hopelessness," she said. "A.J., I've been hollowed out by your cruel, brutal, unconscionable acts, left empty and aching for my beautiful child Madyson Jordan Middleton."
Before the hearing, about 30 people gathered outside the courtroom to protest SB 1391. Many of those people later huddled around cell phones to listen to the livestreamed hearing.
Scotts Valley resident Linda Johnson, a mother of two adult daughters, said she came to show her support to Maddy's family.
"It's my personal opinion that a child of 15 that plans such a heinous crime cannot be rehabilitated," she said. "I don't see that happening. He planned every detail."
She said that life without the possibility of parole would have been the appropriate punishment. "I think he's a predator, and no child is safe around him."
Dan Middleton, Maddy's grandfather, said that the sentencing ignores all the evidence showing that Gonzalez is a danger to society. He also predicts that SB 1391 will have dire consequences for future cases.
"I'm very disappointed in the way things are falling out," he said. "What we're doing here is waking people up about what will happen down the line."
The teen suspect at the center of a high-profile child killing will be tried as an adult, officials said this week.
You might recall the awful case: Eight-year-old Maddy Middleton was last seen riding a white Razor scooter outside Santa Cruz's Tannery Arts Center on July 26, 2015. After a frantic search, her body was discovered in a nearby dumpster.
A then-15-year-old neighbor named Adrian Jerry Gonzalez was arrested, with officials saying that the boy had raped and strangled the child before dumping her in the trash.
Gonzalez, who police say knew Maddy, allegedly lured the child to his family's apartment, where he allegedly attacked and killed her. He caught police attention by lurking around the trash bins on the first floor of the complex while the search for Middleton was taking place, news reports at the time said, and was even standing nearby watching as they searched the bin where the body was discovered.
Gonzalez pled not guilty to first-degree murder, with the special circumstances of sexual assault, kidnapping, and lying in wait following his arrest, and has remained in custody without bail since. News reports in June of 2016 promised a trial in February of 2017 — but obviously that didn't happen, as just this week a judge determined that the now 17-year-old Gonzalez, when he is tried, will do so as an adult.
According to the Santa Cruz Sentinel, the decision was made Tuesday after a nine-week "transfer hearing" to move Gonzalez from the county's juvenile justice system (which continues to work with wards until the age of 23) to its adult jail and eventually, court.
Gonzalez, who admitted on tape to the crime, "did not suit the juvenile system," Santa Cruz County Superior Court Judge John Salazar said in his ruling.
Salazar summarized the testimony from many doctors and psychiatric professionals called throughout the case. One of the witnesses said A.J. may have tried to kill someone to create enough guilt that he would commit suicide. The boy had a history of neglect and suffered from depression. A.J. was sociopathic — lacking empathy — and one doctor said A.J.'s sociopathic tendencies were so severe, that person only had seen those behaviors exhibited by inmates on death row, Salazar said.

"It could have been anyone," Salazar said, summarizing the testimony. He said others found A.J. to be sophisticated without learning disabilities.

Salazar said the acts were "cruel, calloused and calculated."
According to Gonzalez's defense attorney, Larry Biggam, his client suffers from autism and attention-deficit disorder and "can be rehabilitated," NBC Bay Area reports.
"I am disappointed, but I am not surprised," Biggam said. "I think the ruling reflects many people's understandable anger about the crime." They will be appealing the ruling, Biggam said.
Maddy's family celebrated the verdict, with her mother telling the Sentinel that "We're howling with delight…A.J. does not present like anyone they have ever seen. He's a serial killer in the beginning."
Maddy's grandfather, Dan Middleton, was similarly relived. "The facts of this horrible crime could not ethically be viewed in any other way: Gonzalez has shown no remorse and has given no explanation for what he did and the experts have testified that he cannot be adequately reformed and poses a continuing threat to society."
"Despite his age at the time of Maddy's tragic death, he has shown a level of criminal sophistication beyond his years and a frightening indifference to the suffering he has caused."
Following the ruling, Gonzalez was transferred to Santa Cruz County Jail, where he will await trial with the adult inmates. His first hearing in the now-adult case is scheduled for November, with a trial date that has yet to be determined.
"I feel very bad for the jury who is going to have to look at all those awful photos of what he did to my daughter," Jordan told NBC Bay Area.
"We were spared the photos this time. We heard the details. The jury is going to have to see it all. And you can't un-see things."
SANTA CRUZ — Laura Jordan, whose 8-year-old daughter was killed in Santa Cruz more than three years ago, said she believes her daughter's suspected killer deserves solitary confinement for the rest of his life.
She is concerned whether or not a Santa Cruz County Superior Court judge — the same judge who put defendant Adrian "A.J." Gonzalez's case in adult court in October 2017 — will favor a new law that bans 14 and 15 year old offenders from the adult criminal justice system in California.
Superior Court Judge John Salazar on Thursday morning has the opportunity to determine whether the new law is unconstitutional — a claim made by the District Attorney's Office in recent briefs. Salazar could delay proceedings until an appellate court's ruling becomes binding after it deemed Senate Bill 1391 — which prohibits 14 and 15 year olds from facing adult proceedings in California — constitutional.
For Jordan, the uncertainty of the case made for a troubling Mother's Day, the third since the homicide. Her 8-year-old daughter Madyson Middleton kept breathing after she was choked and stabbed in the neck three times. She was placed in garbage bags and folded, hauled down stairs at the Tannery Arts Center, where she and her accused killer lived, and put in a dumpster, according to testimony in the lingering case.
Wards in the juvenile system have access to a buffet of services intended to make them fit for life on the outside by their mid-20s. As an adult, if convicted, Gonzalez, now 19, would face the possibility of life in prison. His charges include murder.
"There's no possible way he could be rehabilitated," Jordan said of Gonzalez. "I do believe in giving young people, even adults, who make mistakes lots of rehabilitation — but on a case-by-case basis. One size does not fit all. He needs to be in solitary confinement for the rest of his life."
Jordan still lives at the Tannery. Gonzalez was her neighbor. His mother — and many people in Santa Cruz — ushered constant condolences for her loss for weeks after the killing that shocked the city.
"It's like we both lost our kids," Jordan said.
Senate Bill 1391 has been deemed constitutional only at the appellate level in a case that originated in Solano County. Multiple county courts have ruled both ways; a few consider the law unconstitutional.
"This is a ridiculous law," Jordan said of the retroactive SB 1391. "All the gangs are going to have 14 and 15 year olds killing people."
Three years and nine months of proceedings have dragged her family through more trauma that the travails of a criminal trial, Jordan said.
Jordan's father, Bruce Jordan of Sacramento, drove to most hearings in the case but no longer can do so. Brain cancer has left him with a short life expectancy.
"It's just so tragic that my father might not live to see justice for Madyson," Laura Jordan said.
Bruce Jordan was active in corresponding with the Sentinel regarding the constantly changing case. Gonzalez was "direct-filed" by the District Attorney's Office to face trial in adult courts. A separate state law — Proposition 57 — was passed by California voters in November 2016 to eradicate the direct-file authority of prosecutors.
The case went to juvenile courts for the first time. Salazar ruled after the nine-week transfer hearing in October 2017 that Gonzalez warranted adult proceedings.
Then came SB 1391, which took effect in January.
At the transfer hearing, an official testified that Gonzalez had admitted his actions to authorities shortly after the child's body was found; Gonzalez was arrested seconds after as he was feigning help in the search that made national headlines.
"I don't get it. It's turned into a legal battle," Jordan said. "Once he was caught and confessed, we thought it was a done deal. We can rest. Maddy can rest. But now, there's such uncertainty and fear."
The defense, led by Chief Public Defender Larry Biggam and Ted Fairbanks, contend that Gonzalez was the product of a troubled childhood. They have said he excelled at Santa Cruz County Juvenile Hall, which provided a slate of services and psychotherapy.
Biggam has said Gonzalez is amenable to rehabilitation in the juvenile system. District Attorney Jeff Rosell has argued that Gonzalez is unfit to be released at any age after an act considered cold and calculated.
"I can't wrap my head around the fact that people who are arguing about this are so far removed from the situation," Jordan said. "It didn't just happen to me. It happened to all of us at the Tannery."
SANTA CRUZ — Madyson Middleton's accused killer stays in criminal court, for now.
Adrian "A.J." Gonzalez, 19, has faced adult proceedings for most of the three years and nine months since he was charged with first-degree murder in connection with her death.
Superior Court Judge John Salazar on Thursday morning ruled against a new law — Senate Bill 1391 — that bans 14- and 15-year-old offenders from the harsh penalties of California's adult criminal justice system.
"What renders SB 1391 unconstitutional is that it goes too far," Salazar wrote in court documents. He disputes the idea that all 14 and 15 year olds could be rehabilitated through their mid-20s, when wards can be released unless requests for extensions are made every two years.
"The voting public never agreed to allow extremely violent and dangerous individuals to be returned to the general public without first being rehabilitated," Salazar wrote. "And in fact, the public was promised protection from these individuals."
Gonzalez initially was "direct-filed" by the district attorney's office to face trial in adult courts. A separate state law — Proposition 57 — was passed by California voters in November 2016 to eradicate the direct-file authority of prosecutors. Proposition 57, in early drafts, had language addressing 14 and 15 year olds, but that language was removed before the initiative went to a vote.
District Attorney Jeff Rosell said SB 1391 — which former Gov. Jerry Brown signed into law in October — revived the same language without voter approval. The same month, Salazar ordered the case belongs in criminal court after reviewing testimony during a nine-week transfer hearing.
"It's the worst piece of legislation I've seen in 28 years," Rosell said of SB 1391 after the brief hearing in a packed Department 7 courtroom on Thursday morning. "The court saw this the way we did."
According to Salazar's ruling, Senate Bill 1391 "completely eviscerated the district attorney's ability to petition the court to keep dangerous criminals behind bars if that individual committed the crime when they were less than 16 years of age."
Home alone
Gonzalez is accused of killing his 8-year-old neighbor who had attended his birthday parties and participated in a Tannery Arts Center summer art camp at which the defendant was an assistant. He is accused of feigning assistance to search for her body that was dumped in a Santa Cruz apartment recycling bin on July 26, 2015, according to court documents. She was found 7:55 p.m. July 27, 2015 after being reported missing.
Gonzalez had been staying at his mother's home alone.
Madyson's mother, Laura Jordan, said Gonzalez also babysat other children at the Tannery. She said her daughter was so badly beaten and stabbed, it was recommended that her body be covered in special clothing at the funeral.
"But that's not Maddy," Jordan said, clutching a photo of her smiling daughter. "She would never wear that."
She said he threw garbage in the bag with her body.
"That is sick," Jordan said.
Gonzalez has not shown remorse, Jordan said.
"A.J. was asked if he wanted to apologize to me and he didn't answer," Jordan said. "He has never once written me a letter of apology or apologized in any form."
Challenges ahead
Bruce Jordan, Madyson's maternal grandfather, is battling brain cancer but was able to drive from his Sacramento home to Santa Cruz on Thursday.
He has challenged the nearly four-year pretrial process in a state being swept by criminal justice reforms that began with a federal order to reduce the prison population.
"Senate Bill 1391 needs to be turned down everywhere," Bruce Jordan said. "It endangers so many people in California."
The case has become part of a statewide legal battle the district attorney's office and the county's chief public defender deem fit for the California Supreme Court. Only one state appellate court has ruled on the embattled law and deemed it constitutional — the opposite of Salazar's decision Thursday. The state's attorney general has argued that SB 1391 should be upheld.
Santa Cruz was not the first county to dispute the broad law. Kern County Court in January also ruled that SB 1391 is unconstitutional by repealing voter-approved Proposition 57, according to that county's District Attorney Cynthia Zimmer.
"This is an important step in our effort to fight back against Sacramento's overreaching policies that put lives in danger," Zimmer said in a release.
In Sacramento, two judges deemed the law unconstitutional, The Sacramento Bee reported. In two cases, a Sacramento Juvenile Court judge ruled to the contrary.
To appeal
In Santa Cruz, Chief Public Defender Larry Biggam said Thursday's ruling guarantees he will appeal a decision he considers contrary to overall public safety. The case has mired in a flurry of arguments about the extreme violence alleged versus the defendant's ability to be rehabilitated.
"It may not be politically popular, but this is common sense," Biggam said of the need to rehabilitate youth offenders.
He offered condolences to Madyson's family.
"They have our compassion," Biggam said.
Attorney Ted Fairbanks, who is representing Gonzalez, said he was not surprised by Salazar's ruling.
Appellate courts in Santa Clara County will be receiving another request to review the case.
"It could take any length of time," Fairbanks said.
The next hearing before Salazar is slated for Aug. 21.
In the lead-up to Gonzalez's first court appearance, a source revealed to the San Francisco Chronicle that that the suspect, who was Maddy's neighbor, drew her to his third-floor apartment with the promise of ice cream.
Once the girl was inside, Gonzalez allegedly restrained her from behind, tied her up with duct tape and raped her before strangling the child to death.
While police have not said anything about a possible motive, the source claimed that Gonzalez had been suicidal and allegedly killed Maddy because he wanted to see how people would react.
…
It has since been revealed that her suspected killer allegedly duct taped, raped, strangled and stabbed the child before throwing her body in the trash.