Victim: Rebecca J "Becky" Schnitzler Hauser (May 14, 1962-October 4, 1994)
Becky was a 32-year-old mother when she was robbed, shot, beaten, and stabbed over 30 times by four 15-year-olds.
Becky's son Josh helps other homicide survivors by providing them with "Becky Baskets" which contain picture frames, books about grief and trauma, stuffed animal bunnies called "Becky Bunnies," and other things.
One of the murderers has been granted work release which has further victimized Becky's family.
April 5, 2017
DES MOINES, Iowa —
Rebecca Hauser's brutal murder made national headlines and rocked Iowans to their core nearly 23 years ago.
Now, her son is finding a new purpose through his grief.
Ten years old at the time, Josh Hauser still remembers everything about the day his mom was shot and stabbed on a rural Marshall County road.
"My dad and a neighbor and my grandfather came to school to get me, and it was a big shock," Hauser said. "I just wanted to run away."
Three 15-year-olds from Missouri were charged with first-degree murder. All three were sentenced to life in prison without the possibility of parole, but a U.S. Supreme Court ruling meant they were resentenced last summer.
"It kind of opened up some old wounds there," Hauser said.
Hauser said he was forced to deal with childhood trauma that now affects his adult life in the form of panic attacks, anxiety and depression.
"You don't really know what your feelings are at that time and it is okay to talk about it," Hauser said.
"It's not something you just get over," said Beth Hauser, Josh's wife. "Nor should anyone ever expect you to. It's a life-long healing process."
Part of that healing process for them is creating the "Becky Basket."

Wednesday, Josh and Beth Hauser delivered a dozen baskets to Access — a victim support shelter in Ames.
Each basket includes a heartfelt letter from Josh along with several items meant to hold significant meant. Among those items is the "Becky Bunny."
"My brother and I would go visit my mother at the cemetery, and that was our way of spending time with her," Josh Hauser said. "And there was always bunnies around there."
Josh Hauser said his hope is that the baskets bring comfort and help kids touched by tragedy deal with their anguish.
"To be able to talk about your feelings and emotions and to get help," Hauser said.
Hauser said even has he raises his children 23 years later, the pain never goes away.
"The hardest part is knowing they are going to miss out on an amazing grandmother," Hauser said.
Victim advocates will deliver the "Becky Baskets" to children throughout the state of Iowa who are affected by homicide this year.
The Hausers said they hope to make the baskets each year. Learn more about how you can help their cause at GoFundMe.com.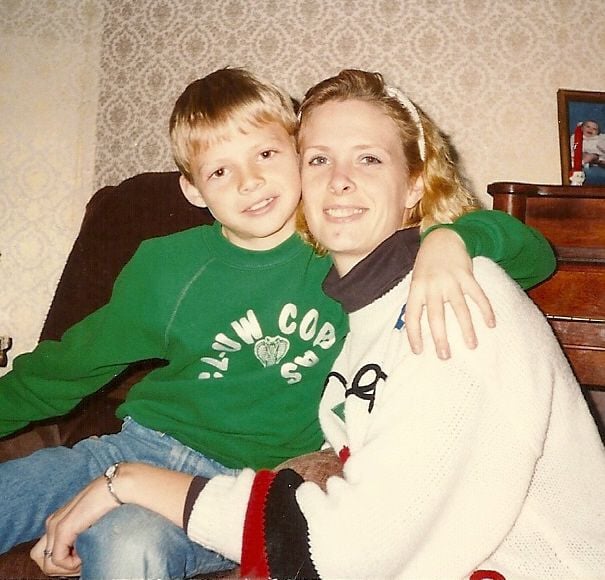 Kristin Guess Apr 4, 2017 Updated Oct 16, 2018
WATERLOO — More than 20 years have passed since Josh Hauser lost his mother to a violent attack, but for Josh the wounds are still fresh.
His mother, Rebecca "Becky" Hauser of Union, was murdered in 1994 by four runaway teenagers from Missouri. She was a mother of four, with Josh being the oldest, 10, at the time.
For years, Josh has suffered from night terrors, panic and anxiety attacks, depression, resentment and the urge to isolate himself.
A few years ago, Josh saw a 5-year-old boy on the news who had just witnessed his mother's murder. Josh knew he wanted to do something to help the little boy, himself and others.
"That really hit home very hard, and it was difficult even for me to process that now as an adult," Josh said.
With the help of his wife, Beth Hauser, and family members, Josh agreed to seek professional help last year with the Homicide and Other Violent Crimes Program at the Domestic Sexual Assault Outreach Center in Waterloo. Although the tragedy is something he deals with on a daily basis, getting help and helping others has made a difference.
"It was kind of our way to promote the healthy grieving since I was lacking, I guess, in my younger years," Josh said. "Now that I've gotten professional help, I realize how much good it actually is for the grieving process, and now I'm able to talk more openly about it than I was before and deal with my own demons, so to speak."
Over the last eight months, the Sumner couple has been working on a project called "Becky Baskets." The baskets are filled with resources to help young families after a homicide has occurred with the hope of promoting health, hope and healing after this kind of traumatic loss.
With monetary donations, Josh and Beth were able to create 50 baskets. They delivered the first 10 Tuesday morning to Terri Halbach, homicide/other violent crimes counselor at the Domestic Sexual Assault Outreach Center. Halbach also is the Hausers' personal victim advocate.
"I thought it was a blessing, because we're always looking for ways to help families and children, and resources are tight," Halbach said. "What I've seen through Josh and Beth is just amazing. They're amazing people to be able to tell their story and share their story with the whole state, and this may help somebody else say, 'Hey, I can talk to someone else about it.'"
The couple will distribute the baskets to other programs throughout Iowa this week, coinciding with National Crime Victims' Rights Week. Victim advocates from these programs will then take them to the homes of families who have suffered a homicide.
The baskets include books on grief and trauma for all ages, a picture frame, journal, sketchpad, crayons and tissues.
"A lot of times in homicide … not only does it take the person but it kind of takes their legacy," Beth said. "She was a lot more than that. She was way more than her last life event. We talk about how caring and giving she was and how much she loved children."
Also included is a sympathy card with a personal letter from Josh and a stuffed rabbit, or what they call the "Becky Bunny."
The rabbit has been a significant and constant theme in Josh's life.
"Every time my brother and I would go visit mom, we'd go to the cemetery and that was kind of our way to play and be with mom, and there'd always be rabbits and bunnies near her headstone all the time," he said.
"I feel like every time I struggled or had something going on in my life significant, like graduation from high school or competing track at Wartburg, I'd always see bunnies right before. It was always a calming thing for me. It was kind of a way of feeling she was there with me at all times."
The couple has since moved, and rabbits awaited them at their new home. There even was a rabbit waiting on their steps in the rain when they brought home their first child.
"That was really, really nice," Beth said.
The bunny is meant to provide comfort to children and help remind family members their loved one is never truly gone.
To assist Josh and Beth Hauser with producing more Becky Baskets, future speaking events as well as the launch of the Rebecca Hauser foundation, go to https://www.gofundme.com/becky-basket-for-homicide-survivors.
December 24, 2020
MARSHALL COUNTY, Iowa —
One of the men convicted in the brutal 1994 killing of Marshall County mother Rebecca Hauser has been granted work release, according to the Iowa Department of Corrections.
Hauser's son and Marshall County's sheriff reacted to the news with disappointment Thursday.
Agency spokesperson Cord Overton confirmed that on Wednesday, Jayson Speaks, 41, was transferred from the North Central Correctional Facility in Rockwell City to the Nelson Center in Cedar Rapids for work release.
Hauser was in the wrong place at the wrong time when four 15-year-old boys from Missouri posed as police officers and pulled her over on a county road in Marshall County. During the robbery, they shot her, brutally beat her and stabbed her more than 30 times.
Speaks and two other boys were charged with first-degree murder in the killing and sentenced to life in prison without the possibility of parole. The other teen took a plea bargain to testify for the prosecution.
A court resentenced them to life with the possibility of parole in 2016 after both the U.S. and Iowa Supreme Courts ruled that [mandatory] life-with-parole sentences were unconstitutional for juveniles.
KCCI spoke to Hauser's son Josh over the phone Thursday. He was only 10 years old when his mother was killed. He said the news of Speaks' work release was particularly difficult given its timing; His family was about to spend its 26th Christmas without Rebecca.
Josh Hauser said his family feels "more victimized" by the process.
"It seems backwards the way the justice system works now," he said.
Hauser said he understands giving people second chances, but his mother did not get a second chance.
Marshall County Sheriff Steve Hoffman called the news "disappointing."
"Victims of violent crime have shared with me what they go through. They live with the losses every single day and the parole process is like ripping off a Band-Aid and making them relive it again," Hoffman said in a statement to KCCI. "The process loses sight of the people who really matter — the survivors. To find that Jayson Speaks has actually been paroled is appalling."
Hoffman was dispatched to the scene on Oct. 4, 1994, the day Hauser was killed, while he served as a Marshall County deputy.
"When murderers are resentenced decades and decades later, that sense of finality in the criminal justice system is decreased," lead prosecutor Thomas H. Miller told KCCI after the 2016 resentencing.
Miller commented Thursday on Speaks' work release, saying while he hopes Speaks is able to become a productive member of society, there is no doubt his move to work release causes more pain.
"There's a reason for the U.S. Supreme Court to give juvenile murderers a second chance at life," Miller said. "But I'm not sure they or any of us truly appreciate the pain that that inflicts upon the victims whose lives are lost."
He described Hauser as a "remarkable young woman."
"Becky Hauser lost probably 50 years of a very productive life, not to mention the harm that was done to her family, Jayson Speaks lost 25 years of his freedom," Miller said. "I'm not sure it was a proportional tradeoff."
Overton said the Department of Corrections had no comment Thursday regarding the transfer.