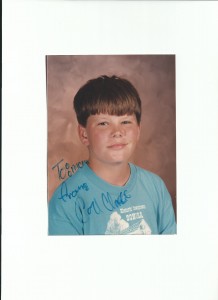 CARL DAN CLAES
From the POMC (Parents of Murdered Children) Wall:
Carl Dan Claes
14 Years Old
March 20, 1981 to May 16, 1995
Carl Dan "C.D." Claes from Lemon Heights, California was a gifted young boy, an only child born on the first day of spring. Carl Dan grew-up in Tustin.
A lover of hockey, Carl Dan played endline hockey and taught the neighborhood kids how to play. His favorite team was the NHL Penguins. His hero was player Mario Lemieux who had overcome tragedy in his life. Other things he liked was swimming, boogy boarding, music, making models, playing with Legos and woodshop.
Carl Dan loved his Ninnie and Grandpa. He loved animals. Only nine days before his death, he and his Popeye Dan George had gotten a black and white female kitten he named Felix, a name of a hockey goalie. He loved going to Plain City, Ohio, which was his Popeye's hometown and to Texas to visit his great-grandmother and great-aunt.
Sensitive, giving and trusting described Carl Dan as well as mechanical.
Carl Dan was very handsome but shy around girls and had just begun liking them enough to ask one out.
Green was Carl Dan's favorite color and his favorite band was Boyz II Men but he also loved the oldies.
Carl Dan was full of life and energy.
CIRCUMSTANCES OF THE MURDER
Carl Dan "C.D." Claes, 14, from Lemon Heights, California had witnessed his grandmother pass-away due to a massive stroke, so his grandfather had purchased a d.j. system for him to help during the grieving process and to help him earn money by d-jaying dances, etc.
A group of known problem kids, some of whom were on probation, found out about the system and made friends with him. They convinced Carl Dan that people were out to get him and that they would protect him if he loaned his system to them. He loaned it to them.
On May 16th, 1995, Carl Dan tried to get the system back from the kids and he was executed.
They shot him once with a .22, then returned and shot him again.
His body was found May 17th, 1995 on a dirt trail where he bled to death.
In 1997 all trials came to a conclusion, guilty as charged in the heinous and premeditated murder of Carl Dan Claes. Carl's Mom, Danella, and Granddad attended all phases of the trial and sentencing. Danella lost her health, job and home in 1997-1998. In 2003 she worked with the California Attorney General's Office to ensure no resident of California would suffer the same fate.
Never a day goes by without Carl Dan's family missing him. We attempt to live by his motto,
"Carpe Diem".
Murdered in Orange County, California
Link to Podcast in which CD's mother is interviewed
Press Release from CD's mother:
PRESS RELEASE: JUDGE GOETHALS OF ORANGE COUNTY CALIFORNIA RESENTENCED VIOLENT CONVICTED PREMEDITATED MURDERER WITH SPECIAL CIRCUMSTANCES, "TOMMY" MILLER TO A MORE LENIANT SENTENCE UNDER THE MEDIA RADAR.
JUDGE GOETHALS OF ORANGE COUNTY CALIFORNIA RESENTENCED VIOLENT CONVICTED PREMEDITATED MURDERER WITH SPECIAL CIRCUMSTANCES, "TOMMY" MILLER TO A MORE LENIANT SENTENCE UNDER THE MEDIA RADAR. Judge Goethals of Orange County Superior Court on Friday, May 15, 2015 changed the Life Without Parole sentence plus 10 years for the use of a firearm to a 35 years to life indeterminate sentence for Thomas Donald Miller AKA "Tommy" Miller convicted murderer of Carl Dan Claes, an innocent boy barely 14 years old who was lured to Lemon Heights, California and executed in 1995 shocking Orange County, California. The case received extensive regional, state and national press coverage for 2 years.  Testimony included Miller in his own words stating he killed the boy "to see what it felt like, and it felt cool, very cool." After shooting Carl Dan Claes execution style on a secluded trail Miller and his accomplice Jason Merritt ate fast food came back and put two more rounds in the victim's head while he was unconscious and bleeding to death. The child was found the next morning by a woman walking her dog. Since January 2014 Thomas Donald Miller, "AKA Tommy Miller" has taken a sabbatical from Pelican Bay Secured Housing Unit Level 4 residing at Orange County Jail to attend the two day hearing conducted on April 29th and May 14th, 2015. During the hearing facts were presented that Miller had stabbed an inmate 26 times including the carotid artery and jugular vein along with 3 other extremely violent incidents. Because Miller had a LWOP sentence he was not prosecuted. Since housed in the SHU unit he has been found with a key to his handcuffs. The hearing is a result of now federally indicted California Senator Yee's Senate Bill 9 that was ushered through the California Legislature with little oversight resulting in a second bite of the apple for extremely violent juvenile murderers undermining the voter's changes to the penal code for sentencing in the 1990's.  It is a veritable gold mine for defense attorneys and defense experts while given another apple for parole besides the appeals process and a Governors clemency power. It is a nightmare for the murder victim's families and extremely costly for taxpayers.  Judge F. Briseno sentenced Miller in 1997, it was upheld by a three judge California Appeals Court and an appeal was denied by the California Supreme Court.  Judge Goethals is currently at odds with the Orange County District Attorney's Office; in a prior case Goethals had the Prosecutor assigned to the resentencing hearing removed from a trial. Senate Bill 9 resentencing hearings have tried to maintain a low profile with the public but extensive outreach within the prisoner community. The murder victim's Mother is quoted as saying "Every morning I awaken to the murder of my only child now I have to add a future parole hearing by a Judge with an agenda against the O.C. District Attorney's office overturning 5 other judges." Judge Goethals resentencing decision regarding Thomas Donald Miller AKA "Tommy" Miller sends a chill to California Judges who can still impose a Life With Out Parole sentence when the crime is first degree murder with special circumstances leading people to ask is LIFE WITHOUT PAROLE REALLY LIFE WITHOUT PAROLE?
Contact: [email protected]
###