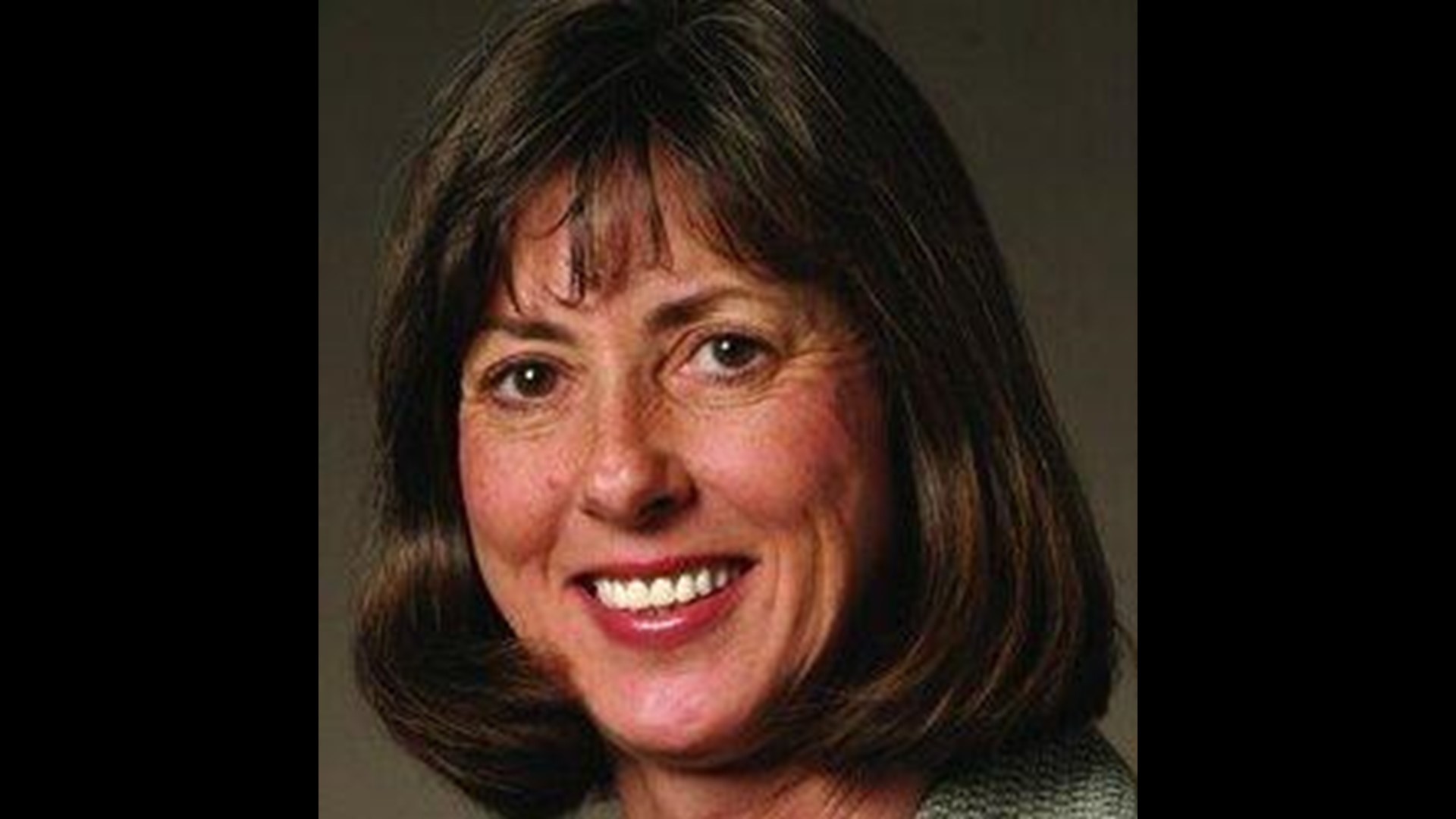 Murderer's age: 16
Death: October 20, 2013, Westerville, Ohio
From Jane's obituary in The Columbus Dispatch
Juergens Jane E. Juergens, age 55, of Westerville, Sunday, October 20, 2013. Founder and CEO of PeopleGen of Westerville, after a long successful career of 22 years at American Municipal Power in Columbus. Jane was a fearless and inspirational woman whose passion empowered women and enriched employee's lives. She was a devoted mother, beloved daughter, and compassionate caring friend.
Neighbors hope to change law, rename park where jogger killed by The Columbus Dispatch
Angry Blendon Township officials and residents vowed last night to push for a state law that would give local communities some control over where and how group homes operate.
Trustee Stew Flaherty choked back emotion as he spoke, placing a photograph of slain resident Jane Juergens on the table where he and other township officials sat.
"We'll call it Jane's Law," he told the crowd of about 60 people who gathered for the trustees' meeting at the township senior center.
The meeting took place just minutes after an outdoor gathering in nearby Ridgewood Park, where about 175 people huddled under ashen skies to remember the woman who lost her life there.
Police say Jordan T. Stewart, who lived in a group home in Blendon Township, stabbed Juergens to death early Sunday evening as she went for a run in the park.
A preliminary report released yesterday by Franklin County Coroner Jan Gorniak shows that Juergens was stabbed 26 times with a knife. None of the wounds was a defensive wound.
Stewart, 16, is charged with a delinquency count of murder.
During last night's candlelight vigil, family and friends said they hope to see the park renamed in Juergens' honor.
"It's definitely a tragedy unlike anything most of us have ever experienced in the small town of Westerville. … I have been completely devastated by this," her son, Andy Juergens, told the group.
Juergens, 28, however, said, "In my heart, I know she would have forgiven the individual."
But trustees said they're resolved to fight for action.
"Group homes are a problem," Flaherty said. "We have been handcuffed."
Although group homes are licensed by the state, they are not subject to local control. Flaherty said communities should have some say about where the homes — typically designed to house foster teens or people with developmental disabilities or mental illness — are located, how they are monitored and whether staff members are properly trained.
He said the township also wants recourse available when homes become a danger or a nuisance.
"We understand that these are sensitive issues," Flaherty said. "I don't care. We will lead the charge."
Resident John McGuire said neighbors had long complained about the behavior of boys at the group home at 5548 Copenhagen Dr., where Stewart lived. The home, run by Consumer Support Services, serves teens under the care of Franklin County Children Services. It is a residence for foster youth, child-welfare officials note, not a detention facility.
But McGuire said many of the boys cause problems in the neighborhood. Fights, threats and police runs are common, he said. He and Flaherty said repeated calls concerning the Blendon Township home have been ignored by both Children Services and Consumer Support Services.
A Children Services spokeswoman said yesterday that the agency has only one documented complaint about the home, made in June 2010.
"There are people who have been negligent in their duties in managing these kids," McGuire said. "The blood is on their hands."
Flaherty said the township doesn't want "less-than-desirable individuals inserted surreptitiously into our community."
Michele Adkins, a Licking County resident whose developmentally disabled daughter lives in a group home, cautioned against singling out group-home residents. Better to focus on the group-home operators, she said.
"Bad people are everywhere," Adkins said, whether they live in group homes or expensive New Albany houses.
Blendon Township neighborhood leaders said the Halloween activities traditionally held at Ridgewood Park won't take place this year.
At the vigil, Andy Juergens encouraged those who gathered to honor his mother to show love to others, even in challenging circumstances.
Barbara Johnson, who lives in the Huber Ridge neighborhood of Blendon Township and was Jane Juergens' friend, said she believes it's an important step to rename Ridgewood Park for Juergens.
"We know we have to get this place back," Johnson said.
Andy Juergens said that his mother's funeral service will be at 4 p.m. Sunday at the Moreland Funeral Home, 55 E. Schrock Rd., with calling hours from 1 to 3 p.m. that day.
At some point, Andy Juergens said, he'll spread his mom's ashes at the park where she died — probably around a tree to be planted in her memory.
Last night's vigil ended with person after person walking to a gazebo to ring a hand bell.
Andy Juergens said his mother had loved the movie It's a Wonderful Life. Her favorite line: "Every time a bell rings, an angel gets his wings."
Blendon plans memorial to honor Jane Juergens by This Week Community News
Blendon Township officials are aiming for construction next year of a memorial to honor late resident Jane Juergens, who was stabbed to death by a troubled teen while jogging in the park Oct. 20.
The memorial will be designed by the Gahanna branch of architecture firm OHM, and aims to honor the longtime Blendon resident. The idea comes at the request of Juergens' family.
"First, the family reached out and wanted to see if we could do some type of memorial for (Juergens)," Township Administrator Bryan Rhoads said. "A lot of ideas were thrown out, so we decided to take the lead and use OHM to help us design some sort of memorial to honor Jane."
Still in its infancy, the current plan for the memorial features a ring of landscaping with various plants and trees, benches, brick paver inlays and a plaque with Juergens' name.
Rhoads said that when looking for a location in the park, they had an easy choice.
"Nobody really had a solidified idea of what to do … so as we were down there looking in the park, we found an area along the stream that we thought would be the perfect spot," Rhoads said. "It's really beautiful, and will be an area where people can come and remember Jane."
There are two preliminary options for the plan. Option one would cost the township about $18,000, while option two comes in at about $12,000.
Rhoads said the township will accept donations to aid the project, and those interested in donating can do so at the township's offices or through its website.
Another option is engraved pavers, which Rhoads said he and township staff are looking into. If they choose to sell the pavers, it could create a broader memorial site for all Blendon residents.
"What we can do is create this memorial-type area where Jane is the reason it's there, but it can go further where others can use it as memorial and others can grieve," he said.
But donations won't affect the creation of the memorial.
"We're going to make this happen regardless," Rhoads said, adding that there are township funds available to complete construction.
Juergens' murder was the first in the township since 1991, and Rhoads said it's important for the community to honor her memory.
"Anything devastating like this is just a shock on the community," he said. "We felt strongly that we need to honor a longtime resident. We just thought it was really important to honor those who are in the community for a long time."
Juergens was jogging in the park when she was attacked without provocation by 16-year-old Jordan T. Stewart, a resident in a nearby group home for psychologically troubled teens. The former Westerville Central student pleaded guilty to murder in adult court and was sentenced May 8 to life in prison with no chance of parole for 18 years.
Juergens, 55 at the time of her death, was a longtime human resources executive with American Municipal Power who left AMP in 2013 to start her own consulting business. She is survived by her mother and two adult sons.
Rhoads said township officials plan to raise extra funds for the memorial and finish planning the project over the winter, and aim for construction in 2015.