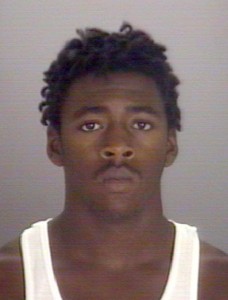 Name: Jamie Daquan Lowery
Victim: Alfred Parnell, 56
Age at time of murder: 16
Crime location: Robeson County
Crime date: July 2, 2008
Murder method: Gunshots to the back and legs
Convictions: First-degree murder pursuant to the felony murder rule, the underlying felony being robbery with a dangerous weapon
Incarceration status: Incarcerated at Alexander Correctional Institution
Summary of the crime
Lowery robbed and fatally shot Al as he was trying to take trash to a dumpster. The high school teacher and tennis coach was found slumped over in his car with three gunshot wounds. He was 56 years old.
Details
LUMBERTON, North Carolina – Feb. 2011 Proceedings are under way in the trial of a teenager accused of killing a well-known Robeson County teacher.
Jamie Daquan Lowery, 19, is accused of shooting and killing 56-year-old Al Parnell in July 2008. Lowery is charged with first-degree murder and armed robbery. He is represented by a court-appointed lawyer, William Dowdy. District Attorney Johnson Britt is prosecuting the case, which is being heard by Superior Court Judge Claire Hill. The lawyers wrapped up jury selection Tuesday, court officials said. Prosecutors said they expect the trial to last about a week.
Parnell, a teacher for 28 years in Robeson County, was reportedly shot three times July 2, 2008, while carrying trash to a dumpsite in east Lumberton. He was found slumped over in his car.
Robeson County deputies and State Bureau of Investigation agents arrested and charged Lowery about a month later. They accused the teen of shooting Parnell in a botched robbery attempt. State law prevents Lowery from facing the death penalty because he was 16 at the time of the shooting. He faces a maximum sentence of life without parole.
Parnell taught history, social studies and citizens education for nearly three decades. He coached tennis and was involved in the Student Government Association at Purnell Swett High School.
STATE of North Carolina v. Jamie Daquan LOWERY, Defendant.
Background
On 2 July 2008, Alfred Parnell was shot twice and killed while seated in his truck, which was located near a dumpster area behind a grocery store in Robeson County, North Carolina. It is undisputed that on 2 July 2008, defendant, Joshua Goodson, and Nicholas Blackmon drove to the same dumpster area behind the grocery store where Parnell was parked. Both Goodson and Blackmon were questioned by police in July 2008 and denied any knowledge regarding Parnell's death. However, the two men later cooperated with the investigation and testified against defendant at trial. Goodson and Blackmon admitted before the jury that they had each received a "charge concession," and, according to its terms, had not been charged in connection with Parnell's death. They further testified that they did not know that they would receive a charge concession when they agreed to cooperate with the investigation.
Goodson testified that defendant and Blackmon were passengers in his car on 2 July 2008. He stated that he pulled up to the dumpster area behind the grocery store and placed some bags in a dumpster. He then pulled into the parking lot of the grocery store and went inside. As he was going inside, he saw defendant get out of the car and walk back to the dumpster area. When Goodson returned to the car, he saw defendant "jogging" back to the car "from the road." Defendant then made the statement: " '[M]an, I be trippin.' " However, defendant did not make any incriminating statements related to Parnell's death. Goodson claimed that he did not see defendant with a weapon that day and that he was unaware that Parnell had been shot until he was later informed by his brother, a Lumberton police officer.
Blackmon testified that after Goodson parked the car at the grocery store, defendant exited the car and stated: " 'I'm going to get his ass.' " When defendant returned to the car, he said that he shot Parnell because " 'he wouldn't give it up.' " Blackmon also testified that he did not see defendant with a weapon that day.
Defendant was arrested on 5 August 2008. He was 16 years old at the time. In his initial interview with the police, he denied killing Parnell; however he later confessed to the shooting. On 9 February 2011, a jury convicted defendant of first degree murder pursuant to the felony murder rule, the underlying felony being robbery with a dangerous weapon. The trial court sentenced defendant to life imprisonment without the possibility of parole. Defendant timely appealed to this Court.
LUMBERTON — The day Al Parnell Jr. was shot and killed at a Dumpster site east of Lumberton, a bench warrant was issued at the Robeson County Courthouse for the arrest of the teenager charged Tuesday with his murder.
The arrest of 16-year-old Jamie Daquan Lowery was ordered on July 2 after he failed to appear in court to answer charges of possessing a malt beverage or unfortified wine under the age of 21, and possession/consuming alcohol in the passenger area of a motor vehicle.
At the time, Lowery was already awaiting trial for more serious offenses, including a charge of felony attempted robbery with a dangerous weapon on Sept. 22, 2007, and a charge of simple assault on Feb. 6. His case on the simple assault charge was scheduled to go to trial this morning where he will instead make his first court appearance on the murder charge. He is being held in the Robeson County jail without bond.
"We are so thankful that someone has been charged with Al's murder," said Parnell's wife, Rebecca. "It does not lessen or ease our sorrow, pain or suffering, but it does help us to know that someone is being held accountable for ending his life. We are very appreciative of the diligent efforts of all agencies involved in the investigation."
According to Lumberton police Sgt. Howard Reaves, Lowery also faces robbery charges in an incident that occurred 17 days after Parnell was murdered.
Lowery and another juvenile are accused of robbing a man at his home on the 900 block of Martin Luther King Drive on July 19. According to Reaves, Lowery and the juvenile walked in the door and demanded the man's money and his scooter.
"The guy didn't give anything up and they pulled a handgun on him," Reaves said.
Reaves said Lowery and the juvenile took the man's money and cell phone, but struggled with the teenagers when they tried to take his scooter. Lowery attacked the man with a scooter helmet, Reaves said.
Lowery has been charged with robbery with a dangerous weapon in that case and his bond set at $50,000.
Lowery had been living with his grandparents, Reaves said, and the boy's criminal record also shows an attempted armed robbery in South Carolina. It was unclear if he attended school.
Bond for Lowery was set at $7,500 for the Sept. 22 robbery charge, but he was sent to the county pre-trial release program that provides an alternative sentencing option for the courts.
The program, formerly the Robeson County Day Reporting Center, is designed to help relieve crowding at the Robeson County jail. It is unclear why Lowery was recommended to a program charged in part with monitoring non-violent offenders.
Lowery was arrested about 6 a.m. Tuesday and charged with first-degree murder shortly afterward while being questioned at the Sheriff's Office. He was also charged with felony robbery with a dangerous weapon.
"There was a watch missing," Sheriff Ken Sealey said.
Sealey said the investigation is ongoing and more arrests could follow.
Parnell, a popular educator, was killed last month while carrying trash to a dumpsite off N.C. 41 East not far from his home. He was taken to Southeastern Regional Medical Center, where he died in the emergency room. An autopsy showed that the 56-year-old had been shot three times, once in the back and twice in the legs.
He taught for many years at Purnell Swett High School, where he was also a tennis coach. At the time of his death, he was teaching at Dillon High School, was a part-time instructor at Robeson Community College, and was serving as a member of the Robeson Regional Agricultural Fair Board.
Coble Wilson, president of the Fair Board, said he was pleased that an arrest had been made.
"It was a tragic incident and I'm glad that this chapter can be closed," he said. "I commend the Sheriff's Department and the SBI for their efforts in this case. I hope that justice will be served."
Parnell and his family were reportedly getting ready to attend Wednesday night church services when he left the home to take trash to the dumpsite. The murder happened in broad daylight at a dumpsite that county officials have said is busy with a lot of traffic.
In addition to his wife, Parnell is survived by a daughter, Stephanie. A memorial scholarship has been established at The University of North Carolina at Pembroke.
| Infraction Date | Infraction Type |
| --- | --- |
| 04/13/2020 | SUBSTANCE POSSESSION |
| 04/13/2020 | DISOBEY ORDER |
| 04/13/2020 | ASSAULT STAFF W/WEAPON |
| 01/03/2020 | DISOBEY ORDER |
| 07/21/2019 | PROFANE LANGUAGE |
| 04/04/2019 | INVOLVEMENT W/GANG OR SRG |
| 04/27/2018 | DISOBEY ORDER |
| 02/01/2018 | SELL/MISUSE MEDICATION |
| 01/03/2018 | DISOBEY ORDER |
| 12/10/2017 | DISOBEY ORDER |
| 08/29/2017 | DISOBEY ORDER |
| 08/17/2017 | DISOBEY ORDER |
| 08/17/2017 | PROFANE LANGUAGE |
| 08/17/2017 | SELL/MISUSE MEDICATION |
| 07/20/2016 | DISOBEY ORDER |
| 07/20/2016 | PROFANE LANGUAGE |
| 07/20/2016 | THREATEN TO HARM/INJURE STAFF |
| 06/21/2016 | UNAUTHORIZED LOCATION |
| 06/21/2016 | DISOBEY ORDER |
| 02/05/2016 | DISOBEY ORDER |
| 11/10/2015 | DISOBEY ORDER |
| 11/10/2015 | PROFANE LANGUAGE |
| 06/02/2015 | THEFT OF PROPERTY |
| 04/01/2015 | DISOBEY ORDER |
| 04/25/2014 | DISOBEY ORDER |
| 04/25/2014 | PROFANE LANGUAGE |
| 02/14/2014 | PROFANE LANGUAGE |
| 01/29/2014 | PROFANE LANGUAGE |
| 01/29/2014 | THREATEN TO HARM/INJURE STAFF |
| 08/27/2013 | THREATEN TO HARM/INJURE STAFF |
| 12/07/2012 | DISOBEY ORDER |
| 08/24/2012 | DISOBEY ORDER |
| 08/24/2012 | PROFANE LANGUAGE |
| 03/13/2012 | UNAUTHORIZED LEAVE |
| 03/10/2012 | MISUSE/UNAUTH-USE PHONE/MAIL |
| 01/30/2012 | DISOBEY ORDER |
| 01/30/2012 | DAMAGE STATE/ANOTHERS PROPERTY |
| 05/13/2011 | DISOBEY ORDER |
| 05/13/2011 | PROFANE LANGUAGE |
| 05/13/2011 | INVOLVEMENT W/GANG OR SRG |