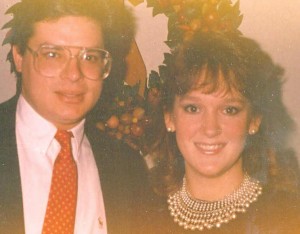 See Nancy's story on CBS 48 Hours and on  DISCOVERY: Investigations 
Nancy and Richard were wonderful people, full of life, love, and friends. They had a very bright future. They are pictured here on the happy day in 1990 that they found out they were expecting their first baby. Nancy's glow was only to last a few months.
Richard was 28 and Nancy was 25 and so happy to be having their first baby.
Their killer brutally shot Richard execution style point blank in the back of his head with a .357 magnum, and then turned the gun on Nancy. She cowered in the corner of her basement floor, begging for the life of her unborn child by holding her arms over her pregnant abdomen.
"Please don't kill me, please don't kill my baby" she begged, but the killer fired directly into her belly. Later autopsy revealed that the bullet hit the young baby and exploded it completely. Even the gender of the child could not be determined, depriving us of even the ability to bury the child with the name Nancy had chosen for her boy or girl baby.
The killer fled and left her there to die. He reported to friends that he just "wanted to see what it would feel like to shoot someone." He had plotted the murders for weeks, picked them because their home was directly across from the police station, and he could brag about what he did just under the noses of the local police.
As she lay dying, Nancy managed to take her finger and draw with her own blood a heart and a "u" – her last act in life was to tell us that she loved us.
Her final words of love have been a transformative force – not only for her family and friends, but for many who have heard about how she chose to spend her last moments of life on this earth. She got the last word that night.
Their killer was four weeks shy of his 17th birthday, at which point he would be tried as an adult for all crimes in Illinois. He was certified and tried as an adult, and duly sentenced to three life without parole sentences that he is currently serving in the Illinois Department of Corrections.  The killer did not act on impulse. He was not acting under peer pressure. He knew it was completely illegal and horrifically evil. He was not on drugs. He was not mentally ill or deficient in any way. He reported doing it later for the "thrill of it". He attempted to murder his own parents prior to killing Nancy and Richard. He threatened a mass murder at a bank after their murders. Only a life sentence interrupted this serial killer in the making. He continues to this day to be an unrepentant and dangerous sociopath. Our communities deserve to be safe from him. Sadly, he is one of those few people that has lost the right to ever walk among us again.
Pictured are two beautiful blooming trees we planted at the Winnetka Community House in their memory, and there is a statue for children to play on in our Kenilworth Union Church garden in their names.
We hope that our greatest tribute to Nancy and Richard's loving lives is our work for safer communities, for violence prevention, for Restorative Justice, and to help other victims of crime. Nancy's final words are a message to us all.
See Jennifer, Nancy's sister, discuss the JLWOP issue on YouTube. And read this article Jennifer has written on the issue in 2011.