Teen killers are not just a problem in the United States, they are in every place in the world. Please send us any other memorials of victims of those killed by teens in countries outside the USA.
CANADA
Angela Rose Shaw
Born: August 2, 1974
Died: May 4, 2009
Murdered by her 17 year old son in Alberta, Canada.
Angela's family writes: "Her son was a young offender at the time of his crime, he received a lenient sentence of only 4 years closed custody followed by 3 years supervision.  Unfortunately his sentence also requires that a review occur every 6 months from May 2009 up until September of 2017.  This is real torture for 'us' having to rehash and face him every 6 months.  The other day in court as the social workers requesting his early release testified for him, and repeatedly spoke of his need for freedom and the need to get on with his life…we were screaming inside: What about OUR freedom? As long as steel doors separate us we feel some sense of security.  The judge denied his request but stated on record he would likely release him 4 months early in April 2014. "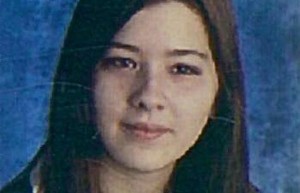 A hearing held March 2011 to determine whether 18-year-old Kimberly Proctor's teenage killers should be sentenced as youths or adults. Last fall, two teenagers pleaded guilty to the first degree murder of Proctor, whose badly burned body was found under a bridge on the Galloping Goose Trail on March 19 last year. The boys, who were 16 and 17 years old when Proctor was killed, also pleaded guilty to indignity to human remains. The 16 year old reported having dreams of killing someone ever since he was young. Charges of sexual assault and forcible confinement are still before the court. It is expected they will be stayed by the Crown during the sentencing hearing. At this time, neither of the boys, who are now 17 and 18 years old, can be identified as their identities are shielded under the Youth Criminal Justice Act.
Proctor was a Grade 12 student at Pacific Secondary School in Colwood. Guilty pleas were entered in October 2010. Crown prosecutor Peter Juk then read a five-page agreed statement of facts into the court record which set out the horrifying details of Proctor's rape and murder. It is expected that more disturbing details will be revealed this week as the Crown pushes to have the teens sentenced as adults. What is known is that the teens planned Proctor's death well in advance.
According to the agreed statement of facts, Proctor knew her killers through school. In the summer and fall of 2009, the 16-year-old talked to Proctor online through MSN chat and text messages. When Proctor broke off with her boyfriend, the 16-year-old asked her to go out with him. At first she accepted but, shortly after, she called it off. From May to November, the 17-year-old also chatted with Proctor on MSN. Although she participated in the chats, Proctor declined his advances. On March 17, one day before Proctor disappeared, the 16-year-old sent Proctor a message, telling her he wanted to meet her in person the next day. They agreed to meet at 10 a.m. and exchanged phone numbers. Then Proctor and the 16year-old had a lengthy telephone conversation that ended on the early morning of March 18. Without her knowledge, the 16-year-old had allowed the 17-year-old to listen in on the conversation. The two teens communicated online.
"In their exchange of computer messages, they discussed their plan to lure her to the 16-year-old's house, to seduce her, bind her, sexually assault her, murder her, then burn and dispose of her body. It was a plan they had discussed before," according to the agreed statement of fact.
"Their plan, as detailed in their text messages, included specifically planning when and where to meet, how to get money and buy a specific brand of fuel with which to burn the body, how to get back to the 16-year-old's house, whether to take the bus or walk, what buses to take, and what they would say and do to carry out their attack, including the use of code words to initiate the attack.
"Their text messages included graphic descriptions of how they would bind and sexually assault Kimberly Proctor over an extended period of time, and a discussion of various possible sites at which to dispose of her body, including making reference to a detailed annotated map they created for this purpose."
On the morning of March 18, they met Proctor at the bus exchange. The 17-yearold went to a store to buy fuel, then the three went back to the 16-year-old's house, arriving just after 11 a.m. The boys attacked Proctor, grabbing her around the neck, binding her hands and ankles with duct tape. Her mouth was gagged by a sock and secured with duct tape. The teens removed her clothes. For several hours, both youths repeatedly sexually assaulted Proctor while she was bound and gagged. She was beaten and kicked.
"She was choked and suffocated and eventually died. A knife was used to mutilate her body," said the statement.
When Proctor's body was recovered, investigators found a plastic bag covering her head, and noticed her neck was injured from attempted strangulation. After the youths killed her, they placed her body in a freezer in the garage of the 16-year-old's house.
The next morning, the boys put Proctor's body and the fuel from the house into a large duffle bag, boarded a bus and went to the bridge beneath the Galloping Goose Trail where her body was doused with fuel and set on fire.
Johnston must impose an adult sentence if he determines a youth sentence would not be long enough to hold the boys accountable for their crimes. If they are sentenced as adults, they will receive a mandatory life sentence without the possibility of parole for 10 years. If they are sentenced as youths, they will receive a 10-year sentence, consisting of a maximum of six years in custody and the remaining four years to be served in the community under conditional supervision. Johnston must also decide where they will serve their sentence.