Ruth Ann Veal
NOVJL member Laura Haynes Shimek gives powerful testimony (see video footage) before the Iowa court that grants Ms. Veal opportunities for parole in her life sentence for brutally murdering Laura's mother Catherine Haynes.
Judge grants killer Ruthann Veal chance for parole
Posted: Dec 09, 2013 6:28 PM CSTUpdated: Dec 09, 2013 6:52 PM CST
WATERLOO (KWWL) -Ruthann Veal was convicted of killing University of Northern Iowa librarian Catherine Haynes in June of 1993. Veal was 14 at the time and was sentenced to life in prison without parole in 1994.In 2012, the United States Supreme Court ruled mandatory life-without-parole sentences are unconstitutional for children 17 and under.On Monday, a judge said Veal will have a chance for parole.
More than 20 years later, the family of Haynes had a chance to read their victim impact statements to Veal.
"She was kind to you and she tried to be helpful, and you repaid her kindness by beating her and stabbing her to death," said Laura Haynes Shimek, Haynes' daughter.
Veal was convicted of stabbing Haynes 23 times in Haynes' home with Haynes' favorite kitchen knife.
Veal then took Haynes' car and went on a shopping spree with her credit cards.
The judge at that time sentenced her to life in prison without parole — a sentence Black Hawk County Attorney Tom Ferguson says was just.
"The brutality of the case, the lack of remorse, the callousness of her actions that evening," said Ferguson.
In 1994, Veal cried in court, saying the sentence was too harsh. On Monday, she cried again as the judge gave her a chance for parole.
"I would like to say to the victim's family, I'm sorry for any pain that I have caused to harm your family," Veal said. "I would like to say to my family, sorry for everything you're going through. I am."
Haynes Shimek believes Veal is sorry, but she says she won't forgive her.
"I don't hate Ruthann Veal, I really don't, but I hate what she did and I don't believe that she should be out on the streets," Haynes Shimek said. "If she's been a model prisoner since she's been at Mitchellville, that's great, that's fine. She can stay there and be a mentor."
Haynes' family says they plan to be at every parole hearing for Veal, because they don't believe Veal should ever be free again.
"What I'm going through is nothing compared to what she put my mother through," said Haynes Shimek.
Veal's attorney says she is glad she gets a chance.
It's unclear when she will be up for parole. Ferguson says every offender is reviewed by the board, but not everyone gets a hearing.
Michael Richard Swanson
Michael Richard Swanson, 17, of St. Louis Park, Minn., is accused of killing two convenience store clerks in two northern Iowa counties on Nov. 15. He faces two trials.
FEB. 16: Swanson's trial on first-degree murder and first-degree robbery in the shooting death of Sheila Myers, 61, begins in Humboldt County.
MARCH 1: Swanson's trial on first-degree murder and first-degree robbery in the shooting death of Vicky Bowman-Hall, 47, begins in Kossuth County.
A Minnesota teenager accused of gunning down two northern Iowa convenience store clerks in November will likely have a difficult time persuading a judge to move the case to juvenile court, legal experts say.
Michael Richard Swanson must overcome his age – he turns 18 this year – the violent nature of his crimes and failed rehabilitation efforts in Minnesota, said Robert Rigg, director of the criminal defense program at Drake University Law School.
"It's a situation where, based on what I've seen, they don't have good facts to deal with," he said.
Swanson, 17, faces life in prison if convicted on two counts each of first-degree murder and first-degree robbery in the Nov. 15 shooting deaths of Vicky Bowman-Hall, 47, and Sheila Myers, 61.
The first of two trials is scheduled to begin Feb. 16 in Humboldt County.
Charles Kenville, Swanson's attorney, on Jan. 4 requested that the case be moved to juvenile court. The filing is not expected to delay the first trial, prosecutors said. Kenville declined to comment.
Police allege Swanson shot both women in the face after they complied with demands for cash and cigarettes at convenience stores in Humboldt and Algona.
Swanson, of St. Louis Park, Minn., had undergone court-ordered counseling and mental health treatment. He also spent four months last year at a facility for delinquent boys, according to court documents.
Authorities released him Nov. 3, less than two weeks before his alleged shooting spree.
If convicted as an adult, Swanson would be sentenced to life in prison with no parole, unless the governor commutes his sentence.
About 20 years ago, many states responded to rising juvenile crime rates by mandating that teenagers who commit violent crimes be charged as adults.
Iowa also changed its statutes around that time. The law states that those 16 or older who commit a forcible felony – serious crimes ranging from assault to murder for which a judge cannot grant parole – will be tried as an adult. A judge may transfer a case to juvenile court if "good cause" is found.
Previously, child offenders were placed in juvenile court by default, and prosecutors had to persuade a judge to move the case to criminal court.
The current law gives judges broad discretion to transfer cases. However, such a move usually requires unusual circumstances, said University of Iowa law professor Josephine Gittler.
"There would have to be a very convincing case to the court before it would decide to transfer a juvenile to the juvenile court," she said.
A push has occurred in recent years to reverse mandatory adult sentences for juveniles as the number of violent crimes committed by young people has decreased, said Bryan Stevenson, executive director of Equal Justice Initiative, based in Montgomery, Ala.
Juveniles are involved in about 10 percent of the country's murders, according to the U.S. Justice Department. The number of juveniles involved in murder dropped by 65 percent between 1994 and 2003, but has since increased to levels seen in the late 1990s.
The Utah Supreme Court this month upheld a decades-old law that requires that anyone 16 and older charged with murder in that state be tried as an adult.
Some attorneys, including those in the Utah case, argue children should start in juvenile court, even in the most heinous cases.
This is a better approach because "many kids charged with serious crimes are frequently dealing with a lot of dysfunction and disability," Stevenson said.
He noted that the U.S. Supreme Court has recognized juveniles are less culpable of crimes because their brains are still developing.
As a result, the court has banned juveniles from facing the death penalty or life in prison without parole except in homicide cases.
In Swanson's case, however, a judge is likely to decide there won't be enough time to rehabilitate a defendant who has committed such serious crimes, said Jerry Foxhoven, a juvenile law expert at Drake University Law School.
The juvenile court system will only have 18 months to administer counseling and drug rehabilitation, because of Swanson's age, he said. After that, Swanson would be set free.
"It's a really tough one to win," Foxhoven said.
Edgar Concepcion
January 20, 2011
Iowa teen killer loses appeal
CHARLES CITY, Iowa (AP) — A Charles City teenager has lost an appeal of his life sentence in the death of his 3-year-old cousin in 2009. Edgar Concepcion Jr., 16, was sentenced Nov. 22 after being convicted in June of murder, sexual abuse and child endangerment in the death of Krystel Banes, also of Charles City. According to the Mason City Globe Gazette, Judge Bryan McKinley said the U.S. and Iowa supreme courts say that juvenile killers can be given tough penalties, including life sentences without the possibility of parole. Concepcion was tried as an adult. He was 14 when the little girl was killed. Concepcion's attorney, Judy O'Donohoe, had tried to argue that sentencing Concepcion, a juvenile, to life without parole was cruel and unusual punishment.
What was cruel and unusual was the rape and murder of this 3 year old baby by Mr. Concepcion:

  Krystel Banes, 3, of Charles City, IA.
Profiles
Becky Hauser's Murderers
Victim: Rebecca J "Becky" Schnitzler Hauser
Murderers: Blake Privitt, Burt Smith, Derek Smith, & Jayson Speaks
Murderers' ages: 15
Crime date: October 4, 1994
Crime location: Union, Iowa
Crimes: Impersonating police, armed robbery, and murder
Murder method: Shooting, beating, and stabbing over 30 times
Sentence: Privitt-75 years with parole; B. Smith, D. Smith, and Speaks–life without parole (LWOP) later reduced to life with parole
Incarceration status: B. Smith–incarcerated at the North Central Correctional Facility; D. Smith–incarcerated at the North Central Correctional Facility; Speaks-work release
Summary
The four 15-year-olds impersonated police and tricked Becky into pulling her car over. They then robbed and murdered the young mother. Privitt got a reduced sentence in exchange for testifying for the prosecution while the other three were sentenced to LWOP. However, the LWOP sentences were later reduced. Speaks has been granted work release. His release has devastated Becky's family.
B. Smith
D Smith
Speaks
Details
Ruth Ann Veal
Victim: Catherine Pauley Haynes, 66
Age at time of murder: 14 & 11 months
Crime location: Waterloo
Crime date: June 15, 1993
Crimes: Home invasion, murder, & robbery
Weapon: Kitchen knife
Murder method: Stabbing 23 times and beating
Convictions: First-degree murder
Sentence: Life without parole (LWOP) later changed to life with parole
Incarceration status: Granted work release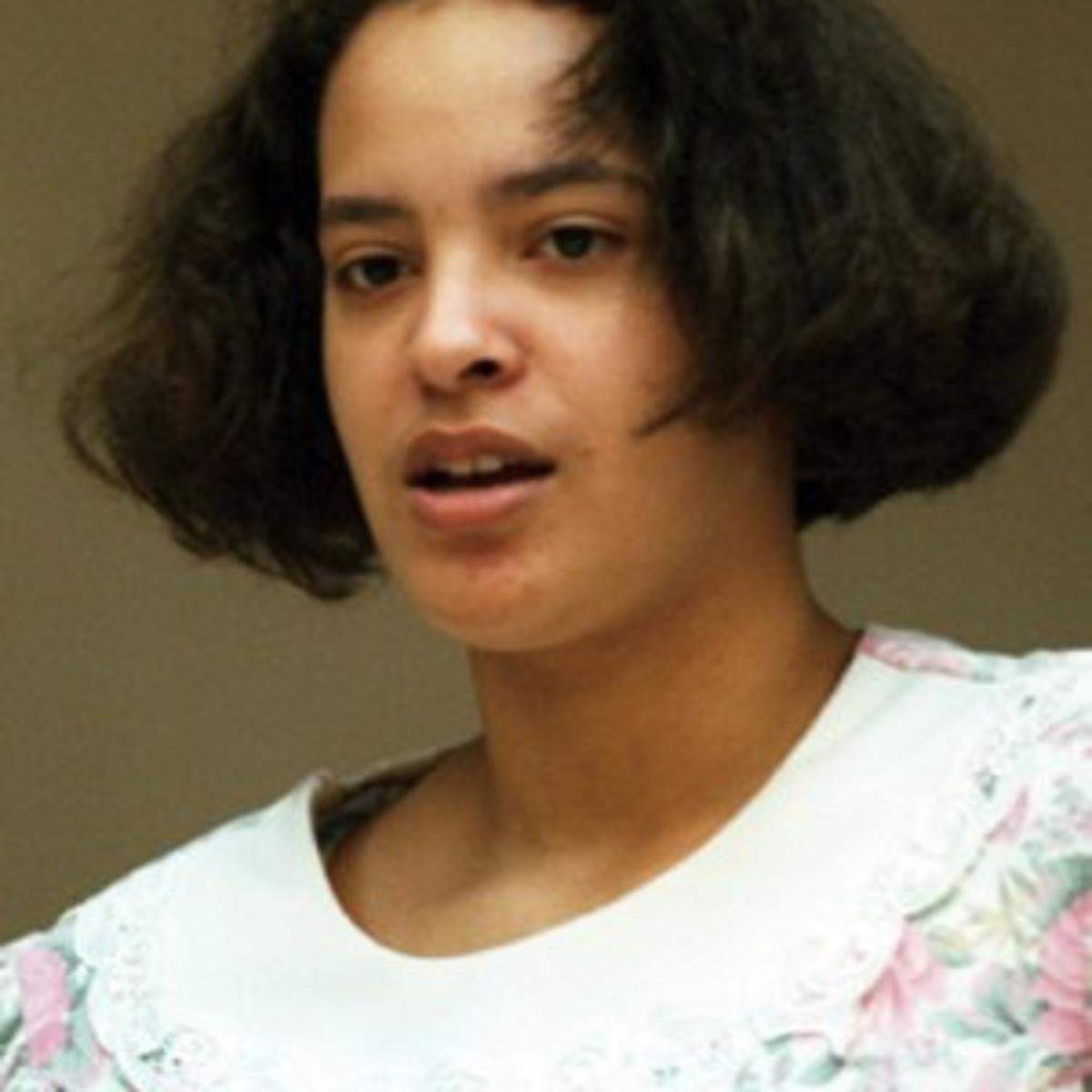 Summary
When Veal was nearly 15, she invaded the home of the retired University of Northern Iowa librarian Catherine Haynes. Veal, who already had a long and violent criminal history, brutally attacked Catherine. Catherine did not stand a chance. The 66-year-old was beaten and stabbed to death by the six-foot teenager who had just run away from juvenile detention residence. Using Catherine's favorite kitchen knife, Veal stabbed Catherine 23 times with so much force that the six-inch blade broke off. Veal then stole Catherine's credit cards and went shopping. Veal was convicted and sentenced to LWOP though her sentence was later reduced to life with parole. In 2020, Veal was granted work release.
Details