JLWOP Inmates Penifoti Taeotui and Meki Gaono
On January 12, 2009, an Oceanside gang member Penifoti Taeotui was sentenced to life without possibility of parole for the first-degree murder of Oceanside Police Officer Dan Bessant in the performance of his duties. Jurors also convicted Taeotui of two counts of assault with a deadly weapon. Judge Maino ordered Taeotui to serve an additional 56 years for his conviction of assault with a deadly weapon for shooting at Officer Pina and a civilian "ride-along" passenger.
Officer Bessant, age 25 had stopped to assist Officer Karina Pina with a traffic stop on Dec. 20, 2006. Taeotui fired at the officers with a .22-caliber revolver, missing Officers Bessant and Pina and a civilian who was riding with Pina on a ride along.
Defendant Meki Gaono, who was tried in a separate trial and found guilty of the murder of Officer Bessant, used a .22-caliber rifle equipped with a scope in a sniper attack that fatally wounded Officer Bessant. The shots were fired from the front of a gang residence more than a football-field's length away. Taeotui and Gaono had been drinking and horse playing with guns when they saw the police officers at a traffic stop down the street and decided to open fire on the unsuspecting officers. On June 4, 2009 Gaono was also sentenced to life without possibility of parole plus an additional sixty-one years for the other crimes and enhancements.
Steve Bessant had been Gaono's principal and had tried to mentor his son's killer. As he did at the Taeotuti sentencing, Officer Bessant's father publically forgave Gaono for murdering his son but asked the court to give the maximum sentence to Gaono.
JLWOP Inmate Desmond Payton
On July 28, 1993 Desmond Payton was sentenced to the maximum sentence of life in prison without the possibility of parole for the May 4, 1992 murder of three victims with findings that Payton committed multiple murders and that he was lying in wait during the attack. Payton had been to the Kearney Valley Holiday Inn motel room only hours before the shooting, and returned after his girlfriend told him two males had been flirting with her.
Payton fatally shot Moses Gadson and Derrick Robinson, both 19, and Jennifer Lucas, 18, who was sitting with the two men, in an execution style killing.
JLWOP Inmate Khary Watson
Khary Watson, 33, was convicted in November of 2009 for the 1994 murder of victim Patricia Lopez during a robbery. Lopez was walking home from a store with a friend Barbara Nickerson when they were confronted by robbers, and Lopez was shot when she tried to run from them. Watson, wearing a black bandana on his face, came up behind Nickerson and stuck a gun in her back. He ordered her to drop her fanny pack to the ground, and when she did, Lopez took off running. Watson caught Lopez on a nearby lawn and shot her once in the back, striking her heart. The women had 96 cents between them. On December 19, 2009, Watson was sentenced to life without possibility of parole for the murder he committed when he was seventeen.
Kamoa Green, now 38, was the female getaway driver in the street robbery in which Patricia Lopez was killed Green was convicted on May 27, 2010 for her participation in the first- degree murder.
In 2006, a man told police about a woman involved in the shooting death of a Hispanic woman 12 years earlier, and a gun was traced back to Kamoa Greene. Co-defendant Tyrone Katrel Lynch, 34, pleaded guilty to voluntary manslaughter and will receive nine to 15 years in prison in exchange for his testimony against Watson. Greene had a similar deal to plea to voluntary manslaughter, but her agreement was withdrawn when she refused to testify against Watson at his trial.
JLWOP Inmate Doen Naeem Haygood
On December 7, 1999 Doen Haygood murdered Kevin Ivey by shooting him numerous times. Afterwards, he told several people, including fellow students at his school, that he had shot someone in the park. On December 10, 1999, a school police officer received information that Haygood was involved in killing Ivey and that he had a gun. When Haygood was searched, he had a loaded 9-millimeter pistol in his jacket pocket and 18 rounds of ammunition in his backpack.
When he was interviewed by police, he told them that two years earlier he and Ivey played basketball. He said that Ivey was larger than he was and rough and that Ivey had kicked his bag and flashed mean looks at him. When Haygood saw the victim in the park the night of the shooting, he remembered the earlier incident and thought "here is my chance." Ivey did not recognize Haygood, and he asked the victim if he had "weed" After walking with the victim to a darker part of the park, he pulled his gun and shot Ivey. Haygood emptied the pistol into Ivey's body. Ivey suffered six bullet wounds in the right side of his head, two bullet wounds in his torso and one in his leg.
Prior to killing Ivey, Haygood had been on a crime spree since March of 1999 in which he committed a series of robberies and carjackings. In his police interview, he confessed to the additional crimes.
On March 5, 1999, Maria Toczylowski was in Emerald Hills Park with her children and boyfriend and was carjacked by armed robbers. One of the men pointed a gun with a laser at the victim's head, Haygood admitted to participating in the Toczylowski carjacking.
On May 11, 1999, Nazar Patrus was working as a cashier at a gas station on Euclid Avenue. A man with a gun entered the station and demanded money. Haygood confessed he was the armed robber. On August 14, 1999 Abdullah Khawana was at the same gas station where Patrus was robbed in May. A man wearing a bandana and carrying a gun came out and demanded money from him. He struck the victim in the ear with the gun. Haygood admitted committing the attempted robbery.
Zoltan Bodo was making a rental car return on May 22, 1999 when five men, one with a gun, approached him and carjacked him. Haygood confessed to being the carjacker with the gun.
Haygood confessed to robbing Benito Cortez on May 23, 1999, wearing a bandana over his face and carrying a gun.
He confessed to committing an armed robbery on May 24, 1999 of a restaurant on Mission Gorge Road.
He confessed to being the masked man carrying a gun who robbed the clerk at a gas station on Skyline Drive on August 21, 1999.
He confessed that on November 20, 1999, he was the masked man who entered a restaurant on University Avenue and robbed the manager.
He confessed that on December 1, 199 he entered a restaurant on Waring Road, pointed a gun at the manager, and took money and left.
Haygood confessed to robbing Marcus Camper who was working at a gas station on India Street in an armed robbery that netted approximately $ 300.00 that was committed on December 7, 1999, an hour before he murdered victim Ivey.
In a 2003 appellate decision, the Court ruled the case should be remanded for resentencing because the lower court, in sentencing Haygood to a term of life without the possibility of parole as the result of his conviction of special circumstance murder was unaware it had the discretion to sentence him to a term of 25 years to life. Section 190.2, subdivision (a), provides for a sentence of death or life imprisonment without the possibility of parole for special circumstance murder. However, section 190.5, subdivision (b), allows the trial court to sentence a defendant to a term of 25 years to life when the defendant was between the ages of 16 and 18 at the time of the crime.
In all other respects the judgment was affirmed. On remand, Haygood was again sentenced to life without possibility of parole
JLWOP Inmate Jarred Viktor
On September 23, 1995 Viktor and his fifteen year-old girlfriend Danielle Barcheers went to his grandmother's home where the two teen killers robbed and stabbed Viktor's grandmother Elizabeth "Betty" Carroll 61 times. Various items, including her car, were stolen from the victim.
Both defendants were convicted of first degree murder in separate trials; Victor received a life without possibility of parole sentence on October 1, 1997.Barcheers who was fifteen at the time was sentenced to 25 years to life.
Barcheers was convicted of first-degree murder as an adult in 1997 but an appeals court overruled the verdict in 1999, saying her first lawyer erred by not presenting a mental-health defense, and ordered a new trial. Danielle Barcheers was the youngest girl in California to be charged as an adult for her role in the murderous rampage.
At her second trial, .Barcheers was again convicted of first-degree murder. A state appeals court upheld the second conviction, and the state Supreme Court declined to review the case.
Barcheers' attorney then filed a petition in February 2003 in federal court, asking for a writ of habeas corpus to order a third trial. That request was denied on Aug. 7, 2003, prompting the federal appeal. The federal appeals court agreed with the lower federal court's decision not to order a new trial for Barcheers. She continues to serve 25 years to life in prison for Carroll's murder.
Another teenager charged in the case was acquitted of murder, but was convicted of less serious charges for taking items from Carroll's home the night she was slain. He was paroled in October 1999.
JLWOP Inmates Robert Lamar Myers and Edward Thomas
Robert Myers, a documented gang member, was convicted of two counts of first-degree murder, three counts of premeditated attempted murder and two counts of shooting into an occupied vehicle, along with gang and gun allegations stemming from three 2004 drive-by shootings by Lincoln Park gang members that occurred within a 22-hour period, leaving two people dead and three others wounded. On October 30, 2008, Myers was sentenced to two consecutive life without possibility of parole terms, plus other life terms
The shootings were a continuation of a violent rivalry between two black gangs largely based in Lincoln Park and Skyline. The defendants told investigators they were on a mission to kill rival gang members.
The first shooting occurred around 11:35 p.m. on Aug. 13, 2004, when a person leaned out of a white Ford Expedition in Skyline and fired multiple shots at a group of people, striking one of them in the ankle. Witness told police that the shooter was wearing a hat that flew off and was recovered by investigators. DNA found on the hat matched Myers
About an hour later the occupants of a white Ford Expedition followed- a Ford Mustang and a BMW after the vehicles had left a bar. The driver of the Mustang was shot in the arm, while the BMW driver 22-year-old Richard Wilson, was fatally shot in the head. A passenger in the BMW was shot in the back, but survived.
The next evening 15 shots were fired from a white Ford Expedition at a group of four people sitting at a bus stop and killing 16-year- old Lee Smith Jr. Neither Richard Wilson nor Lee Smith were gang members.
When the shootings took place four years ago, Dejon Satterwhite was 15, Edward Thomas and Myers were both 17 and Harris was 18. Thomas was identified as the driver in the shootings. Satterwhite was a passenger
Thomas was convicted of first-degree murder, attempted premeditated murder and shooting at an occupied vehicle., and was sentenced to two terms of life in prison without parole, plus 96 to life, plus 40 years. Thomas' half brother, Satterwhite. was convicted of the same charges and sentenced to 196 years to life
Ivory Harris was convicted of first-degree murder and allegations that the crime was committed for the benefit of a street gang and that he personally used a firearm in the attack. He was sentenced to fifty years to life for his role in the murder of Lee Smith Jr.
JLWOP Inmate Henry Lee Dreyer and Scott Whitlow
Henry Lee Dreyer was adopted at age 7 by Carol Dreyer. Ten years later on January 29, 1998 at 5 am, he killed his adoptive mother and her boyfriend as they slept in their Carlsbad, CA condo. . The bodies were found in the trunk of a car in their garage. Investigators found bloody bedding, a metal baseball bat, and a knife in the car. Henry had stolen before from his mother, her father, and her boyfriend and was on probation for a 1996 residential burglary at the time of the killings.
Before his arrest, Henry bragged about the murder to friends and he and the co-defendant gave away his mother's jewelry to their girlfriends. Henry then withdrew $520 from her account Henry was caught on security camera at ATM machines using Carol Dreyer's card and laughing as he withdrew her money. It is reported that he joked about the slayings and even defecated on Engleman's body.
Two days after the murders, Henry Lee surrendered and implicated his friend Daniel Scott Whitlow. Henry admitted he slit the throats of the victims while Scott beat Engleman with a baseball bat. According to DNA tests, the blood on the baseball bat used to beat Engleman belonged to Henry, not Whitlow. Other evidence established Whitlow's involvement in the murders – including the testimony of his friends that Whitlow and Dreyer discussed their plans to kill Gary and stuff his body in the trunk of his car; and the blood splatter evidence showing Whitlow was in the bedroom when the murders were committed and was consistent with him swinging the baseball bat.
In 2001 an appellate court reversed Whitlow's convictions in an unpublished opinion. In his 2002 retrial, a jury convicted of two counts of first-degree murder and found true special circumstances that each murder was committed for financial gain , while lying in wait and in the commission of a robbery. The jury also found the true the multiple murder special circumstance and that Whitlow personally used a deadly weapon in the murder of Engleman. The court sentenced Whitlow to life without the possibility of parole and imposed a concurrent term of life without the possibility of parole plus enhancement terms.
Dresser was sentenced to two consecutive life without possibility of parole terms plus additional years for the enhancements.
JLWOP Inmate Kristopher Kirchner
Kirchner was sentenced to life without possibility of parole for the brutal murder of Ross Elvey during the commission of a robbery of his commercial business. The victim was brutally beaten with a metal pipe, sustaining 25 skull fractures and dying after being in a coma for forty one days.
At the time of the murder, Kirchner was 16-years-old and his street moniker was 187 Insane (187 is the California penal code section for murder). Since being incarcerated for life without possibility of parole for the murder of Mr. Elvey, Kirchner has been convicted of attempted murder of another inmate arising out of circumstances where he stabbed another inmate.
The other perpetrator in the Ross Elvey murder was Damion Miller who was 15 years and 8 months old when he committed the crime. Miller's street name was "9" as he was proficient in getting 9mm hand guns for others. At age fourteen, Miller had provided weapons to two other gang members who committed two murders with those firearms. Because of his age, he was sentenced to CYA for victim Elvey's murder and was released the day before his 25th birthday
While serving his jlwop sentence at Folsom State Prison, Kristopher Kirchner and another inmate Jayson Weaver attacked and stabbed a fellow inmate. The entire incident was videotaped, and the videotape was played for the jury.
They were tried together and both found guilty of assault by a life prisoner with a deadly weapon and possession by an inmate of a weapon. The jury also found true the allegations that each defendant personally used a dangerous weapon and the court found true the allegation that each had a prior serious felony conviction and inflicted great bodily injury. Kirchner was sentenced to a term of 25 years to life plus nine years for the enhancements., both to run consecutive to his jlwop sentence. Weaver was sentenced to life without the possibility of parole plus 18 years, plus nine years for the enhancements. The appellate court affirmed the judgment except for a one year enhancement.
Brenda Spencer
Victims: Burton Wragg and Michael Suchar plus nine who survived
Age at time of murder: 16
Crime date: January 29, 1979
Crime location: San Diego
Crimes: Double murder, attempted mass murder, and attempted murder of children
Murder method: Gunshots
Weapon: Ruger 10/22 semi-automatic .22 caliber rifle
Murder motivation: "I just don't like Mondays… I did this because it's a way to cheer up the day."
Conviction: Guilty plea to two counts of murder
Sentence: 25 years to life
Incarceration status: Incarcerated at the California Institution for Women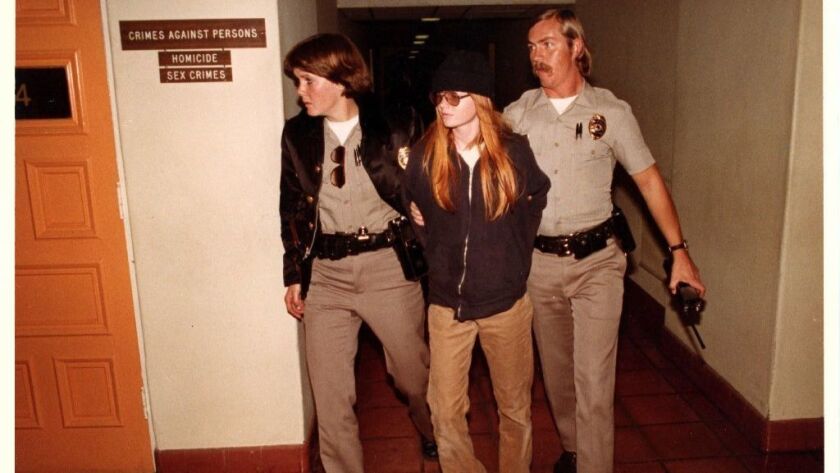 Summary of the crime
Spencer went on a shooting spree, murdering two people and injuring nine others. The victims were at the Cleveland Elementary School. Spencer shot them from her home, which was directly across the school. Eight of the people injured were children. She told a reporter that she committed the crimes because "I just don't like Mondays… I did this because it's a way to cheer up the day."
Details