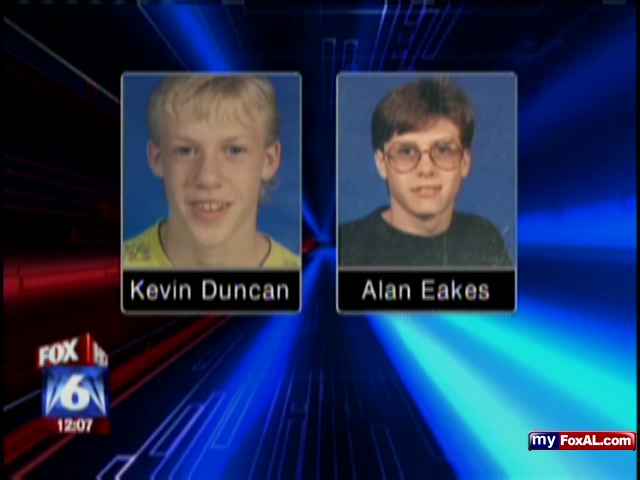 Victims: Kevin Eugene Duncan, 14, and Mollan Allen Eakes, 15
Murderers' ages: 15, 16, & 17
Deaths: February 8, 1992
Kevin and Allen were beaten to death by several teen gang members. Two of the killers were sentenced to life without parole while one was sentenced to life with parole. The latter was later released without the victims' families' knowledge.
HOOVER, AL (WBRC) – Relatives of a murder victim from Oneonta continue their fight this week. They are fighting to keep one of their loved one's killers behind bars.
It has been nearly 19 years since 15-year-old Allen Eakes and 14-year old Kevin Duncan were assaulted with a baseball bat and left to drown near the Shades Creek Bridge off Highway 150 in Hoover.
Three men were convicted in the killings and one of them, Nathan Gast, has a parole hearing this week. Allen Eakes's brother and sister will be at the hearing to fight the parole petition.
With the holidays approaching, the possibility of gast going free is even more troubling.  "Because we miss him, and we know he would be here, and his children would be here, that's hard," said Eddie Eakes, the victim's brother. "All we have to do is go visit his tombstone and grave. That's all we have to remember him by."
The offenders are serving life sentences.
BIRMINGHAM, Alabama – The families of two Oneonta boys beaten and left to die in a Birmingham creek in 1992 are angry that one of the killers, Nathan Gast, was released from prison last week without their knowledge.
"No one contacted us," said Eddie Eakes. "They snuck behind our back … They just didn't give us a chance to do anything."
"I'm furious. My friends are furious," said Danny Duncan.
Eakes and Duncan are the older brothers of Mollan Allen Eakes, 15, and Kevin Eugene Duncan, 14 who were beaten with a baseball bat and left face down in Shades Creek along Alabama 150 near Bessemer on Feb. 8, 1992. A 14-year-old girl, whose name was not published, survived the attack and testified.
Gast, who was 15 at the time, pleaded guilty and was sentenced to life in prison. Two other teens, Christopher Thrasher and Carvin Stargell, were convicted in connection with the murders and received life without the possibility of parole. All three teens charged were alleged members of the Gangster Disciples street gang and, according to trial testimony, Thrasher was the one who ordered Gast and Stargell to kill the boys.
Gast, however, was released from custody Thursday afternoon after Bessemer Cutoff Jefferson County Circuit Judge David Carpenter re-sentenced Gast to 20 years, time served, and ordered his release. The judge made the ruling based on a motion by Gast's attorney, Tommy Spina, that was unopposed by Bessemer Cutoff District Attorney Arthur Green.
Efforts to reach Green were unsuccessful prior to publication of this story.
Gast, now 37, had previously sought three times to be released by the Alabama Board of Pardons and Paroles. Each time, the Duncan and Eakes families were there to oppose it. At the last one in 2010, however, both Spina and a detective in the case came to make a plea to the board, Duncan said.
Duncan and Eakes were also angry at prosecutors for not opposing Gast's release.
"The prosecutors just sat there and went along with it. And that's what I don't understand," Eakes said.
Eakes said they had been told that Gast would not be released until the next hearing. "I know they didn't do us right," he said.
"That's no way for the state of Alabama to do our family after what we went through," Eakes said. "What good is a parole board if you're going to have a judge come in and go against it."
Eakes, choking back tears, said that his brother's death tore his family apart. "It's been like it happened yesterday."
"There is no getting over it," he said. "I'll get over it when my heart takes its last beat."
Duncan said there have been people executed for less than what those teens did to the two boys. "This boy has committed murder and tried to kill another. … Justice has not been served here," he said.
"Everybody up here is mad," Duncan said of the Blount County community.
Duncan said his family contacted Blount County District Attorney Pamela Casey about what to do.
Casey stated in an email that she told them to contact the Alabama Attorney General's office if they were not happy with the way the cases are being handled. "I told them I would assist them in any way I could with contacting the AG. They haven't contacted me since that initial contact," Casey stated in the email.
Spina had argued in his motion that it was never the intent under Gast's plea for him to serve more than 10 years of the life sentence and that the state would not oppose it. At the time, 10 years would have been the first time he could have received parole. However, later changes in the parole system bumped the minimum time to serve before eligibility to 15 years. With the pardons and parole board repeatedly denying Gast parole, Gast essentially had a "defacto" life without the possibility of parole sentence.
Spina said Gast had cooperated with authorities from the night of the incident and was instrumental in helping find the girl who survived. He said Gast didn't hit Duncan and Eakes with the bat, but he did move one of the boys and placed him face down in the creek. It turned out the boy died from drowning.