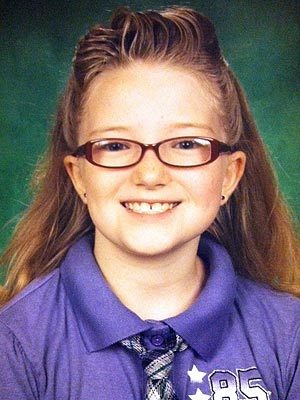 Victim: Jessica Christine Ridgeway, 10
Murderer's age:  17
Death  October 5, 2012, Westminster, Colorado
January 21, 2013 5:34 PM
Jessica Ridgeway (credit: JessicaRidgeway.com)
WESTMINSTER, Colo. (CBS4) – A foundation that was born to honor the memory of Jessica Ridgeway is turning the tragedy into a way to help other children.
Ten-year-old Jessica was kidnapped and murdered last fall in Westminster.
The Jessica Ridgeway Legacy Fund already has a one-week cheerleading camp in the works for this summer. The foundation, much like how Chelsea Park was renamed in Jessica's honor, is meant to keep her spirit alive by supporting the type of things the 10-year-old was passionate about.
"She really wanted to be a cheerleader," family friend Angee Perry said.
Jessica's smile in a photo shows how she was delighted to go to her first cheer camp. Now other children will do the same thanks to the Jessica Ridgeway Legacy Fund.
Jessica Ridgeway at a cheer camp (credit:
"They want people to remember her the way they remember her; having fun and being excited about growing up," Perry said.
Perry says Jessica's family wants their newly-formed foundation to support cheerleading camps and other youth programs so children get the chance to attend. Now, the Broomfield Community Foundation will take donations from the public in what's called a "Donor Advised Fund."
"The simplicity of a Donor Advised Fund is (those who receive donations) don't have to worry about managing any aspects of the funds, we do all of that for them," said Karen Smith, Broomfield Community Foundation Executive Director.
It's so the family can focus on Jessica's legacy, and choosing the type of nonprofits, scholarships and programs that embody Jessica's spirit.
"Cheerleading, dancing; maybe even some things with pets because she loved animals," Perry said.
The money collected will go to nonprofits and programs, not people. The Ridgeways will make suggestions about where the money will go, but a board will have final approval. The family wants to make sure people know where the money is going and how it's being distributed.
To make a donation, visit the Broomfield Community Foundation website, or send a check to the Jessica Ridgeway Legacy Fund to P.O. Box 2040, Broomfield, Colorado, 80038.
Many other news stories on the internet, such as this one, speak to the incredibly gruesome murder/sexual assault/dismemberment attack on this beautiful child by a frequent offending 17 year old predator who ultimately received a life sentence in 2013 in Colorado for this horrible crime.