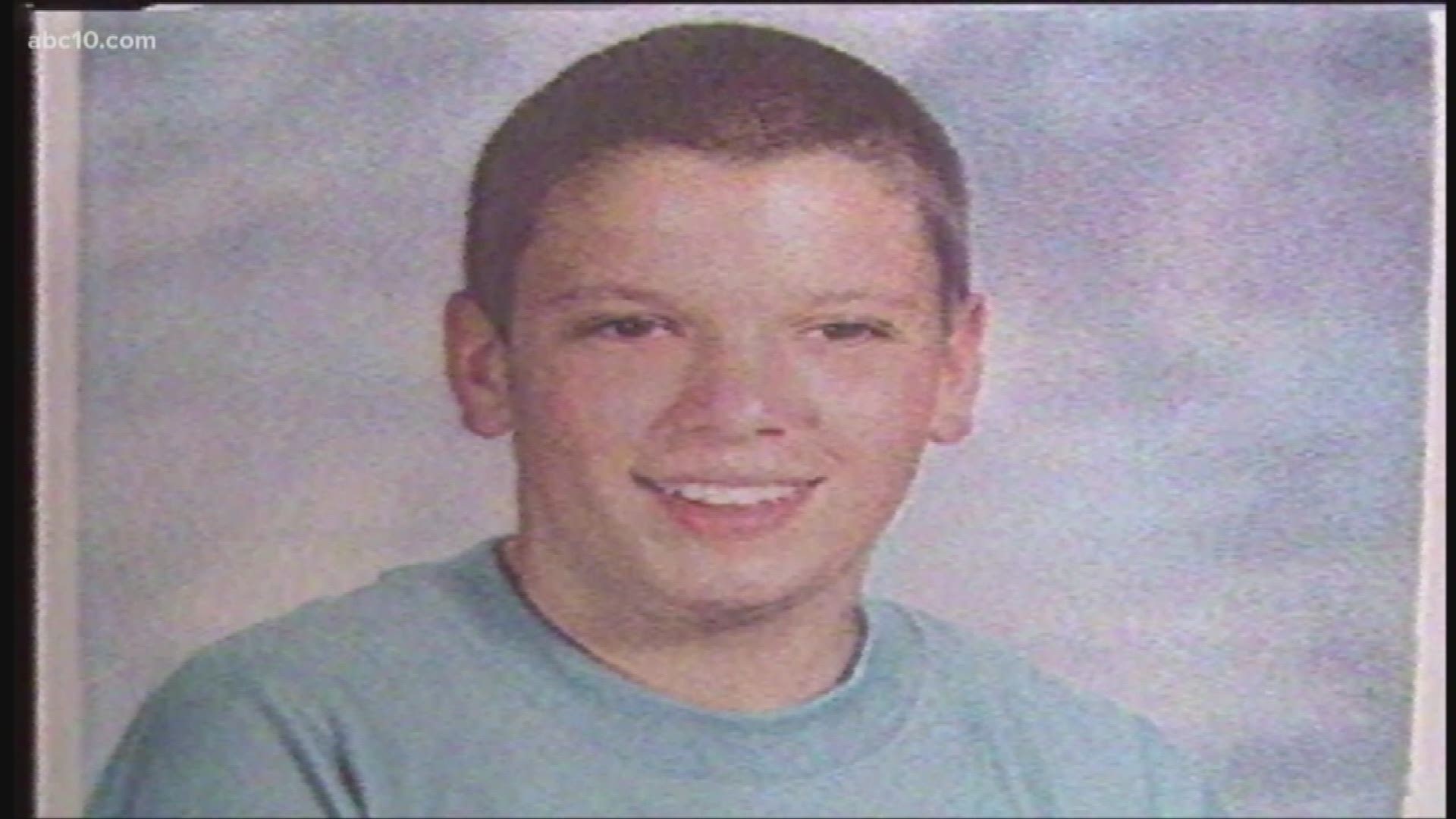 Victim: Erik Ingebretsen, 16
Murderer: Nathan Ramazzini, 17 & Leopoldo Contreras, 18
Crime date: July 15, 1997
Crime location: Colusa, California
COLUSA (CBS13) — A teen killer who was sentenced to life in prison without the possibility of parole could have that sentence reduced.
It's been 21 years since Erik Ingebretsen was beaten and stabbed to death by his two best friends. The then-16-year-old's murder left Colusa shaken. Now the town is coming together in a fight for justice.
Nathan Ramazzini, who was widely believed to be the driving force behind the killing, was sentenced to life in prison but will face a resentencing hearing on Tuesday.
It was July 15, 1997, when Ingebretsen, a Colusa High School student, was brutally beaten to death by two kids his age he called his best friends.
"They took him to the Sacramento River where he proceeded to beat him with a baseball bat, stab him repeatedly," said his cousin Emily Collins.
Ramazzini dumped Ingebretsen's body in a Colusa County field and was later convicted of first-degree murder and was given a sentence of life in prison without the possibility of parole.
Ramazzini is now 38 and parole is a possibility because of Senate Bill 9, which was passed in 2013. It gives a second chance to those who were under the age of 18 at the time of their crime and sentenced to life without parole.
Hundreds are expected to gather on Tuesday morning to oppose the new sentencing. Ramazzini's co-defendant has since been released on parole after a plea deal with prosecutors.
Update:
A judge denied the resentencing request for Nathan Ramazzini, the Colusa County District Attorney's office confirms.
Ramazzini was only 17-years-old when he was convicted to life in prison without parole, for the 1997 killing his friend, 16-year-old Erik Ingebretsen. Though, under California's Senate Bill 9, passed in 2013, Ramazzini was eligible for to have that sentence reconsidered, since he was under 18 at the time of the murder.
An official statement from the family for Ingebretsen on the judge's decision has not yet been released.
Original:
Nathan Ramazzini was 17-years-old when he was convicted to life in prison without the possibility of parole for the 1997 killing his friend, 16-year-old Erik Ingebretsen.
Another teen and friend, Leopoldo Contreras, was also convicted of having taken part in Ingebretsen's killing, and was sentenced to 25-years to life in prison.
Ramazzini's sentence was harsher because he was believed to have been the one who orchestrated the planned murder, for which no motive had been given. Now 38-years-old, Ramazzini is pleading to a Colusa County judge this week to have his sentence reconsidered.
"I felt like a monster," Ramazzini testified in front of a packed courthouse. "I know I am not a monster today."
The man who has spent 21-years in prison for his crime, was able to apply for a new sentence under a California state law that took effect in 2013. Senate Bill 9 gives the opportunity of a second chance for those who were convicted to life without parole for crimes they committed before the age of 18.
RELATED STORY: Ramazzini re-sentencing: What you need to know about Senate Bill 9
Elizabeth Calvin with the group Human Right's Watch says her group supports the bill because it provides fair sentencing for youth.
"Life without parole is exactly what says," Calvin said. "It is a sentence to die in prison."
The United States is the only country in the world that sentences juveniles to life in prison without the possibility of parole, according to the Sentencing Project. However, the former Colusa County District Attorney who prosecuted Ramazzini's case argues that he does not deserve a second chance.
"First of all, he's never shown remorse," Poyner said. "He didn't back then and I don't think he has shown it to this day. I think he's a manipulative murderer."
The family of the teen victim who was beat and stabbed to death is decrying the man's re-sentencing. They say it feels like the justice received more than 20 years ago is being stripped away.
"We hope people are rehabilitated. I can't say that that's happened," said Steve Collins, Erik's uncle.
On the second day of the re-sentencing hearing, Ramazzini testified that Contreras convinced him to murder Ingebretsen.
Ramazzini testified that his close group of friends had burglarized and vandalized the local high school and businesses. Ramazzini testified that Ingebretsen had witnessed the crimes and was going to tell. So, Contreras said he had to be"taken care of," Ramazzini testified.
However, the victim's family said that was the same story Contreras gave more than 20 years ago. The hearing is expected to pick back up again on Friday at the Colusa County Courthouse.
SACRAMENTO, Calif. — California Assembly Bill (AB) 665 would repeal protections that offer parole hearings to juveniles sentenced to life in prison without parole.
AB 665 is also known as "Erik's Law" and is named after Erik Ingebretsen, a Colusa County teenager who was murdered by his friends in 1997.
One of the convicted killers, Nathan Ramazzini, was 16 years old at the time of the murder. For the charge of murder with a special circumstance of lying in wait, Ramazzini was given the harshest sentence of life in prison without the possibility of parole.
"What Nathan did to my brother that night with a bat and knife is so grotesque that, out of respect for my parents who are here today, I simply won't speak of it," said Devin Lobardi, the sister of the murdered teen.
On Wednesday at the California State Capitol, Ingebretsen's family joined state lawmakers and crime victim advocates in announcing the bill.
If passed, AB 665 would repeal Senate Bill (SB) 394, which was passed in 2017.
SB 394 was part of an overhaul to the state's criminal justice system and an effort to comply with a U.S. Supreme Court ruling.
SB 394 gives juveniles sentenced to life without parole the opportunity to receive a parole hearing after serving 25 years in prison. It does not guarantee that a criminal be released on parole; it only guarantees a parole hearing.
Advocates of SB 394 say it's fair to both victims and offenders. Nina Salarno Besselman with Crime Victims United of California wants SB 394 to be repealed.
"It [AB 665] repeals a very dangerous, irresponsible, and unconscionable law that was passed in 2017," Salarno Besselman said. "That law benefited only half of the criminal justice system, the criminal."
Erik's Law was proposed by Assemblymember James Gallagher (R) of Yuba City and Senator Jim Nielsen (R) of Tehama.

Members of the group Human Rights Watch are opposing the bill.

***
The day of the murder:
Ingebretsen, a 16-year-old Colusa High School student, had just gotten off work at Holiday Market, the grocery store that is now Sav-Mor Foods in Colusa, on July 15, 1997, when he saw his friends, Ramazzini and Contreras, waiting in the parking lot. Ramazzini drove the three out to a secluded spot north of town, claiming he wanted to show them something. When Ingebretsen didn't return home by the next morning, a community-wide search ensued complete with county, state and federal investigators.
Ramazzini said he slept in that morning, not wanting to deal with the day, knowing he had just killed his best friend but his mother woke him up and drove him to the search party headquarters.
"I went to the search party and was just going through the motions," said Ramazzini. "I was just doing what was expected of me."
He also admitted to sending electronic messages to Ingebretsen to keep up appearances.
Ingebretsen's body was discovered July 17, 1997, abandoned in a wooded area along the Sacramento River with cuts on the back of the head, a deep gash on his neck that went to the bone and four stab wounds to the chest. Additional stab wounds were also found on his abdomen and the right side of his body.
Ramazzini admitted having a baseball bat and a butcher knife ready in his car when they drove Ingebretsen out to the woods on that fateful night.
In his testimony, Ramazzini said he hit Ingebretsen with the bat four times, delivering what a forensic pathologist testifying at the original trial called "death blows."
"I had anger inside within me, and I believe I directed it towards Erik when I murdered him," said Ramazzini.
During his cross examination of Ramazzini, Colusa County District Attorney Matthew Beauchamp asked Ramazzini to explain a statement he had made about feeling powerful while murdering his friend.
"The power that I was talking about was taking everything that I felt, everything that had gone on in my life and being able to get rid of it," said Ramazzini. "And I did that to Erik."
Beauchamp responded, "That is the first time we are hearing that, that there was catharsis by murdering your best friend that was freeing you of childhood problems and childhood insult and all those things you told us earlier?"
"I think that factors in, yes," said Ramazzini.
Earlier in his testimony, Ramazzini had painted the picture of a childhood where he felt lonely, abandoned by his busy working parents whom he was never able to communicate with. He also said that his father had caught a friend molesting him when he was 9 and never did anything about it.
Beauchamp pointed out that Ramazzini had indicated during two different psychological evaluations, one done before he was sentenced in 1998, and one done for the resentencing hearing in 2018, that he had an idyllic childhood and had never indicated any type of molestation or misconduct.
Ramazzini confirmed that he had lied on multiple occasions about his childhood as well as details about the murder, skewing the results of both psychological evaluations that concluded he was a well-adjusted individual with no signs of serious mental health disorders.
Ramazzini said during his testimony that, "Erik didn't deserve this. I betrayed his trust," but admitted that he never thought about any ramifications that may come from taking a life.
"After I realized I'd made a mistake," said Ramazzini. "I realized that what I had done was beyond cruel. The thought of doing it before, there was a sense of detachment, but afterwards it was real, and it was gruesome and it was horrible, and it was final."