Name: Jonathon Veasna Bun
Victim: Sheriff Deputy Richard "Rick" Daly, 55
Age at time of murder: 17
Crime date: July 20, 2011
Location: Riverdale
Crimes: Murder of a police officer
Weapon: .40 caliber handgun
Murder method: Gunshots to the shoulder and stomach
Convictions: Murder, aggravated battery on a peace officer, armed robbery, aggravated assault, possession of a firearm during a crime, obstruction of a law enforcement officer, & theft by receiving stolen property
Sentence: Life without parole (LWOP) plus 115 years
Incarceration status: Incarcerated at the Macon State Prison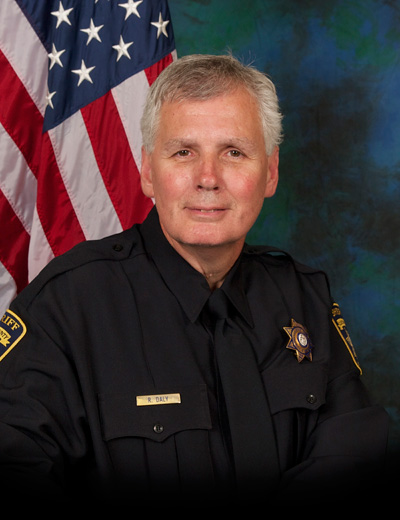 Summary of the crime
Bun, who was wanted for an armed robbery, was pulled over by Sheriff Deputy Richard "Rick" Daly. Rick was trying to serve an arrest warrant on him. The 17-year-old then shot the officer in the shoulder and stomach.
Details
http://www.myfoxatlanta.com/story/18148098/jurors-to-deliberate-case-in-jonathan-bun-trial
Clayton deputy's death replayed at murder trial
By Marcus K. Garner The Atlanta Journal-Constitution
On the first day of testimony in the murder trial of Jonathan Bun, prosecutors re-created the moment of Clayton County Sheriff Deputy Richard "Rick" Daly's death.
Jonathan Bun, the teen accused of shooting and killing a Clayton County sheriff's deputy last summer goes on trial.
The hands of Daly's wife, Cheryl Daly, trembled and clutched those of her son Toby Daly and her daughter-in-law Janaya Daly as they listened to the deputy's last radio transmission before he was gunned down.
"I'll be coming around on him on Walker [Street]," Daly said in the police dispatch audio recording played Tuesday afternoon in the courtroom of Clayton Superior Court Judge Deborah Benefield.
Moments later, an investigator with the Sheriff's fugitive squad was shouting for help into the radio amid apparent gunfire.
"Shots fired! Shots fired!" the radio reverberated. "Officer down."
Bun, now 18, is accused of shooting Daly twice on July 20, killing the deputy who was attempting to serve an arrest warrant for a previous alleged armed robbery.
"His attack was vicious, violent and cowardly," Clayton County Assistant District Attorney Jason Green told the jury Tuesday during his opening statement. "Evidence will show that Jonathan Bun knew exactly what he had done."
Defense attorney Lloyd Matthews didn't give an opening statement Tuesday morning to rebut a Clayton prosecutor's assertion that the then-17-year-old's fatal attack on Daly was deliberate and cruel.
What followed the shooting that July afternoon was an hours-long manhunt in a wooded area just outside Riverdale as police from a dozen metro Atlanta agencies responded to the "officer down" call and searched for Bun.
Bun is charged with malice murder, felony murder, aggravated assault of a peace officer, gun possession while committing a felony and a host of other charges. If convicted in the death of the more-than 20-year police veteran, he could spend the rest of his life in prison.
Prosecutors called 11 of its planned 37 witnesses to the stand Tuesday.
Three Clayton Sheriff's deputies Tuesday testified they saw Bun shoot Daly.
Deputy Minh Doan fought back sobs from the witness stand as he described watching his partner gunned down.
"I heard gunshots … two times," Doan said, crying as he spoke. "I observed Deputy Daly … step back a couple of steps … and fall onto the ground."
Doan said Bun, who was about 20 feet away, aimed at him next.
"I saw the offender point the gun in my face," he said, saying his eyes met Bun's.
Doan ducked behind the dashboard of his patrol car, got out and came up firing at Bun, the deputy testified.
Another witness, Barbara Trimble, was leaving her nearby home with her husband and saw the stop. Trimble testified she couldn't identify the shooter, but was at a stop sign facing the traffic stop when she saw the shooting.
"[Daly] leaned over, talking down into the car," Trimble said. "That's when we heard the 'pop, pop,' and the deputy's arms flew up and over his head."
Toan Nyguen said he was driving the car Bun was riding in that day. When Daly's patrol car flashed its lights at them, Nyguen, who was 19 at the time, told jurors he saw Bun pull out and cock a semi-automatic handgun.
"I told him, 'Don't do anything stupid,'" Nyugen said. "I tried to grab him."
But Nyugen said Daly never made it to the window of his car.
Two other deputies at the scene — undercover investigators with the fugitive squad whose names cannot be disclosed per court order — had initiated the stop and were in an unmarked pickup truck behind Doan's car.
Doan said Daly walked as he approached the car Bun was in. One of the fugitive investigators testified that Daly ran up to the car as Bun tried to get out, and the other said Daly shuffled toward the car.
Defense attorney Matthews questioned each of the deputies highlighting the differences in their stories, as well as the other witnesses.
"Where was Deputy Daly when the shots were fired?" he asked one witness, varying the question slightly for others.
But five people who saw the shooting were in one accord when Matthews asked them if Daly reached for his firearm. "No," they each answered from the stand.
Doan described Daly's final moments.
After he handcuffed a startled and submissive Nyugen, he went to his fallen partner's side.
"I said, 'Daly, I'm here. Open your eyes and talk to me,'" Doan said as he choked back tears. "He looked at me and responded with his eyes. But he never talked to me. I said, 'Rescue is on the way.'"
https://www.wsbtv.com/news/judge-finds-jonathan-bun-guilty-murder/242357091/
JONESBORO, Ga. — A jury has found the man accused of killing a Clayton County deputy guilty of murder.
Jonathan Bun fatally shot Clayton County Deputy Rick Daly, a 25-year police veteran, on July 20. Bun was arrested hours later after a massive manhunt.
The jury had only been out for 2 hours, before coming back with the guilty verdict.
The verdict comes just one day after Bun took the stand, describing the details of the shooting.
Bun said he was in the passenger seat of his friend's car and noticed a white truck following him. Inside the white truck was fugitive-apprehension team trying to arrest Bun on armed robbery charges, police said.

Bun said he saw Daly approach, but he had no idea that it was a deputy walking up to his friend's car, so he opened fire.

"After I shot, I feel like the bullet struck the person. [In] a quick split-second, I looked at the person that was on the floor, which was Deputy Daly, and after that, within a split-second, I just took off running," Bun said.

Prosecutors pointed out that during a videotaped interview, Bun told investigators he saw blue lights in his side mirror and knew it was an officer.

Bun also testified he had never heard of an undercover officer. The remark led to some snickering in the courtroom, Channel 2's Tom Jones reported.

"As far as I see, I'm not guilty of malice murder because I didn't just wanna kill a person in cold blood," Bun testified. "I could even say I'm guilty, but I'm not wrong for what I've done."
https://www.ajc.com/news/local/judge-sentences-bun-life-without-parole/FNBhLERk5PKYaTgUOUaAeI/
A Clayton County judge on Thursday sentenced convicted cop killer Jonathan Bun to life in prison without the possibility of parole, plus 70 years.
Bun was given the maximum sentence possible following pleas Thursday from the family of slain Clayton County Sheriff's Deputy Richard "Rick" Daly and Clayton District Attorney Tracy Graham Lawson, who had been shut out of prosecution up to this point.
"Do I think he needs life without parole? Absolutely," Lawson said from the witness stand, testifying as a former juvenile judge who had presided over some of Bun's criminal cases and had recused herself from any dealings with the murder case.
"If the U.S. Supreme Court had not said we can't seek the death penalty, we would've sought the death penalty," Lawson said.
A seven-year-old decision banning capital punishment for offenders under 18 was just one of the rulings from the nation's highest court to touch this emotional case.
"I want to apologize to Daly's family," Bun said.
Bun was 17 on July 20, 2011 when he shot and killed Daly.
A recent decision by the U.S. Supreme Court prohibited mandatory life-without-parole sentencing for murder convicts younger than 18.
Earlier in the hearing Thursday, Benefield struck down a constitutional challenge to the life-without-parole sentence for Bun that was based upon that Supreme Court ruling.
"This court does not find the sentencing statutes to be unconstitutional as applied in this case or otherwise," Benefield said. "That was clearly said by the majority even in the recent decision … [while] it was unconstitutional for [life without parole] to be mandatory, it was important for there to be judicial discretion.
"Georgia statute allows for judicial discretion."
The judge made that first decision after hearing defense witness Emory University professor and child psychiatrist Dr. Peter Ash testify on the level of culpability juveniles might have for criminal behavior.
"Juveniles are impulsive and immature, and pay more attention to immediate reward," Ash said. "Under stress, their decision-making skills are not as good as adults."
In questioning the fairness of condemning a teenage offender to life in prison, Ash suggested that at such a young age Bun still had a capacity to change.
"We cannot predict how juveniles … even a severe offender, might behave as an adult," he said.
But Lawson, who spent 13 years with the Clayton juvenile justice system before becoming the county's head prosecutor in 2008, outlined a pattern of criminal behavior dating back to when Bun was 10 years old.
"I probably saw over 17,000 juveniles," she said. "This one was unusual. From the time he was 10, his family was afraid of him."
And after Bun remained in the juvenile justice system without improving — even spending seven months receiving therapy and treatment at Macon Behavioral Health Center — she requested that he remain in juvenile custody.
According to court testimony, at age 10, Bun brought a knife to school. By age 16, he'd been arrested for burglary, drugs and trespassing and was a known member of the Bloods gang when he was accused of robbing a store at gunpoint in January 2011.
"He escalated in his behavior from age 10 through now 17, culminating in one of the worst offenses that one human being can commit against another," Lawson said. "When I'm telling you, we tried everything in the universe to change this young man, he can't be changed."
Less than a month before the shooting, prosecutors said Bun pulled another armed robbery at a beauty salon, taking between $600 and $800 in cash from the business and the half-dozen workers and customers there with the help of Xavier Carter.
Carter testified against Bun in exchange for a reduction of his armed robbery charge.
On the afternoon of July 20, Daly pulled Bun and a friend over to serve an arrest warrant on the teen, who was wanted in a January 2011 armed robbery.
Witnesses testified that Bun stepped from the passenger side of the car he was riding in and opened fire on Daly, who was in uniform.
Daly died at the scene, and Bun fled to a nearby wooded area, prompting a massive manhunt that involved more than a dozen area police agencies.
Thursday, Daly's daughter beseeched the court to apply the stiffest penalty to the teen.
"It's changed our lives forever," Amber Wright said from the witness stand, as she looked through tears at Bun. "He doesn't deserve to walk free."
Daly's wife of 37 years, Cheryl Daly, followed her daughter with her own demand that Bun see no mercy.
"I believe he should get life without parole because he took my husband's life," Cheryl Daly said. "He should pay with his own."
Lawson said as a juvenile judge that she feared for the community if Bun were released.
"We had a saying … don't lock them up when you're mad at them, lock them up when you're afraid of them," Lawson said. "I was afraid he was going to harm the community."
In handing down a life sentence for killing a lawman and adding seven decades of prison time for additional charges ranging from aggravated assault to theft by taking, Benefield sent a message.
"Make no mistake, there are great forces of good and evil in this world," Benefield said as she visibly fought back emotion. "When an officer dies so that others are protected, good prevails.
"This is not the time to wring our hands and wish it weren't so. It is time to stand and say, 'Not on my watch.' Rick Daly's light shines on."
https://www.ajc.com/news/local/not-lot-buns-out-there/Rj8AgDmVihRhaq8ko129VL/
By the time Jonathan Bun had made his second appearance in Clayton County juvenile court in August 2007, it was clear to authorities the 13-year-old was unusually hardened.
A chronic runaway, Bun was in this time for burglarizing a middle school and possessing of marijuana.
While his middle school classmates were heading back to school that August, Bun was in juvenile lockup where he later told authorities a chilling story of how he'd been "beat into" the notorious Bloods street gang. He also admitted smoking marijuana daily and using "ice" — a street name for methamphetamine — twice a month.
"I don't get those kinds of cases in my courtroom at 13 years old," said Juvenile Judge Steven Teske, a 12-year veteran on the Clayton bench. "He's showing signs of no remorse. And that's scary."
Bun, now 17, is facing murder charges in the shooting death of Clayton County Sheriff's Deputy Richard "Rick" Daly.ADVERTISING
If convicted, Bun could go to prison for life without parole. A 2005 U.S. Supreme Court decision prohibits death sentences for defendants who were under 18 at the time of their crimes.
As Teske talked about the 5-foot, 110-pound teenager known as "Jon Jon," a thick manila folder lay nearby. The details of Bun's juvenile criminal history remain sealed. But what's known about his juvenile record — the number and nature of his encounters with the juvenile court system — paint a grim portrait of a child who, from the age of 10, grew up under court supervision. He is accused of burglaries, criminal trespassing, family violence, disruption in school and drug possession.
Teske recalls juvenile authorities were so alarmed early on by Bun they repeatedly committed him to state facilities and put him in programs usually reserved for older kids. At one point, Bun was placed in a program where he was picked up after school, taken to a juvenile center and given dinner and help with homework before being driven home at night so juvenile authorities could be assured he was under constant supervision, Teske said. Yet Bun still managed to find trouble.
Teske is convinced Bun is among a small segment of juvenile offenders who, despite repeat attempts at rehabilitation, are hard to save. Teske, citing national crime studies, said 8 percent of repeat juvenile offenders can't be reached.
"There are not a lot of Mr. Buns out there," said Teske.
"That's why it's important to identify these children as early as possible. That way, we're able to stop some of the damage."
A revolving door
Bun spent his teen years in and out of juvenile lockup, records show.
But locking up a juvenile for years on end — even one with repeated run-ins with the law — runs counter to how the juvenile justice system operates. Juvenile justice's goal is to give the kids in the system the tools they need to steer them away from adult prison. Supervision in the community is preferred over lengthy incarceration for most.
Additionally, crowding within the system means beds are preserved for the most violent offenders. Bun's early encounters with the system were not especially violent.
The first time Bun was sent to the state facility at 13, he was sentenced to up to two years on a burglary charge. He was out within a year and back committing crimes.
He was picked up for another burglary, this time someone's home. He was sent away again and was out in six months. That was in the fall of 2008. In May 2009, his mother called police after the 15-year-old allegedly trashed her home. Bun's mother declined to speak to The Atlanta Journal-Constitution about her son.
In March 2010, the 15-year-old was back in court on a charge of disrupting school. Once again, Bun was handed over to the state juvenile program, which had been handling his case. That was the last time Clayton juvenile authorities saw him. It wasn't the last time Bun got in trouble.
On Jan. 27, Bun walked into the Los Amigos Gift & Things shop in Forest Park and asked for water, according to police. The clerk took him back into the office where he is alleged to have put a gun to her head and demanded money.
Police say he left the shop with $200 — but not before being captured on the shop's surveillance camera. Daly was attempting to arrest Bun for that robbery on the day he was killed.
Family ties
Veasna Jonathan Bun was born in Atlanta on May 15, 1994, into a family where violence and legal run-ins were common. His father, Hing Bun, was convicted last week of bribing a federal Immigration and Customs Enforcement worker last fall. The elder Bun, prosecutors say, bribed the employee to remove him from a list of people needing to check in regularly with immigration authorities. He was facing deportation to Cambodia after he was charged with domestic battery.
By the time juvenile authorities saw Jonathan Bun in August 2007, he had run away five times.
Bun was such a regular in juvenile court that Clayton District Attorney Tracy Graham Lawson, whose office is prosecuting his murder case, disqualified herself during his preliminary hearing because of her knowledge of his record.
As Bun sat quietly in the courtroom last week, his father and several teenagers sat outside in the hall, banned from the proceedings. (Family and friends were deemed unruly during one of his hearings shortly after the shooting and had to leave the courtroom). When asked to talk about the Jonathan Bun she knew, a young woman sitting next to Bun's father in the hallway asked, "Is it gonna matter?"
Lloyd Matthews, Bun's attorney, was unavailable for comment.
A fateful meeting
When Bun and Daly crossed paths on July 20 at an intersection in a Riverdale subdivision, it was the culmination of months of police work.
Undercover officers in a white truck spent most of that morning tailing Bun, who was riding in a black Honda driven by Tuan Nguyen. Confident they had their suspect, undercover officers called for the marked vehicle unit to make the traffic stop and serve the warrant for the gift shop armed robbery. Daly, 55 years old and a 20-year law enforcement veteran, responded. He pulled behind the black Honda.
Bun spotted the sheriff deputy's squad car in the car's rearview mirror, according to Nguyen.
Before Nguyen could bring his car to a complete stop, he said, Bun had pulled a .40-caliber Glock from his waistband and proceeded to load a live round into the chamber.
"What the hell are you doing?" Nguyen said he yelled. "Don't do it!"
He reached for Bun. But Bun had already jumped out of the car, Nguyen said. Within seconds, Bun fired two shots, hitting Daly — who was wearing a bulletproof vest — in the shoulder and in the stomach just as officer Minh Doan pulled up in his squad car, according to police.
Bun then fled. It was a police dog that ended the 6 1/2-hour manhunt. Bun was taken into custody wearing only his underwear. He'd shed his clothes while running in the woods after the shooting.
Once in custody, the frightened teenager called his mother on his cell and told her, according to testimony at last week's preliminary hearing, that he had "just shot a cop."
Deputy Rick Daly was shot and killed while conducting a traffic stop near the intersection of East Fayetteville and Walker roads. A fugitive squad in an unmarked car identified a teenage suspect wanted on armed robbery charges and called on Deputy Daly in his marked cruiser to execute the traffic stop around 3:00 pm.
As Deputy Daly approached the passenger side of the vehicle where the suspect was, the suspect exited the vehicle and fired multiple shots that struck him in locations not protected by his body armor. He was transported to the hospital where he succumbed to his wounds.
The suspect fled the scene and remained at large for several hours before he was captured by a tactical team with the aid of a canine. On August 9, 2012, he was sentenced to life in prison without the possibility of parole.
Deputy Daly had served in law enforcement for 25 years. He is survived by his wife, son, daughter, four grandchildren, and mother.