Victims: Erin Thompson, 35, Caden Odell, 13, and Erin's unborn baby
Age at time of murders: 16
Crime date: March 19, 2009
Crime location: Near Kalispell
Convictions: Deliberate homicide
Weapon: Automobile
Incarceration status: Released
Summary
Winter got into a fight with her boyfriend and decided to kill herself. She deliberately drove her car across the center line of U.S. Highway 93 and crashed into the vehicle Erin was driving. Winter survived. Erin, her unborn child, and her 13-year-old son Caden did not. Winter was released from prison in 2015.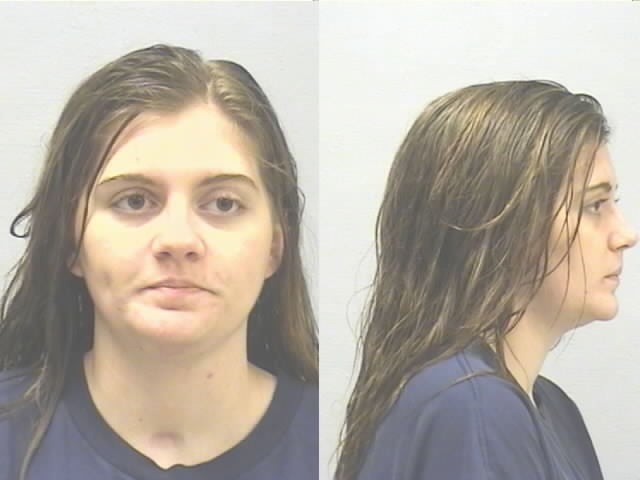 Details
From the TeenKillers.com website:
16 Year Old Female In Montana Faces Double Murder Charge Posted on February 2nd, 2011
16-year-old Justine Ellen Winter from Evergreen, Montana, decided it was time to kill herself over trouble with a boyfriend. After dropping him off, and sending him several texts, she drove left of center at the speed of 86 miles an hour, and hit another vehicle head on, hoping to kill herself. She collided with another vehicle, and she lived, while the other vehicle's two occupants died. Killed were 35-year-old Erin Thompson and her 13-year-old son Caden Odell. She is facing 200 years in prison, or a life sentence. She sustained several injuries in the crash, including broken bones and internal injuries, but survived and has fully recovered from her injuries. Her text messages to her boyfriend, who she dropped off less than an hour before the crash, included the statements "Good Bye…My Last Words," "And think this is now life or death. It shows you would rather me die because I want to kill myself. Good Bye" and "Because I wanted to kill myself. I wanted you out of my car so I could do what you told me I couldn't. Because I lost you and it's my fault." A witness said he passed her vehicle shortly before the crash described her driving as erratic, but he said she had both hands on the steering wheel and did not appear distracted. She is currently on trial for a double homicide – charged as an adult.
Family Reacts to Justine Winter's Pending Release
Family members of a mother and her son killed in a 2009 wreck on U.S. Highway 93 said they were surprised to learn the woman responsible for the crash will be released this year.
However, Amber Young also said she hopes that Justine Winter, the Evergreen woman who went to prison after being convicted on two counts of deliberate homicide, has found "meaning and purpose" in her life. On Sept. 21, the Montana Board of Pardons and Parole granted Winter, 22, parole upon completion of a pre-release program in Billings. It is likely that Winter will be free by the end of the year.
"It was sooner than any of us expected," said Young, sister and aunt to the crash's victims, Erin Thompson, 35, and Caden Odell, 13. "But I need to do what will make my heart happy and for me that's to wish Justine well and send her love.
"I hope she has learned skills for coping and dealing with emotion and that she understands the value of life, both her own and others," Young said.
Winter was 16 years old in March 2009 when she got into a fight with her boyfriend and later that night deliberately drove her car across the centerline of U.S. Highway 93 north of Kalispell, crashing into another vehicle, driven by Thompson, who was pregnant at the time. Thompson and Odell were both killed in the crash, but Winter survived. In February 2011, Winter was found guilty of two counts of deliberate homicide. She was later given two concurrent 30-year sentences with 15 years suspended on each.
During the trial, Winter never apologized for what happened. But according to Young, Winter sent a letter to the family last year and expressed remorse for the crash. Winter first applied for parole in 2014 but the board denied her request. However, it recommended her for a pre-release center.
According to board executive director Timothy Allred, Winter has been in the program since December 2014. She spent the first six months as an inmate worker and is now living at a pre-release center in Billings. At the pre-release center, Winter has been able to get a job and go into the public.
"(A pre-release center) helps people transition back into the community," he said.
Now that the board has approved Winter's eventual release, she will work with a case manager to create a plan for future housing and employment. A parole officer must approve the plan before she is released. Winter is expected to move to Missoula following her release.
Young said the last few years have been tough for her family but that she is hopeful that Winter will be able to do something worthwhile with her life.
"Erin, Caden and the baby are forever in our hearts," Young said. "And I hope they are in Justine's heart too."
Montana Teen Charged With Deliberate Homicide Sues Slain Woman's Family
Aug. 16, 2010— — A Montana teenager charged with deliberately causing a fatal car crash in a failed suicide attempt has filed a lawsuit against the family of the pregnant woman who was killed in the collision with her teenage son.
Everyone from the prosecutor in the case to neighbors of both families have raised their eyebrows at the teen's actions, with some saying it may be an inappropriate defense tactic.
Justine Winter was 16 years old the night her car plowed head-on into another vehicle on Montana's Highway 93, killing 35-year-old Erin Thompson and her 13-year-old son Caden Odell. Thompson was four months pregnant.
Prosecutors say the March 2009 crash was a calculated suicide attempt that occurred less than an hour after she broke up with her boyfriend and left his house. Their evidence, in part, rests with a series of ominous text messages Winter sent to her boyfriend minutes before the crash.
"If I won, I would have you," one text message read. "And I wouldn't crash my car."
And another, "That's why I'm going to wreck my car. Because all I can do is f*** up. Because I am a terrible person and I know it."
And also, "Good bye … my last words."
Winter, now 17, was charged as an adult with two counts of deliberate homicide. She faces life in prison.
The lawsuit claims Winter suffered permanent injuries in the crash and a "loss of capacity to enjoy life." She is also claiming future loss of income as well as past, present and future medical expenses.
Filed last month in Flathead County District Court, the suit names as defendants Thompson's estate, with her husband Jason Thompson as a representative, as well as three businesses that operate and provide services on Highway 93.
Winter, backed by her father Randy Winter because of her status as a minor, accuses Thompson of causing the accident through "negligent driving." The three companies — Knife River Corporation, Western Traffic Control, Inc., and Mountain West Holding Company — are accused of failing to properly maintain the highway, which was under construction at the time.
No one from the Winter or Thompson families could be reached for comment. Winter's attorneys, David Stufft and Maxwell Battle Jr., also did not return repeated calls for comment.
Flathead County Attorney Ed Corrigan, who is prosecuting the criminal case against Winter, told ABCNews.com that Winter's lawsuit may prove to be the start of her defense.
"I wouldn't be surprised if it was an effort on their part to force a change of venue or put pressure on the state to get it settled," he said. "I can't speculate on what they're thinking, but it could be strategy of some sort."
"I'm concerned that the lawsuit being filed is going to inflame the public in what's already for us a relatively notorious case," he added.
Court Documents Breakdown of Crash That Killed a Pregnant Mom and Her Son
According to the criminal complaint against her, Winter crossed the center line on Highway 93 going about 85 mph and slammed into Thompson's car. An investigation of the crash shows no tire marks on the road that would have indicated that Winter had tried to avoid the crash.
Court documents allege that a post-crash inspection of the car showed that Winter "was not wearing her seatbelt, she was at 95 percent throttle ('all the way to the floor.')
The same report noted that she was traveling 86 mph three to five seconds before impact and braked only one second before impact.
"In that effort to take her own life, the defendant instead took the lives of Mrs. Thompson and Caden," Flathead County Attorney Ed Corrigan wrote in the complaint.
Montana State Trooper Dustin LaRette, who arrived on the scene the next day for the accident reconstruction, said the road construction going on at the time of the crash that reduced the speed limit from 65 to 55.
The criminal complaint noted that neither road conditions nor alcohol were thought to be a factor in the crash.
"It was a bad crash," LaRette said. "It's up there with some of the worst one I've seen."
Western Traffic Control, Inc., and Mountain West Holding Company did not return messages seeking comment, but a spokeswoman for the Knife River Corporation issued a statement that they can not comment on pending litigation, but that their sympathies are with Thompson family.
"However," the statement read, "we believe our work was performed correctly and was not a factor in this accident."
Winter is currently waiting on an appeal her attorneys filed to get her case moved to juvenile court. If the appeal is denied, Corrigan said she may go to trial on the homicide charges in September.
Neighbors of both families say the crash and rumors that followed have been hard on the small community.
"It's just been a heart breaking thing," said Thompson's neighbor Faye Williams, who got to know Caden when he'd come take her puppy for a walk.
Williams said she doesn't believe that Thompson would have ever driven so badly as to cause such a crash as Winter's lawsuit claims.
"She wasn't anybody who would have been driving erratically. Not with her son in the car and her being four months pregnant," Williams said. ""I just feel that that girl is trying to get a way out or something."