Victim: Jordan Whaley, 18
Offenders: Shane Myers, 17, Cody Myers, Gerald Wilks, Shane Johnson, Matthew Baker, & Stephen Stringfield
Crime location: Boulder City
Crime date: October 15, 2003
Crimes: Kidnapping & murder
Weapon: 20-gauge shotgun
Murder method: Gunshot to the chest
Murder motivation: Drug related
Sentence: Johnson-20 to life; S. Myers-25 to life; Baker-35 to life
Summary
Jordan Whaley was shot in the chest and head and then stripped naked. The offenders also tried to make him unrecognizable by punching out his teeth before burying his body. Baker, the "trigger man," was sentenced to 35 years to life.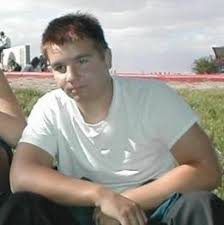 Details
Friday, April 16, 2004 | 9:53 a.m.
Two of the six young men charged in the slaying of Silverado High School student Jared Whaley pleaded guilty to their involvement Thursday.
Gerald Wilks, 20, pleaded guilty to conspiracy to commit murder, and Shane Johnson, 17, pleaded guilty to first-degree murder before District Judge Donald Mosley.
Both young men entered plea agreements with the district attorney's office that require them to testify against their codefendants, Matthew Baker, 18, Stephen Stringfield, 19, and brothers Shane Myers and Cody Myers, both 18. Those teens were scheduled for a preliminary hearing in Boulder City Municipal Court this afternoon.
Whaley's mother, Patricia Knight, sat in the back of the courtroom Thursday with two other family members and audibly sobbed as Wilks and Johnson entered their pleas.
Police allege that the teens, led by Baker, kidnapped, robbed and murdered Whaley because he interfered in their drug dealing and smoked some of the marijuana they planned to sell.
Wilks did not participate in the Oct. 14 murder of Whaley, but told police he did know about the conspiracy to kill Whaley and had stood as lookout on a previous attempt to poison the teen.
Wilks faces two to 10 years in prison for the conspiracy charge when sentenced in September. His attorney, Special Public Defender Ivette Maningo, said the offense is probational.
Johnson told police he hit Whaley with a stun gun after the group had gotten Whaley drunk and dragged him out to the dry lake bed off U.S. 95, just south of U.S. 93, on false pretenses of going four-wheeling. There the teens beat, shot and buried Whaley in a shallow grave.
Johnson's plea agreement stipulates that he serve life in prison with eligibility for parole after 20 years.
Johnson's attorney, Deputy Public Defender Bob Amundson, said Johnson accepted the plea agreement because it dropped all other charges, including the deadly weapon enhancement on the murder charge that automatically doubles an individual's sentence.
If Johnson had been convicted of first-degree murder with use of a deadly weapon, he could have faced life in prison without eligibility for parole or with eligibility for parole after 40 years.
Amundson said Johnson also wanted to take "full responsibility" for his actions.
"He wants to step forward and get this behind him," Amundson said.
The sentences for Wilks and Johnson have been postponed until September because each must testify against their codefendants.
In police interviews, Wilks and Johnson both confessed their involvement.
Johnson told police that he, Shane Myers and Baker beat Whaley, and that Baker shot Whaley in the torso and in the head. The teens then stripped Whaley and attempted to make him unrecognizable by punching out his teeth before burying the body.
Cody Myers' role in the murder was loading the 20-gauge shotgun Baker used to shoot Whaley, both Cody Myers and Johnson told police.
Prosecutors now believe Stringfield was not at the scene, but that he was part of the conspiracy to murder Whaley.
Along with the other remaining three defendants, Stringfield is still charged with murder with use of a deadly weapon, kidnapping with use of a deadly weapon, conspiracy to commit murder and robbery with use of a deadly weapon.
Jason Weiner, Stringfield's attorney, maintains his client's innocence on all charges.
Attorneys for Cody Myers, Shane Myers and Baker were not available for comment Thursday.
Friday, April 30, 2004 |
The teen accused of shooting his friend and fellow Silverado High School student Jared Whaley in the head and stomach regularly visited Whaley's mother and grandmother after Whaley disappeared last October, a Silverado High School junior testified Thursday.
Matthew Baker, 18, kept in touch with Whaley's mother to see "if she had heard anything," the female junior said during what was the third day of preliminary hearings in Boulder City Municipal Court.
And when Whaley's body was found and positively identified, Baker visited Whaley's mother and grandmother to find out details about the condition of the body, how police thought Whaley was killed and if they had any leads on who killed him, said the junior, who testified she went with Baker to both women's homes.
In asking about the body's condition, the junior said Baker told Whaley's grandmother that "a shot in the head decomposes the body faster."
The junior also testified that Baker told her "people might want to put a hit on Jared" because he messed up their dealings of methamphetamine.
Baker's statements, actions and stories his co-defendants shared about beating up a kid named Jamal and digging graves in the desert eventually prompted the junior to confront Baker about Whaley's murder, she testified.
"I told Matt Baker, 'I know you did it, just admit it,' " the junior testified on the stand.
"And Matt Baker said, 'Jared is my friend, why would he (I) do that?' "
The Silverado junior was one of seven teens who testified as corroborating witnesses to the state's case against Baker and co-defendants Stephen Stringfield, 19, and Shane and Cody Myers, both 18. Two other co-defendants, Shane Johnson, 17, and Gerald Wilks, 20, entered guilty plea agreements with prosecutors and testified against their friends in the first session of the preliminary hearing two weeks ago.
Most of the teens' testimonies focused on statements Baker had made, including confirming that Baker had showed them a nicotine poison concoction or had told them eye drops can be used to either kill someone or give them diarrhea. One teen said Baker had told her he planned to use the eye drops as a prank on Whaley, another said he planned to use the nicotine on another male friend because he wanted that friend's girlfriend.
Wilks and Johnson both have testified that Baker tried to poison Whaley first before Baker, Johnson, and the Myers brothers took Whaley out to the dry lake off U.S. 95, just south of U.S. 93 to kill him. Whaley's badly decomposed body was found naked with a gunshot wound in the head and stomach in a shallow grave.
One female teenager, who does not attend Silverado and did not know Baker, said she met Baker at the home of a mutual friend within a couple of days of Whaley's disappearance.
"Matt Baker said somebody probably took him out in the desert and killed him," the teenager testified.
When she asked Baker why, Baker said it was because Whaley was "loud and annoying," the teenager said.
Baker then said "he deserved it or he would have deserved it — I'm not sure of the tense," the teenager testified.
Another teenager, a Silverado sophomore, testified Matt Baker told her "Jared's gone, he's left, and he's not coming back."
"He said it with no emotion, no nothing," the sophomore said. "I thought he was hurting, and that's way he was looking at it."
Other testimony included at least one statement from each defendant about beating someone up. Stringfield, Shane Myers and Wilks told the Silverado junior about beating up someone named Jamal, and Cody Myers told a fellow Boy Scout member that he and his brother Shane had beaten someone up.
Most of the teens, predominantly Silverado High School students, also testified that they attended regular drinking parties at a desert location off Windmill Lane and Amigo Street known as "the Hill," one of the last places Whaley was seen on Oct. 14, 2003.
Only Baker and the victim, Whaley, were said to have ever done drugs.
Whaley used methamphetamine on occasion, especially during the summers, the Silverado junior said; Baker used marijuana, cocaine and opium, often on a regular basis, according to the testimony.
A female Silverado sophomore testified that Baker had told her Whaley wanted to be a part of the group's drug dealing, but they didn't want him to "screw it up."
Authorities have argued that Baker wanted to kill Whaley because he had interfered with his and the co-defendants' drug dealing, police reports show.
Three more witnesses are scheduled to testify in the preliminary hearing on May 13.
The man involved in what prosecutor's call one of southern Nevada's most gruesome murders, will stay behind bars. Shane Johnson asked the Nevada Board of Pardons Thursday for a commuted or reduced sentence, but was denied.
He pleaded guilty in 2004 for his role in the murder of 18-year-old Jared Whaley. The victim's family was at the hearing.
Family members describe Jared Whaley as fun, smart and good-hearted. They're pleased with the board's decision but they know nothing will bring back their loved one.
"It's been 15 years, but it feels like yesterday," said Patricia Knight, Jared Whaley's mother.
The emotions are still raw for Knight. Her son, Jared, was brutally murdered in the fall of 2003. Investigators say Shane Johnson was part of a group of young men who killed Whaley, beating him until he was unrecognizable.
According to police reports, Johnson used a stun gun to first shock Whaley and then another teen shot him. All of this — over drugs.
The 18-year-old was left in a shallow grave just outside Boulder City.
"A loss of a child is the worst thing you can go through," Knight said. "It's just an empty spot in your heart. It's just very hard on everybody, the family, friends."
Knight spoke Wednesday in front of the Nevada State Board of Pardons commissioners asking that Johnson be kept behind bars.
After pleading guilty as a teen, Johnson was sentenced to life in prison with the possibility of parole after 20 years. He is requesting a reduced sentence, of 10 years to life in prison. Johnson's defense attorney, Kristina Wildeveld, says he deserves a second chance.
"Nothing takes away from the horrific nature of this crime and that is not the reason we are here today. As for the reason we are here today, is because of who Shane Johnson is today, what he's done with himself over the last 15 years," Kristina Wildeveld said.
While in prison, Johnson has maintained a clean record, earned his high school diploma and has been trained in skilled labor.
"There is honestly nothing more important in my life than seeing my son free. I'm so impressed with how he went from a frightened teenager to the man that he is today," said Ronald Johnson, Shane Johnson's father.
The board did not commute Johnson's sentence. It was a victory for Whaley's family. But the pain is still there.
"It hurts. It still affects me to this day. Now, I have children and they see that kid in the family photos and he's not there, they want to know who he is, so we have to go and explain who he is," said Kyle Knight, Jared Whaley's brother.
"I don't have my son, he's got his life. I know he feels remorse, but it's not helping anything," Patricia Knight said.
Johnson will be officially be eligible for parole in 2024. Whaley's family says they will speak out at every hearing to make sure Johnson stays behind bars.