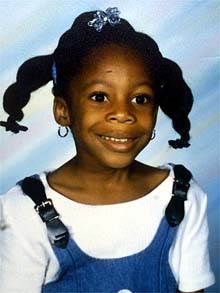 Beautiful 6 year old Tiffany was murdered in Florida in 1999 by a 12 year old "friend" and playmate Lionel Tate who was more than three times her size and weight. He beat and threw her to the ground, and murdered her.
He claimed later that he was imitating professional wrestling moves on TV. He was tried as an adult and sentenced to life, but his sentence was later reduced when he accepted a plea bargain he earlier had rejected. But soon after his parole he was re-arrested for armed robbery and now faces 30 more years in prison.
The case gained national attention shortly after Tiffany died because of the unusual strategy Mr. Lewis used in defending the boy, contending that he had simply been engaged in child's play that went wrong.
Mr. Lewis told the jury that Lionel was emulating the wrestlers he regarded as heroes when he kicked and body slammed Tiffany after his mother left the two unattended.
The World Wrestling Federation issued a statement saying that the defense's strategy linking the case to professional wrestling was "a contrived hoax" and that the jury saw through it.
Mr. Padowitz told the jury that Tiffany's death was no accident. He described her injuries, which included a lacerated liver, broken ribs and a skull fracture, as similar to those she would have sustained by falling from a three-story building.
Lionel wanted to get rid of Tiffany because he had a crush on her mother, Mr. Padowitz told the jury. Ms. Eunick-Paul testified that when she told Lionel that her daughter was dead, he shrugged and rolled his eyes. The next day, he asked Ms. Eunick-Paul if he could live with her and have Tiffany's toys, she testified.