We are the loved ones of those who were murdered by juveniles. We formed NOVJM for the purpose of supporting and informing each other. Our organization takes no specific stance on what the criminal sentences for these offenders should be. We are a victim support and information organization. We do not speak for victims, who are as diverse in their views as the murder cases in their families. Cases and victims' views vary widely, and offenders' sentences are determined by the criminal justice system that has been established in law by our society, not by victims' families. We exist to provide support and information for those who have lost loved ones to teen killers. The younger age of the offenders in our cases present unique legal issues for murder victims' family members. We support the rights of individual loved ones of murder victims to be heard in their cases. They should speak for themselves.
Though we do not take positions on the sentences that specific offenders should receive, many of us recognize that life sentences may be necessary for the most dangerous offenders who may always remain so due to mental health or other reasons, and who always would pose a risk to public safety. See our pages on Dangerous Early Release and Research on Juvenile Criminal Recidivism. Also, see our page on Current Legislation.
We stand for victims' rights, and specifically, the rights of all victims' family members to be heard and participate in their cases as they choose. We support having strong and enforceable rights for victims in every criminal justice process. And we know that victims' rights in no way contradict the important constitutional rights that the accused and all offenders enjoy in our nation. We support full constitutional rights for both victims and offenders. These rights are not in conflict with each other. Nor are victims' rights and rights of the accused in some sort of competition. We can have fully realized victims' rights AND fully realized rights of the accused in our American criminal justice system. Both. They do not compete – they are about separate things.
NOVJM does stand for truth-telling in criminal cases involving juvenile offenders. In the frenzy of well-funded advocacy for juvenile offenders in recent years, the truth about these murderers has too often been minimized, or outright lied about. See Lies About Specific Cases. 
We do take a stand that devastated victims' families deserve at some point legal finality in their cases. Too many of us have had to spend much of the rest of our lives constantly having to re-engage with the people who destroyed their lives by murdering their loved ones. We urge courts, parole boards, and legislators everywhere to balance the justice process with a profound regard for the literal torture of re-traumatization that victims' loved ones endure every single time anything related to the murder cases are re-opened and re-enter their lives. Resources also need to be devoted to support and inform victims' families during these trying legal proceedings.
We began as NOVJL, the National Organization of Victims of Juvenile Lifers, but changed our name to NOVJM, the National Organization of Victims of Juvenile Murderers in 2014, due to our growing membership of families of victims killed by teens who received sentences far less than life – the majority of teen killers.
Loved ones of those killed by teens should join our NOVJM Facebook Group for the most up-to-date news and information, and to chat with each other. You can also like our Facebook page. 
Read more About Us and What We Believe. 

Photo: Officer Larry Lasater of Pittsburgh, California, Killed in the Line of Duty by a Teenager Sentenced to Life   
IMPORTANT NEWS
The Supreme Court ruled in Jones v. Mississippi that juveniles do not have to be found permanently incorrigible before being sentenced to life without parole. The United States Supreme Court has been asked repeatedly about the constitutionality of life sentences for teens who kill, and has repeatedly affirmed it as constitutional within limits that allow courts to consider the maturity of the offender. For comment on the Jones decision, email [email protected] or [email protected].
Victims defeat New Mexico bill that would mandate parole hearings for juvenile murderers after only 15 years.
Ohio victims launch coalition to fight "The Teen Killer Protection Act" law. Sign our petition to protect victims in Ohio. In 2021, Ohio Governor Mike DeWine signed Senate Bill 256 which will reduce sentencing options for violent juvenile criminals. NOVJM is tracking the consequences of this bill. We are sad that Ohio politicians put the freedom of violent criminals above the rights of victims and the safety of the public. Read statements from victims impacted by SB 256 here.
In 2020, Louisiana rolled back Act 99 which had expanded parole eligibility for juvenile offenders. With the new House Bill 1, only some juvenile offenders are eligible for parole if they meet certain requirements after 25 years.
In March 2019, the Supreme Court announced that it would hear another teen killer sentencing case, that of Lee Boyd Malvo, a mass murderer known as the D.C. Sniper. Oral arguments for the Mathena v. Malvo case were heard in October of 2019. In February of 2020, the case was dismissed after Virginia enacted new legislation allowing Malvo and other juvenile offenders to seek parole after 20 years (Malvo will become eligible for parole in 2022. However, even if he is paroled, he still has several life sentences in Maryland to serve).
Shortly after dismissing the Malvo case, SCOTUS announced that it would hear the case of Jones v. Mississippi. In 2004, Brett Jones, 15, stabbed his grandfather Bertis to death in their home in Lee County, MS. He was tried in the Circuit Court of Lee County and claimed that the killing was done in self-defense. The jury found him guilty of murder and he was sentenced to LWOP. After Miller, the Mississippi Supreme Court vacated and set aside Jones's life sentence and remanded the case for a new sentencing hearing consistent with Miller.  The hearing was conducted by the Circuit Court of Lee County in 2015. The court found that Jones was not entitled to parole eligibility under Miller. The Mississippi Court of Appeals affirmed the Circuit Court's decision in 2017.  The Mississippi Supreme Court granted but then dismissed Jones's writ of certiorari. Jones then filed a petition for certiorari with SCOTUS. The petition was granted on March 9, 2020.  The issue to be determined in Jones was whether the Eighth Amendment requires the sentencing authority to make a finding that a juvenile is permanently incorrigible before imposing a sentence of life without parole. NOVJM submitted an amicus brief explaining our position. Victims are denied legal finality and are forced to endure severe pain and trauma when they face repeated parole hearings. Resentencing hearings to determine juvenile murderers' "incorrigibility" will also traumatize victims and disrupt legal finality. In April 2021 SCOTUS upheld Jones's sentence and ruled that juveniles do not have to be found permanently incorrigible before being sentenced to life without parole.
Read more on Jones here https://www.scotusblog.com/case-files/cases/jones-v-mississippi/
NOVJM has filed an amicus brief for the Jones case. https://www.supremecourt.gov/DocketPDF/18/18-1259/150986/20200911140013631_20200911-135749-95751522-00000210.pdf
The victim's family in the Jones case was not notified that their case was going to SCOTUS. They want the Supreme Court to know the TRUTH about the killer. See the family statement here. 
Jones is another teen killer sentencing case that could certainly have caused significant re-traumatization for many victims' families across the nation. The case tested the issue of life sentences that were discretionary rather than mandatory. Currently, life sentences and long-term sentences are still constitutional for extremely severe murders committed by offenders under the age of 18, as Miller v. Alabama clearly stated. Many advocates for juvenile justice reform have not been willing to recognize that young murderers sometimes pose a long-term danger to public safety. Most of our members are working hard to be heard in courtrooms and state legislatures across the nation, as courts consider what to do with their cases in regards to recent Supreme Court rulings, and while lawmakers work to write new sentencing guidelines for juveniles that incorporate the new requirement that courts take into account the ages of the offenders.
NOVJM's membership is sadly growing significantly due to court rulings that are leading to the re-opening of criminal cases involving juvenile offenders. We welcome our new extended family but are sad for the reason they have to join us.
Previous Cases
Weaver v. Massachusetts , June 2017, recently affirmed the conviction of a juvenile murderer even though his legal team, part of the well-funded legal services being offered to every juvenile killer in the nation who is serving a life or long term sentence, fought hard to argue that he should get a new trial. Victims' interests were well represented by Randall Ravitz of the Massachusetts Attorney General's office, and we are grateful that the state worked hard to protect the victim's family in this case. In 2003, Kentel Weaver, then 16, shot and killed 15-year-old Germaine Rucker in Dorchester, MA. He was later convicted of first-degree murder. Mr. Weaver's high powered pro bono legal team tried to use a technicality to argue for a new trial, even though they acknowledged the killer's guilt. They lost. Victims' families deserve legal finality wherever possible. We are gratified for this ruling.
In Miller v. Alabama (2012) SCOTUS banned mandatory LWOP sentences for juvenile offenders who were under 18 when they committed the crimes. Before an LWOP sentence can be given to such an offender the court must consider mitigating factors.
In 2016, the Supreme Court of the United States ruled against the best interests of victims' families, who very much want and deserve legal finality in regards to their loved ones' murder cases at some point. The case, Montgomery v Louisiana, determined the retroactivity question.  Specifically, the Court ruled that Miller was retroactive in cases on state collateral review. The opinion, like all Supreme Court rulings, leaves much to interpretation, but appears to possibly re-open every long term or life sentence given to every teen killer in this nation, going decades back in some cases. The majority opinion from Justice Kennedy can be read here.
Victims' families are urged to get in touch with the prosecutors in the counties where their murder cases and trials took place for more information. We also ask all victims' families to stay in touch with NOVJM about developments they hear in regards to their own cases and states – email us at [email protected] or through our Facebook and Twitter @VctmsTeenKillrs. Please join in and get mutual information sharing and support.
Since the U.S. Supreme Court decided that Miller v Alabama is retroactive, we have been explaining, as best as our limited resources allow, to all who will listen, that this ruling is likely to have a negative impact on thousands of murder victims' family members all over the nation. And worse, many of these families had no idea that there was any challenge to the prison sentences being served by their loved ones' killers, and as we are already hearing, are shocked to find out that this change in the sentences of their loved ones' murderers was even a possibility.
Worse, many victims will not even be able to be notified of this devastating development because they walked away from the life sentences given to their loved ones' murderers believing they were permanent, and have not stayed in contact with local officials for notifications regarding the legal nightmare that was re-opened by the Supreme Court.
We are now living with the ramifications of this horrible ruling for victims' families, some of whom have already shared their personal shock and re-traumatization on our NOVJM Facebook group where we discuss and share with each other. We want to stress to all victims' families reading this that because so much is happening so quickly in so many places around the nation, this website is not going to be able to provide updated information regularly. Unlike those who killed our loved ones, we have no budget, no staff, and no funding for advocacy. Our Facebook group is THE BEST WAY to find out what is happening and to talk to us. Please join us there!
We submitted an amicus brief that states our view of the Montgomery case and were present at the Supreme Court in Washington D.C. on October 13, 2015.
Please visit the memorial page for Officer Charles Hurt, the murder victim at the center of the Montgomery case. These court cases attract a large amount of news coverage and our NOVJM members who are willing to talk to the press can be found here. Our media release for October 13, 2015, at the Supreme Court can be downloaded here.
Thank You to Jack Park, a prominent attorney at the Strickland Brockington Lewis Law Firm in Atlanta, Georgia for representing NOVJM pro bono before the U.S. Supreme Court, and authoring our amicus brief. You are a hero to victims' families. And thank you to Thomas McCarthy, author of NOVJM's amicus brief before the U.S. Supreme Court in 2012.
Thank you to Criminal Justice Legal Foundation (CJLF) attorneys Kent Scheidegger and Kymberlee Stapleton for authoring our brief in the Jones v. Mississippi case.
Harvard Journal of Law and Public Policy dissects legal problems in the Supreme Court's decisions in Juvenile Killer Sentencing.
Current NOVJM leaders include: Jennifer Bishop-Jenkins of Illinois; Lara Gingerich of Ohio; Bobbi Jamriska, of Pennsylvania; and Dan Frye of Tennessee.
NOVJM Leaders can be reached at [email protected]. Those interested in serving in leadership positions at NOVJM are most welcome and encouraged to send us emails expressing that interest.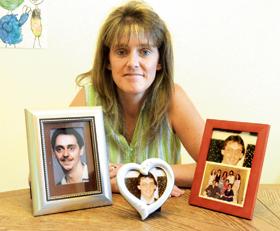 PHOTO: Jody Robinson, NOVJM Michigan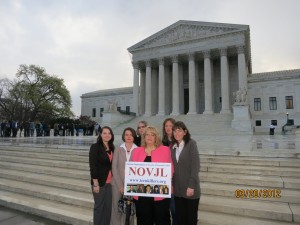 Photo: NOVJM murder victim family members of those killed by teens from all over the nation at the United States Supreme Court during the argument of Miller v Alabama in 2012, a case that could free their loved ones' murderers.
NOVJM Stands For Victims' Rights and Sound Public Policy
Regarding Teens Who Kill
NOVJM, formerly NOVJL, exists to support and inform families and friends of victims killed by offenders under age 18. We found it necessary to organize ourselves, given the significant and well-funded advocacy effort that exists for those offenders that gives no information or support to the families of the victims of their crimes. NOVJM is devoted to victims' rights and sound public policy regarding teens who kill.
We began as NOVJL (National Organization of Victims of Juvenile Lifers), founded in 2006. We were a small group of victims' families who were very concerned about the complete lack of information available to other victims' families about the staggering multi-million dollar campaign to free our loved ones' killers.
In 2014 we changed our name to NOVJM, reflecting our significantly growing membership that included many victims' families whose loved ones were murdered by juvenile offenders who were not sentenced to life in prison. NOVJM today reflects hundreds of voices of victims' families from all over the nation.
We are an all-volunteer organization that works to provide information and emotional support to fellow victims who have lost loved ones to juvenile killers. We hope to bring victims' voices to the public policy debate about juvenile offenders, while stunning sums of money are being spent by advocates of these offenders to reduce or even end their prison sentences. At first we believed that these juvenile criminal advocates would care about victim outreach and support, but after years of effort at bridge building on our part, they have refused to share even basic information about their campaigns with us. Instead, they lavish all their resources on convicted murderers.
How juvenile offenders are sentenced is the subject of a significant public policy debate in which our main concern is that victims' voices are heard. We are also concerned with the significant financial resources devoted to helping these offenders, while virtually no help, information, or support of any kind is being offered to victims' families who have been horrifically traumatized by the brutal murders of their loved ones. We are heartbroken each time we hear of victims' families who had no idea that there was an effort underway to free their loved ones' murderers (until after it was too late to be heard in the process!)
This website tells the true stories of those murdered by teens. These truths are especially important in the face of the willingness of juvenile criminal advocates to minimize, misrepresent, and even lie about the facts of these horrible crimes in their attempts to portray these killers as having diminished culpability. We know there is much to discuss in public policy regarding teens who kill, but good decisions can only be made when the full facts are known. We know that some offenders are more or less culpable depending on the individual facts and circumstances. But LIGHT is a great "disinfectant". Blurring the facts of these crimes does not improve the public policy discussion.
We advocate for the constitutional and statutory rights of crime victims that exist in all 50 states and in the federal system. We advocate for the best possible policies to prevent such tragedies from ever happening again.
We understand the controversy around the issue of teens who kill and the destruction left in the aftermath of those crimes – we are LIVING it. We understand the powerful feelings that the youthful ages of these offenders create. We understand that there are problems in our criminal justice system, as with any human institution.  We often do not understand, however, the incredible focus on helping these offenders with no compassion for or attention to the victims they created. The behavior of juvenile justice reform advocates towards victims' families during their national effort to change laws and policies has been poor, to say the least. These offenders have committed some of the most horrific murders imaginable. We miss our loved ones horribly.
Advocates of the offenders who murdered our loved ones must consider the crimes committed by those they are advocating for. They must consider the pain the victims of these criminals suffer and how that pain is exacerbated by the re-opening of the cases.
Help Find and Support Victims' Families
There are thousands of murder victims' family members in this nation who are not aware that there is a movement that supports and advocates for teen killers and that seeks to change the terms of their incarceration, and often without any notice to victims' families. Many victims' families are also not aware that there have been Supreme Court rulings in recent years that will dramatically affect their lives and cases. If you are aware of any victims' families of juvenile killers please invite them to contact us. 

Mistakes on this site?
This page is webmastered by victim volunteers. We do our best to gather accurate information. Please email us at NOVJM@aol.com with any edits, corrections, or suggestions. Thank you.
"Victims don't want vengeance, they want healing: but there is no healing until justice is done.  And justice is never 'done' as long as the sentence can be undone."  ~NOVJM member



"Those under 18 years old may as a general matter have diminished culpability relative to adults who commit the same crimes, but that DOES NOT mean their culpability is always insufficient to justify a life sentence."
~Chief Justice John Roberts, Concurring Opinion, Graham v. Florida, 2010
"Daniels and several members of his family begged officials to lock up Markus Evans for an extended time . . . [but after Evans only served 14 months in juvenile custody for shooting and almost murdering Daniels, his 7th violent felony by age 15] Evans was released at age 17 with no supervision . . . Evans reported to police he was so angry that he robbed a liquor store and shot the clerk . . .17 year old Jonoshia Alexander . . .was found dead in the alley, shot in the back of her head."
~Milwaukee Journal Sentinel, May 29, 2011