Victim: Lewis Jennings, 79
Age at time of murder: 17
Crime location: Middleborough
Partner in crime: Michael Eagle, 18
Crime date: July 29, 1986
Crimes: Home invasion, robbery, & murder
Weapon: Pillow case for strangling and blunt instrument for beating
Murder method: Strangling and beating
Sentence: Life without parole (LWOP) reduced to 15 years to life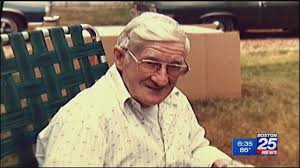 Summary of the crime
Roberio and Eagle invaded Lewis's home, beat and strangled him to death, and robbed him.
Details
COMMONWEALTH vs. JEFFREY S. ROBERIO
On the evening of July 29, 1986, the defendant and Michael Eagles entered the Middleborough trailer home of the victim, seventy-nine year old Lewis Jennings. The victim, who lived alone, kept cash in his trailer (denominations of one hundred, fifty, and twenty dollar bills). Late the next day, the victim's body was discovered. He had been beaten savagely with a blunt force object or instrument and strangled to death with his own pillow case. An autopsy revealed that the victim's spine, several ribs, and bones in his neck were fractured. The injuries to the victim's face and head were extensive, and he also had numerous lacerations on his right hand indicative of defensive wounds. The victim was alive at the time the injuries were inflicted. An undetermined amount of money, a shotgun, and various items of personal property were stolen from the victim's home.
Local families grapple with possible parole of relatives' killers
Jun 18, 2014
BROCKTON – It's been 28 years since Lewis Jennings, 79, was beaten and strangled in his Middleboro home, but his daughter, Donna Villaire, still gets emotional when she discusses his death.
"It's still very difficult to talk about," Villaire said. "Years go by, but you don't forget it."
Jeffrey Roberio was 17 when he and another man killed Jennings while robbing his house. At his trial, Roberio was convicted of first-degree murder and given the mandatory sentence: life without parole.
However, a decision by the Massachusetts Supreme Judicial Court last December ruled that life without parole was a cruel and unusual punishment for minors because scientific evidence shows that juvenile brains are not yet fully developed.
The SJC ruling, which was applied retroactively to the sentences of convicted killers like Roberio, came in the wake of a landmark U.S. Supreme Court ruling that struck down mandatory life sentences for juveniles.
As a result of the SJC decision, 65 prisoners sentenced to life without parole as juveniles will now have the opportunity to win back their freedom, including Roberio.
"Obviously, our family is devastated," Villaire said. "My family now has to relive this again."
…
Villaire also described the possibility that Roberio might receive parole as "beyond belief."
"To be paroled or have the opportunity for parole, after committing a horrific act like that, it's beyond comprehension," Villaire said.
Family of murdered Middleboro man fighting to keep teen killer in prison
MIDDLEBORO, Mass. — Thirty-four years ago, Lewis Jennings was viciously murdered in his Middleboro home.
Two men, Michael Eagle, 18, and Jeffrey Roberio, 17, were convicted of beating and strangling the 79-year-old Jennings to death during a house break.
Both men were sentenced to life without parole.
But in June, Roberio appeared before the Massachusetts Parole Board for the second time, seeking his freedom.
A recent landmark SJC ruling banning Life No Parole sentences for people younger than 18 is giving teen killers like Roberio the opportunity for parole.
The family of Lewis Jennings is fighting back.
Granddaughter Claudette Vickery attended Roberio's recent parole hearing and she is concerned her grandfather's convicted killer could soon be free.
"The death of my grandfather was not natural. It was dreadful. It was violent. It was shameful," Vickery said.
Roberio's parole hearing was held under strict COVID-19 protocols, meaning that he did not appear in person before the board, but instead, over a video conference from a jail cell.
This is how the parole board is conducting its business during the pandemic.
When the Massachusetts Parole Board rejected Roberio's first request for parole in 2015, the board noted that Roberio had not taken steps to curb his anger and other issues.
In his second hearing, Roberio was able to point to programs he has taken to help rehabilitate himself.
Vickery was not impressed.
"Jeffrey Roberio made wrong choices. And as a consequence of the extreme nature of what he did, I think he deserves to remain in prison and live out his life that way. So that he doesn't have the opportunity to harm another person," Vickery said.
The Massachusetts Parole Board is considering Roberio's second parole request.
A decision could come at any time.