Victim: Kristyanna Cowan, three, plus Brittney Bergeron (paralyzed)
Age at time of murder: 16
Crime location: Mesquite
Crime date: January 22, 2003
Partner in crime: Beau Maestas, 19
Crimes: Home-invasion, murder of a child & attempted murder of a child
Weapon: Knife
Murder method: Stabbing
Murder motivation: Revenge for a bogus drug deal
Convictions: Guilty pleas to first-degree murder, attempted murder with a weapon, burglary with a weapon, and conspiracy
Sentence: 47 years to life
Incarceration status: Incarcerated outside of Nevada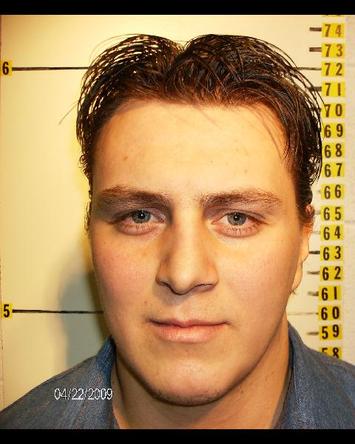 Summary
B. Maestas bought meth from Tamara Bergeron, and her then-boyfriend Robert Schmidt. B. Maestas was allegedly scammed, getting table salt instead. B. Maestas and his sister M. Maestas then went to Tamara's trailer to get revenge. Tamara and Robert weren't there. But Tamara's daughters, 10-year-old Brittney and three-year-old Kristyanna were. B. Maestas stabbed little Kristyana while M. Maestas stabbed Brittney 27 times, severing her spinal cord and rendering her a paraplegic.
Both killers pleaded guilty. B. Maestas was sentenced to death while M. Maestas was sentenced to life with parole eligibility in 47 years.
Details
Oct 5, 2006
LAS VEGAS — A 20-year-old Utah woman was sentenced Thursday to 47 years to life in prison in a brutal knife attack that killed one little girl and left another paralyzed outside a Nevada casino in 2003.
Monique Maestas read a letter of apology for "lives lost and changed" by the stabbings that killed 3-year-old Kristyanna Cowan and severed the spine of Cowan's 10-year-old sister, Brittney Bergeron.
Maestas' brother, Beau Maestas, 23, said nothing before Clark County District Judge Donald Mosley scheduled him to die by lethal injection and tacked on a sentence of up to 75 years in prison.
"This case has to be one of the most horrendous I have ever been involved with," Mosley said. "It is a tragedy all the way around … brought on by this scourge in our community, narcotics."
A jury decided in August for the death penalty for Beau Maestas, who previously pleaded guilty to first-degree murder. Thursday's additional sentences were for his guilty pleas to attempted murder with a weapon, burglary with a weapon and conspiracy.
The judge scheduled Beau Maestas to die the week of Dec. 11-17, but that date will be pushed back years while the death sentence is automatically appealed.
Monique Maestas, who pleaded guilty to the same charges, was not eligible for the death penalty because she was 16 at the time of the attack. Her brother was 19.
Mosley noted that Monique Maestas could apply for parole when she is 63.
Monique Maestas avoided trial by pleading guilty the same day the jury returned the death penalty verdict against her brother. Her plea spared Brittney Bergeron from having to testify about the bloody January 2003 attack, which happened in a trailer parked outside a casino in Mesquite.
It also prevented Monique Maestas' lawyers from presenting what public defender Alzora Jackson said was evidence of years of sex abuse during an extraordinarily troubled upbringing.
Monique Maestas directed her written comments Thursday toward Brittney Bergeron, who was not in court. Now 14 and living with a foster mother, Brittney is a high school student involved in wheelchair tennis.
"I feel in my heart your future will be better, in spite of your disability," Monique Maestas said.
As Beau and Monique Maestas were led from the courtroom, Monique Maestas blew a kiss to her oldest sister, Misty Maestas, 26, who sobbed quietly as she sat alone and watched the sentencings. Misty Maestas said outside court that she also was abused as a child.
Now married and caring for her husband's two children in Clearfield, Utah, Misty Maestas testified during her brother's penalty hearing that the Maestas children were products of a drug-dealing mother and a twice convicted killer who spent almost all of his adult life in Utah prisons.
"To me, the whole thing is, if they hadn't been on drugs this wouldn't have happened," Misty Maestas said.
Authorities said Beau and Monique Maestas forced their way into the trailer and attacked the girls in retaliation for Bergeron and Schmidt selling them salt in place of methamphetamine.
The attack bloody attack [sic] and Brittney Bergeron's plight mortified a region appalled by allegations that the little girls had been left alone while their drug-addicted mother, Tamara Bergeron, and her then-boyfriend, Robert Schmidt, gambled in the casino.
The case spawned criminal charges against the mother and boyfriend, who now are married. They denied the drug sale allegations, but were sentenced to prison last year for leaving the two girls alone in the trailer. The state has tried unsuccessfully to sever the mother's parental rights.
By Matt Pordum
Friday, June 3, 2005 | 10:53 a.m.
A picture might be worth a thousand words for some, but for Beau Maestas, it might be worth a death sentence.
The autopsy photos of the 3-year-old girl he stabbed to death and those detailing the wounds to her 10-year-old half-sister were shown Thursday to the jury that will determine Maestas' sentence for the January 2003 attack in Mesquite.
Last Friday Maestas pleaded guilty to one count each of murder, attempted murder and burglary, all with use of a deadly weapon, in the killing of 3-year-old Kristyanna Cowan and the stabbing of her half-sister, Brittney Bergeron, in a trailer in the CasaBlanca hotel RV park.
Many of the 12 jurors Thursday winced as they saw pictures of 39-inch-tall, 32-pound Kristyanna's bloodied body lying on the autopsy table and listened as Dr. Gary Telgenhoff, medical examiner for the coroner's office, used a pointer to identify the stab wounds.
The wounds included one that punctured the girl's head, broke through the skull and penetrated her brain.
As the jurors made it through the difficult viewing, Maestas hunched over in his chair at the defense table and stared at his shoes.
After Telgenhoff said the cause of death was multiple stab wounds, in particular to the head and neck of Kristyanna and the manner of death was a homicide, the surgeon who performed emergency procedures on Brittney discussed and showed the jurors the pictures of her injuries.
Dr. Jay Coates pointed out most of the roughly 20 stab wounds Brittney suffered at the hands of Maestas. His sister, Monique is also accused of participating in the attack and will stand trial seperately.
Coates said Brittney's stomach and liver had been punctured and stab wounds that severed her spinal cord have left Brittney a paraplegic for the rest of her life.
Mesquite police officer Brad Swanson paused often and fought back tears as he recalled what he witnessed as the first officer on the scene, encountering a chilling scene with the two girls severely injured.
As he and Brittney's mother applied pressure to her wounds, he asked Brittney questions to keep her awake. He said Brittney told him a white, younger male and female who she didn't know were the attackers.
"(Brittney said) the male held his hands over both of their mouths and they tried to fight him off by kicking, biting and punching, but she said he was too strong," Swanson said.
"She (Brittney) didn't want to die, and I told her she wasn't going to die and I was here to help her."
Swanson then walked the jury through the pictures of the scene.
Although the gruesome pictures showed clearly the wounds inflicted on the two girls, Thursday's testimony from Beau Maestas' ex-girlfriend, who was with Maestas and his sister, Monique, the night of the killing and as they fled to Utah, provided the narrative.
Twenty-year-old Sabrina Bantam said she had been dating Beau Maestas on and off for two years at the time of the attack. Bantam, then 18, said she had made plans to hang out with Beau Maestas the night of the incident because he and his sister were returning to Utah the next day.
She said at around 1:30 a.m. on Jan. 22, 2003, Beau knocked on the door of her trailer at the CasaBlanca RV park and asked if "I had something sharp, scissors or a knife."
She said he "was a little anxious" and he and his sister had paid $200 for drugs but were "ripped" off by someone named "Tammy" who sold them salt instead.
Bantam said her father had studied to be a chef and she didn't think twice about asking him if she could borrow five knives for Beau Maestas to use. She said she assumed the knives were needed "for his drug use" and "absolutely not" for killing a little girl.
Bantam said she then agreed to "go on a ride" with Beau and Monique Maestas, a ride she later said she wished she had never taken.
She said they drove to the employee parking lot at the CasaBlanca and Beau Maestas left Bantam and his sister in the car saying, "He'd be right back."
He told her nothing about where he was going, Bantam said. Roughly 10 minutes later, she said, Maestas returned, saying "The little girl would not let him in the house."
Bantam said Monique Maestas "encouraged" her brother to return with her saying "the little girl would probably let her (Monique) in the house." She said the siblings walked away "huffing and puffing."
Fifteen minutes later Bantam said the brother and sister came running toward the vehicle with bloody hands. She said Beau Maestas told her "the police were coming, they were coming soon, and we needed to hurry."
Bantam said after the attack they went to the siblings's grandmother's house to clean up, and Beau Maestas called a friend near Salt Lake City and told him they had just killed some children and needed a place to go. Along the way, Beau Maestas threw the knives, bloody clothing and towels on the roof of an abandoned gas station in Fillmore, Utah.
Bantam said she really didn't understand what had happened, but slowly over the span of a few hours in bits and pieces Beau and Monique Maestas would admit to stabbing the two little girls.
Under the questioning from Beau Maestas' attorney, Pete Christiansen, however, Bantam insinuated Monique Maestas was the mastermind and driving force behind the attack.
Bantam said Monique Maestas "stabbed the little girl after she bit" Beau. Bantam said it was her understanding that Monique started the stabbing attack and classified Monique as "manipulative, vindictive and she manipulated Beau."
Bantam said Monique told her she was "trying to hit her in the major organs, I kept trying but just kept stabbing, I should have stabbed the girl's neck but I was too scared then."
Bantam said she was fearful for her life after the incident because Monique Maestas asked Beau, "What are we going to do about Sabrina?" She said she took the question as meaning Monique Maestas wanted to hurt her because she had been an eyewitness.
Bantam said although Beau didn't answer Monique, he made "efforts to protect me."
She said the biggest effort was made when Beau decided to pull over instead of trying to escape from police cars pursuing them in Utah.
District Attorney David Roger challenged the notion that Beau was trying to protect Bantam by reading a portion of a letter Beau had written Monique.
In the letter Beau Maestas asks his sister to "promise me you will punch Sabrina's (Bantam) teeth out, kick her lips out, rip her tongue out…."
Roger also rejected any claim that Monique Maestas manipulated her older brother into committing the attack, saying Beau was a "grown man" and the "fact of the matter is the 3-year-old baby is dead, the fact of the matter is the defendant stabbed the 3-year-old baby in the head."
Although Bantam provided the knives used in the deadly attack, drove to and away from the crime scene with the Maestas siblings and fled with them to Utah, she has never faced charges.
She said her reasoning for going along with the siblings as they fled Nevada for Utah came down to her feelings for Beau Maestas. "I went with them because I was scared, I was shocked and I knew they were going to get caught," Bantam said. "I went because I knew Beau was going to end up doing something stupid, and I wanted to make sure he didn't."
She later said she feared Beau might kill himself. Bantam said although she knew Beau used drugs she never witnessed him act violently. She said she still cares for Beau and continues to write and visit him at the Clark County Detention Center when she has the time.
No trial date has been set for Monique Maestas, who faces the same charges as her brother plus one count of conspiracy to commit murder.
By Cy Ryan
Wednesday, Sept. 28, 2011
Beau Maestas, who pleaded guilty to the fatal stabbing of a 3-year-old girl and permanently injuring her 10-year-old sister in a brutal 2003 attack in Mesquite, is pleading to be spared the death penalty.
Maestas, through his lawyer, said the death penalty is not appropriate given the facts of this case. A jury deadlocked on the penalty in the first sentencing hearing but a second jury agreed on the death penalty on the counts of first-degree murder and attempted murder.
His case and two other capital punishment appeals from Clark County are scheduled for oral arguments before the Nevada Supreme Court Monday.
Maestas and his friends were partying in Mesquite in January 2003 when they ran out of methamphetamine. They sought out known drug dealers Tammy Bergeron and Robert Schmidt. A deal was arranged in which Maestas paid $125 for 1.75 grams of meth. Bergeron delivered a package at the Casablanca Casino. But Maestas and his friends discovered the substance was apparently salt.
Angered, Maestas and his sister Monique drove to the trailer of Bergeron, who was not home. But her two daughters — Kristyann, 3, and Brittany, 10 — were in the trailer alone.
Maestas and his sister gained entrance by telling Brittany that her mother was badly hurt.
Brittany was punched and stabbed more than 20 times and her spinal cord was severed, rendering her a paraplegic.
Kristyanna was stabbed multiple times. Court documents say Maestas stuck a knife into Kristyanna's head, penetrating halfway into her brain. Her jugular vein was cut, her tongue severed and her thighs and legs also suffered wounds.
Kristyanna died after being admitted to University Medical Center.
Defense lawyers say there was misconduct by a juror and the District Attorney's office during the penalty hearing. They say the death penalty is cruel and unusual punishment, which is prohibited by the U.S. Constitution.
The court will also hear Monday:
• The appeal of Michael D. Rippo, convicted of the murder of two women in their apartment in Las Vegas in June 1992. Denise Lizzzi and Lauri Jacobson were found strangled to death. This is Rippo's third appeal to the court. His co-defendant, Diana Hunt, was allowed to plead guilty to robbery and the murder charges were dropped against her. She told authorities about the incident. Rippo said he was never able to confront and cross-examine Hunt with evidence of her mental illness and of use of psychotropic drugs.
• The sixth appeal of Michael Hogan, sentenced to death for the fatal shooting of his girlfriend Heidi Hinkley and the attempted murder of her daughter Claudia Brown in Las Vegas in 1984.
Stabbed 27 times at age 10, a girl finds "a better life" and a new family.
By MARNI MERKSAMER
January 8, 2009
Jan. 9, 2008— — Brittney Bergeron Himel survived one of the most vicious crimes the Las Vegas community had ever seen.
"The first thing I thought was, oh my God, my legs are cut off, I couldn't feel them," Brittney, now 16, said of the attack.
In 2003, Brittney was living with her mother and half-sister when a dispute over drugs resulted in a violent attack. The 10-year-old was left without a family and paralyzed from the waist down.
"A lot of people have come up to me and say, you know, do you miss walking? And I say, you know, actually, I don't," she said. "Overall, I think I like being in a wheelchair better because I have a better life. Before I didn't have such a great life."
As the daughter of parents struggling with drugs and alcohol, Brittney's early childhood was less than stable. She was tossed back and forth from one parent to the other in a nasty four-year custody battle that led to harassment charges and restraining orders. Her mother, Tamara Bergeron, usually unemployed and often on drugs and had been busted for methamphetamines while her father, Kevin Bergeron, had spent time in jail for driving under the influence.
When Brittney was 10, Tamara and her new boyfriend, Robert Schmidt, packed up their trailer and drove Brittney and 3-year-old Kristyanna Cowan to Mesquite, a small gambling town 80 miles north of Las Vegas.
Their new home was an RV park on the grounds of the CasaBlanca hotel-casino. While the couple gambled at the casino — spending $18,000 in two months, according to police — usually high on methamphetamines, Brittney was left to take care of Kristyanna, or "Kissy."
"I fed her. I made sure she got to bed. I made sure she had clean clothes," said Brittney.
In January 2003, Brittney and Kristyanna were left alone in the trailer while Bergeron and Schmidt gambled at the casino. The young girls watched TV and slowly fell asleep. Shortly after 1 a.m., there was a knock at the door.
This is where 19-year-old Beau Maestas and his 16-year-old sister, Monique, who both came from another family broken by drugs, enter the picture.
Earlier that night, after drinking and doing drugs at a party, they had purchased $125 worth of what they thought was methamphetamines from Brittney's mother and boyfriend. Maestas later testified that he was ripped off, claiming he was sold table salt.
"I went to the lady and said, 'Look, this is salt. I'd like my money back.'" he told police. "And I was like, 'You want this to get ugly?'"
After a brief confrontation between the Maestas' and Schmidt, the teenagers were asked to leave the casino because they were underage. Furious, they plotted their revenge.
Attacked at Home: 'I Started Screaming'
Beau Maestas knocked on the door of the trailer at around 1:30 a.m. He told Brittney her mother had been hurt at the casino and she needed to go help her. Brittney knew not to go anywhere with strangers and refused to open the trailer door. Minutes later, Monique Maestas knocked on the door.
Brittney recalls, "A girl came to the door and I opened it, and she's like, Hi, my name is Kim. Your mom's really hurt at the casino. Your dad doesn't want to leave her and asked us to come get you. And I'm like, OK, well you're going to have to carry my sister because she's asleep."
Brittney then opened the door and went to find her shoes.
"I turned around and a guy came up behind me and put his hand over my mouth and a knife to my neck."
The teenage siblings began punching Brittney. Fighting for her life, she kicked and bit her attackers as she desperately tried to protect her sister. While Beau stabbed tiny Kristyanna with a large kitchen knife, Monique stabbed Brittney 27 times — in her arms, chest, back and legs.
Beau and Monique ran from the blood-soaked trailer into their getaway car, and Brittney was unable to move.
"I looked over at my sister and I could hear like gurgling. … I didn't at the time know what it was," she said. "And then I tried to get over there and I couldn't really move, so I started screaming help, help, help."
Tamara Bergeron returned to her trailer and also began screaming. Brittney says she remembers her mom holding towels and rags over her wounds to stop the bleeding.
A neighbor called casino security, who called the police.
"Brittney was lying in a puddle of blood and just, just screaming," said Bradley Swanson, the first officer to arrive at the scene. Brittney looked Swanson in the eye and told him she didn't want to die.
The two girls were flown to the Trauma Center at University Medical Center in Las Vegas and rushed into surgery.
Kristyanna had been stabbed repeatedly in the head and neck. The knife had pierced her skull and brain, and multiple wounds marked her 32-pound body. Kristyanna never made it out alive.
Brittney was in the operating room for two hours. When she awoke from her surgery, she learned that one of the knife wounds had severed her spinal cord and that she would never walk again.
"And then I woke up in the hospital and I had a tube down my nose and staples and, everywhere, and I had a cast on my arm and there were cards all over my room."
Meanwhile, Beau and Monique Maestas stole their grandmother's Honda and headed north on I-15 to Utah. Police issued an alert, and within five hours the pair were arrested in Nephi, Utah. Beau Maestas confessed immediately. He tried to protect his little sister and claimed she had no role in the attack. But it soon became clear that 16-year-old Monique Maestas was the one who'd stabbed Brittney.
More than three years after the crime, the Maestas siblings each pleaded guilty to murder. Beau Maestas was sentenced to death but his case is under appeal, and his sister received life in prison; she won't be eligible for parole until she is 65.
Adjusting to a New Life With Foster Family
In the years that followed, Brittney underwent hundreds of hours of counseling and physical therapy, without her sister by her side.
"It was hard," she said. "It was weird, because I didn't have her there and sitting there, you know, always laughing with me. … She always followed me and wanted to do everything I wanted to do."
Still missing her sister, Kristyanna, Brittney adjusted to life as a paraplegic.
Brittney now needed special care and parents who could take care of her and meet all her medical needs. That's when one of Nevada's award-winning foster care parents stepped in.
Judy and Bill Himel have fostered more than 30 medically fragile children, including infants and children with severe problems and no place to go.
The electrician and housewife had seen a news report about Brittney and knew they would be getting a call from the Department of Family Services asking if they would take her. A few days later, Brittney had a new home.
Bill Himel said the transition wasn't easy. "When she first came, she was scared. She left the light on, the TV on, the door open," he recalled.
"The reason I was afraid of the dark was always because I was afraid that it's going to happen again," Brittney said. "That, you know, someone was going to come get me."
As time went on, Brittney grew stronger and more confident. She began to trust her foster parents. "I slowly started to learn that, you know, I'm safe. Nothing was happening."
Soon, she felt ready to expand her horizons. Brittney heard about a sporting event for handicapped kids and asked Judy to take her. She went and it changed her life. "It opened my eyes," she said. "It made me think, you know, wow, I can actually do things. I'm not just in a chair. It's not like I can't do anything. I can still do everything anybody else does. "
The 16-year-old now says she feels just like everyone else. "I go to school like everybody else, I hang out with my friends, I go to the movies, I talk on the phone, I text."
An accomplished athlete, she has competed in more than 15 states in track and field, and hopes to make it to the Para-Olympics in London in 2012. She doesn't limit herself to track, and has also tried tennis, basketball, swimming, skiing. Last summer, she became a certified scuba diver in the Cayman Islands.
"So this damaged, frightened child that we were given to, to take care of, now is this independent, outgoing, spirited young lady," Bill Himel said. "Not only do we struggle to keep up with her, I actually think we're riding in her coattails."
'I Want to Do Everything I Can'
Tamara Bergeron and Robert Schmidt were eventually charged with neglect and sentenced to prison. As Brittney thrived with her new loving foster family, Bergeron was fighting from prison to get custody of Brittney.
"It was devastating to her," said Judy Himel. "She couldn't go in a friend's car, she couldn't spend the night at a friend's house. Everybody had to have police checks. She couldn't jump in and do anything she wanted to. She was a foster kid."
"It made me kind of mad," Brittney said. "It made me wonder why she would want to … not want me to be happy."
All Brittney wanted was to be adopted. She wrote letters to everyone, including her mother. The case dragged on for years, but after countless disappointments Brittney's friends and new family gathered in family court last summer, where her wish came true. Brittney Bergeron became a Himel.
Whatever she does, she has a big family to love and support her, and all the money she'll ever need. The CasaBlanca hotel-casino, which owned the trailer park where the attack took place, settled for $5.5 million. It's in a trust fund to be used only for Brittney.
Brittney said her experiences have taught her to cherish each day. "I think that because of what happened, it's made me see that, you know, I could die any day, you know, it could be tomorrow," she said. "And it's just made me see that I want to do everything I can."
Brittney said she still loves her biological mother and tries to speak to her once a week. Brittney said she's glad that her attackers have been justly punished for killing her sister, whom she misses everyday, but she is not angry.
"Am I angry at them? I'm not. In a way, I'm saying thank you, because, you know … it happened in a bad way, but it gave me a great life. It gave me a great family, great home, gave me everything."