Victims: Joan Burghardt, 29, Charlotte Schmoyer, 15, and Jessica Jean Fortney, 47, plus others who survived
Age at time of murders: 17-18
Crime dates: August 1992-July 1993
Crime location: Allentown
Crimes: Stalking, home invasion, abduction, kidnapping, rape, child-rape, attempted murder, and murder
Murder method: Bludgeoning, stabbing, and strangling
Sentence: Death plus life in prison
Incarceration status: Incarcerated at SCI Phoenix (#CJ8032)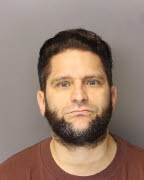 Summary
Robinson is a rapist and serial killer responsible for the rapes and murders of three women, plus several other rapes. He committed his crimes at ages 17 and 18, making him one of the youngest serial killers in American history. His murder victims include:
Joan Burghardt, a 29-year-old nurse's aide. Robinson raped her and bludgeoned her to death in her own home on August 9, 1992. Robinson hit her on the head more than 30 times with an unknown object.
Charlotte Schmoyer, a 15-year-old newspaper carrier. Robinson abducted her as she was working on June 9, 1993. He repeatedly raped her, and stabbed her at least 22 times and slashed her throat.
Jessica Jean Fortney, a 47-year-old grandmother. Robinson raped and strangled her on July 14, 1993.
Additionally, Robinson stalked a mother before attacking her five-year-old daughter in her home. He raped and choked the child and left her for dead. The victim survived. He also attacked another woman who escaped.
Robinson was sentenced to death for all three murders. After SCOTUS abolished the juvenile death penalty in 2005, Robinson's death sentence for Joan's murder was reduced to life in prison. After SCOTUS banned automatic life without parole sentences for juveniles in 2012, his sentence for Joan's murder was changed to 35 years to life. In 2012, prosecutors withdrew his death penalty for Charlotte's murder in exchange for a life sentence, under the condition that he waive all appeal rights, sparing Charlotte's family from appeal hearings. Robinson still faces execution for Jessica's murder.
Details
In the span of under a year and at just 17 years old, Harvey Robinson attacked five women, killing three. The Allentown, Pennsylvania native is currently the only person on death row to have committed crimes as a juvenile serial killer — and his time there may be limited.
Like many juvenile offenders, Robinson's background seems tailor made for his downfall.
Police arrested Robinson for the first time when he was only nine years old. In school, he showed signs of severe conduct disorder, and teachers quickly noted Robinson's inability to tell right from wrong and his severe distaste for authority. As his threats and outbursts intensified with age, both peers and authoritative figures began to fear him.
Furthermore, Robinson grew up with a strong admiration of his father, a Pottstown jazz musician who in 1963 was convicted of the brutal murder of a woman named Marlene E. Perez. Police reports from the crime said Robinson's father had beaten the 27-year-old victim so badly that she was nearly unrecognizable.
Thirty years later, Harvey Robinson would begin down the dark path of his father. In 1993, Robinson spotted his first victim, Joan Burghardt, undressing before bed in her apartment window. After a neighbor called police to complain about Burghardt leaving her stereo on for three days and three nights, police discovered the 29-year-old's body — raped and brutally murdered. Police noted that her bedroom screen window was also missing.
Police frantically searched for the killer, not knowing that they were already holding him in custody for completely unrelated charges. Robinson then slipped under the radar and was back on the streets to commit more carnage in no time.
His next victim was 15-year-old newspaper carrier Charlotte Schmoyer. On the morning of June 9, 1993, people began scanning the streets when they woke up and did not find newspapers on their doorsteps. One client, however, found Schmoyer's paper cart abandoned next to her bike.
Soon enough, residents called the police, who found Schmoyer's radio headset dropped in between two neighboring houses — along with enough finger streaks on the windowpanes of a nearby garage to hint at a struggle. These details offered police enough evidence to conclude that Schmoyer had been abducted.
The resulting search party did not take long to find blood, a shoe and finally, the battered young body of Schmoyer stuffed haphazardly under a stack of logs. An autopsy report would later go on to show she had been stabbed at least 22 times and raped repeatedly with her throat slashed in obvious overkill.
Harvey Robinson's gruesome teenage murder streak didn't end there. His third victim was a 47-year-old grandmother, Jessica Jean Fortney, who he sexually assaulted before strangling to death the month after killing Schmoyer.
Robinson had one other known victim — and she was only five years old. After stalking her mother for days, Robinson broke in to the child's home, where he raped and choked her before leaving her for a death that never came.
Finally, his fourth victim, however, would finally lead to his capture. Denise Sam-Cali escaped Robinson's initial attack and agreed to allow the police to use her as bait. When Robinson returned to Sam-Cali's home several nights later to presumably "finish off the job," an officer was there to meet him.
Robinson, who broke in through the window, and the officer exchanged gunfire before he fled the scene by crashing through a glass window. After the shootout, police apprehended Robinson at a local hospital where he had gone to seek treatment for his wounds.
While courts often give juvenile defenders much more lenient sentences due to their age, the grisly nature, repetition, and speed of these crimes sparked enough community outrage to lead Robinson — linked to all three murders by DNA evidence — to receive three consecutive death sentences and more than 100 years in prison.
Over the years, however, Harvey Robinson has filed taxpayer-funded appeal after appeal — namely following the [2005] U.S. Supreme Court decision that deemed death sentences for juveniles unconstitutional — and has succeeded at overturning two of the death sentences.
The Pennsylvania Supreme Court has upheld a death sentence for an Allentown serial killer who raped and murdered three women more than 20 years ago.
Harvey Miguel Robinson, 39, has long argued his trial counsel was ineffective, and that executing him would be unconstitutional because he suffers from brain damage.
But the state Supreme Court rejected those claims on Friday, meaning Robinson has 90 days to decide whether he wishes to appeal to the U.S. Supreme Court, which is his only remaining recourse.
A phone message to Robinson's attorney, James Moreno, was not returned today, and the Lehigh County district attorney's office declined to comment because the case is ongoing.
Robinson was convicted in 1994 of the rape and murders of Joan Burghardt, a 29-year-old nurse's aide; Charlotte Schmoyer, a 15-year-old newspaper carrier; and Jessica Jean Fortney, a 47-year-old grandmother.
Robinson only faces the death sentence for Fortney's murder. Although originally sentenced to death for all three, the other two verdicts were later changed to life in prison.'Dreaded and notorious'
Fortney was found in the bedroom of her Allentown home July 14, 1993, according to court records. She had been raped, then beaten and strangled to death.
Burghardt's dead and battered body was discovered in her apartment in August 1993, although authorities concluded she had been dead for some time, according to court documents.
Schmoyer was abducted while delivering newspapers, then raped and stabbed 22 times, according to records. Her body was dumped in a heavily wooded area behind the Mosser Elementary School.
Robinson had argued his defense attorney was ineffective because, during the penalty phase of his 1994 trial, the attorney failed to provide school records to a forensic psychiatrist that would have shown Robinson to have brain damage.
Robinson also argued the attorney allowed that same psychiatrist to present evidence that Robinson had an antisocial personality disorder, which he argued was "disastrous" to his defense.
The Pennsylvania Supreme Court found Robinson's claims without merit, but said even if they had merit, it is unlikely they would have changed the jury's minds when it came to imposing the death penalty given the brutality of the crimes.
"Before the penalty phase began, the jury knew that (Robinson) was a serial rapist and killer, a member of one of the most dreaded and notorious classes of killers in today's society," Chief Justice Ronald Castille wrote in a 40-page ruling.
"… This is not a case where a verdict of death was only sufficiently supported by the record," Castille wrote. "The death sentence for murdering Ms. Fortney was imposed with overwhelming record support."Constitutional argument
Robinson argued the Eighth Amendment of the U.S. Constitution prohibits the imposition of a death sentence on a brain-damaged individual.
But the Supreme Court upheld a previous decision from a lower court, which found Robinson's mental condition does not place him in the category of persons for whom capital punishment is constitutionally prohibited.
Robinson had argued that school records show his IQ dropped from a superior range of 126 at 6 years old in 1981 to an average range of 100 at age 14 in 1989, which he suggests means possible frontal lobe brain damage.
But the courts concluded that even if that did demonstrate brain damage, there was no way to conclude such damage existed at the time of his actual murders, according to records.
Robinson had filed a petition for relief under the Post Conviction Relief Act. He could file others but there is no guarantee a Lehigh County judge will hear them.
Robinson's death penalty verdict for Burghardt's murder was changed to a life sentence in 2006 due to his age at the time of the crime. In 2005, the U.S. Supreme Court ruled to prohibit death penalties for juveniles under 18 when they committed their crimes.
In December 2012, prosecutors withdrew Robinson's death penalty for the Schmoyer case in exchange for a life sentence, under the condition that Robinson waive all his appeal rights. The victim's family requested that outcome so there would be no need for further appeal hearings.
A judge in Pennsylvania is urging an incarcerated serial killer to consider donating his brain to science as a gesture of giving back to society.
Harvey Robinson was just a teenager when he was arrested in the early '90s after killing three people, making him one of the youngest serial killers in American history.
Lehigh County President Judge Edward D. Reibman asked Robinson, now 44, in court on Tuesday if he would consider donating his brain so that scientists can study his mind after he dies, according to local outlet The Morning Call.
"I think the one gift you can give to the community is helping science understand your behavior," Reibman said, adding that he couldn't court order it.
While initially taken aback, the convicted killer said he would consider it as long as doing so was OK with his religion. Robinson is Muslim.
His defense attorney, Gavin Holihan, said, "I think the suggestion is completely understandable, given how rare a serial killer is," the Morning Call reports.
Reibman was in court on Tuesday for a resentencing hearing for his first slaying. Because of a 2012 ruling that made automatic life sentences for juvenile murderers unconstitutional, a life sentence for a killing he did when he was 17 has been changed from life to 35 to life. He raped and killed Joan Burghardt, a 29-year-old nurse's aide from Allentown in 1992.
He is still serving another life sentence and death sentence for his other murders, as well close to 200 years for rape and other charges he was convicted of. He initially received three death sentences, Lehigh Valley Live reports. He is currently appealing the sole death sentence he has left.
Robinson murdered both a 15-year-old newspaper carrier Charlotte Schmoyer and Jessica Jean Fortney, a 47-year-old grandmother in 1993. Both victims were also raped and the teen victim was abducted from her newspaper route, according to a 2006 Morning Call report.
Robinson also pleaded guilty to raping Denise Sam-Cali and to raping a 5-year-old girl, both of whom survived. He was caught when he returned to try to kill Sam-Cali, shooting at an officer and hurting himself in the process. He was arrested when he sought out medical help.